Experience New Orleans' wild bayou country on an exciting, family‐friendly airboat tour. This 4‐hour full tour includes 1.5 hours on the boat. While onboard, enjoy lively commentary from a native guide as you spot local wildlife, including alligators, nutria and native birds, and visit the secluded fishing village of Jean Lafitte, the infamous 19th‐century smuggler.
Highlights
Airboat ride on Louisiana bayous including round-trip transport from New Orleans

1.5-hour fast ride in an airboat over wetlands surrounding fishing village of Jean Lafitte

Learn about the history and culture of communities that live on the bayous from your native guide

See alligators in the wild, native birds and giant river rodents called nutria -- plus a live albino alligator exhibit

Food and drink available for purchase before boat ride

What You Can Expect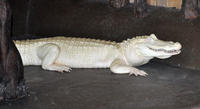 In the morning, meet your air‐conditioned coach in the French Quarter and settle in for the 30‐minute ride to the town of Jean Lafitte, a historic fishing village named for a notorious 19th‐century pirate and privateer. Located deep in the wetlands at the edge of Jean Lafitte National Historical Park, this town offers an authentic look at Cajun culture and local enterprise, including logging, plantation agriculture and a rich – and often grisly – tradition of animal trapping.
Before heading out on the water, pop into the albino alligator exhibit and grab a delectable shrimp Poboy to go (own expense). Then make your way to the launch site and choose your seat on a small or large airboat for the 1.5‐hour ride. Enjoy the close proximity to the water surface and warm breeze as you zip through bayou. Spot lurking alligators, snakes, raccoons and giant river rodents called nutria. Savor the moments of calm when the boat slows and your native captain shares stories and facts about the area's history and the surrounding wildlife – and maybe even interacts with an animal or two!
Your bayou adventure ends with a return to the French Quarter by coach, arriving in mid‐afternoon.
June 2016
Very fun! We think the Captain was Sam? We were on a smaller boat as planned. Just our family of five were on it. The ride was exciting. We wore ear covers to protect our ears from the loud roar of the motor. We did see alligators and beautiful swamp areas. We got to hold a three year old alligator named Darth-Gator. It rained on us but did not spoil our experience. This was our first swamp tour. Our grandson loved it. Thank you for the experience.
May 2016
This tour provided what it promised. Our tour guide was very knowledgeable. He made everyone part of the experience. Thanks George and Slater!
March 2016
My husband and I truly enjoyed our time. Cpt. Sam was very knowledgeable and had the greatest patience with any questions asked by the little ones on the tour. Everything was timed perfectly and everyone was very pleasant.
January 2016
June 2015
we were very lucky on our boat ride, we saw the biggest aligator along with a lot of others thru out the ride.
a great time had by us, weather, driver, sights..
March 2015
The boat driver (Allan) and the event itself were fantastic. The only thing that could improve is the timing or lunch. 10:45 to app. 3-4 pm getting back downtown is a stretch.
December 2014
Excellent had so much fun tour guide was great ...I wanna go again ...
December 2014
This was the highlight of our trip. Myself and three friends were delighted by the tour and guide, "Captain Sam" was great. The weather was spectacular as we rode through the bayou seeing alligators, turtles and nature. Captain Sam was extremely knowledgeable and accommodating. I would definitely recommend this trip.
October 2014
I'm a country girl from Texas, used to outdoor activities and hunting. So I knew it would have to be great to satisfy me. Well, it was GREAT! Corey was a great guide and kept us laughing! I never realized how beautiful the swamp is. The water, the trees, the moss, the birds, and yes, the alligators! I highly recommend this tour!
September 2014
This was an excellent tour....
We were made to feel welcome right from the start, all the staff were helpful and the airboat driver Richie was first rate , spending time to explain all that we were seeing and experiencing.Only negative comment would be that our party of 11/12 were expecting to be on two small boats and we were on a large boat with others....this though was soon forgotten.... Would ..Will definitely use this company again.
Advertisement
Advertisement