Get to know the beasts of the Southern wild on your visit to New Orleans with a choice of admission to the group of museums that make up the Audubon Nature Institute: Audubon Zoo, Audubon Aquarium of the Americas, Entergy Giant Screen Theater, and Audubon Butterfly Garden and Insectarium. Check out top-notch exhibits at the four attractions to learn more about critters both local (Louisiana swamp) and global (African Savanna). Choose one or see them all, depending on your schedule and interests.
Highlights
Admission to Audubon Nature Institute's group of museums, in New Orleans
Learn about Cajun culture and critters when you venture into Audubon Zoo's Louisiana swamp exhibit

Enjoy watching Rockhopper and African penguins swim, splash and eat at the Audubon Aquarium of the Americas
Be captivated by Entergy Giant Screen Theater films about the natural world

Become an insect expert in a simulated jungle at Audubon Butterfly Garden and Insectarium
Get great savings with combination tickets to two or more attractions
What You Can Expect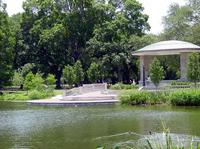 Choose from the following options for your visit to Audubon Nature Institute's family of museums. Choose just one attraction to visit, or save with combination packages to two or more attractions.
Itinerary
Audubon Zoo
Considered one of the best zoos in the country, Audubon Zoo features a variety of exhibits with local and exotic animals. Delve into Cajun culture at the acclaimed Louisiana Swamp Exhibit, which explores how interactions between the Cajun people and swamp wildlife shaped Louisiana's distinct culture. Feed a giraffe and check out monkeys and zebras at the African Savanna exhibit. At the Asian Domain you can visit the elephants, sun bears, white tiger, and a growing family of babirusas (a wild pig native to Indonesia). Check the schedule to find out when the animals are munching on meals during daily feedings. The zoo is located in historic district of Uptown New Orleans.

Audubon Aquarium of the Americas
Dive into the underwater world at the Audubon Aquarium of the Americas, located on the banks of the Mississippi River next to the French Quarter. Giggle at the antics of the aquarium's two species of penguins as you watch them waddle around, or gobble up food during morning or afternoon feedings. Walk through a tunnel where the colorful fish of a Caribbean reef flit around you. Then see the Gulf of Mexico exhibit's 400,000 gallon tank with sharks, rays and a tarpon, a fish that can measure up to eight feet (2.5m) long! Keep an eye out for sea turtles, many of them are being rehabilitated for release back into the wild as part of the aquarium's conservation programs.

Entergy Giant Screen Theater
Next door to the Aquarium, get an all-encompassing view of the natural world through films shown on a five-story screen, one of the largest screens in the southern Gulf. Look for the theater's rotating schedule to find out about which films are showing. All films focus on animals and the natural world.

Audubon Butterfly Garden and Insectarium
On Canal Street, head into North America's biggest museum devoted to insects and their relatives at Audubon Butterfly Garden and Insectarium. Shrink to bug size for an interactive experience where you see the world from a bug's perspective. Or enjoy a tranquil Japanese garden where hundreds of butterflies flutter around you, perhaps even landing on your shirt! Budding entomologists can venture into Field Camp, where you identify and classify tropical insects during interactive games in a simulated jungle. Audubon Butterfly Garden and Insectarium was New Orleans' first major new attraction to open after Hurricane Katrina.

Aquarium of the Americas and Entergy Giant Screen Theater
Save when you combine admission to these two adjacent attractions.

Aquarium of the Americas and Audubon Zoo
Combined admissions to these two popular attractions for deals.

Audubon Complete Experience
Upgrade to a ticket that includes one low price for admission to four attractions, good for 30 days from first use. Admission is valid for Audubon Zoo, Audubon Aquarium of the Americas, Entergy Giant Screen Theater and Audubon Butterfly Garden and Insectarium.
November 2015
Our trip to the Aquarium and the Zoo was wonderful. The only glitch we had is: The person at the ticket counter at the aquarium had no idea how to process the voucher. He gave us tickets to the zoo only, but the attendant taking tickets was gracious enough to let us into the Aquarium. Both places were awesome and I give it a five.
August 2015
Great way to save and see all that the Audobahn Nature institute offers. We had 2 seniors, 2 children and 4 adults-all worked out great-I highly recommend the combination pass for all of the parks
March 2015
February 2015
Museums were okay. The ticket office didn't recognise my Viator booking initially and spent some time looking through my phone to find the electronic ticket, despite me showing it directly to them, and not returning my phone immediately on request, which was a bit odd. Otherwise, good for kids, not so much for the more adult traveller.
Advertisement
Advertisement