Spend a morning or afternoon in Impressionist‐era New Orleans with a tour of Edgar Degas' former home and art studio. See the grand interior spaces that provided the setting for many of Degas works, learn about the artist's Creole roots and stroll under the beautiful oaken canopy along Esplanade Avenue. Extend your tour with optional upgrades including a courtyard breakfast beforehand or a visit
to the New Orleans Museum of Modern Art.
Highlights
Tour of the Degas House in New Orleans
Explore the former home and art studio of French Impressionist artist Edgar Degas
Learn intimate details about this historic home from your guide, Degas' actual great-grandniece!
See first-hand where Degas found inspiration for many of his greatest masterpieces
Peruse the gift shop for unique Degas-inspired souvenirs
Upgrade to enjoy a wonderful courtyard breakfast before your tour
What You Can Expect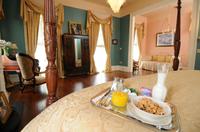 Choose the morning or afternoon for your historic tour and enjoy a stroll down New Orleans'
picturesque Esplanade Avenue – dubbed 'Millionaire's Row' for the prosperous Creole population that
lived there – to the Degas House. This elegant property was the home and workplace of Edgar Degas
during his five‐month sojourn from France, notably the only US journey made by any French painter of
the Impressionist period.
Upon arrival, you'll be greeted by a congenial host – perhaps even one of Degas' great‐grandnieces who manage the historic site. Begin your tour with a short viewing of the documentary A Creole Sojourn, an award‐winning film that details Degas' stay in New Orleans, a critical turning point in his life and work. Learn about Degas' Creole relations and the 18 paintings that he supposedly created in the house. Then take a more informed tour of the property that is listed in the French National Order of Arts and Letters and the National Register of Historic Places.
Your art historian guide will lead you through the property's principal houses that now serve as a museum and a bed and breakfast. Learn intimate information about Degas life and work, appreciate immaculate period artifacts and furnishings, and see the settings that inspired Degas' portrayals of Louisiana – the only scenes of 19th century American life depicted by an impressionist artist.
New Orleans Museum of Modern Art
Add this upgrade your guide will escort you to the New Orleans Museum of Art following your house tour. There, you'll have a chance to see more stunning work by Degas among the museum's remarkable 40,000‐piece collection.
Courtyard Breakfast
Select this add‐on and arrive by 9am for an intimate courtyard breakfast before your morning tour. Soak up the distinctive beauty of the space as you enjoy a made‐to‐order meal featuring French waffles with fresh fruit, Creole Omelets, and French toast topped with caramelized bananas paired with a complimentary Bloody Mary or Mimosa.
February 2014
Liked it alot..v interesting and influential time of his life..quite a way so need a car/cab
January 2014
I really enjoyed my trip the Degas House. There was no original art there, but the tour was run by a great grand daughter of a cousin of Degas. She really gave a lot of flavor of the times and growth of New Orleans. I felt it was a worthwhile trip. I took the 91 bus from Canal Street and Ramparts and was left a block away, and the bus stops right in front of the house for the trip back. My tour from viator and was supposed to include a trip to the New Orleans Art Museum too and I paid a premium for that option. No rep or message was there from Viator about that part of the tour. The woman running the Degas House tour told me the museum was closed Mondays but feeling sorry for me gave me a ticket to the museum for the next day which was very nice but it threw off my tight schedule as I was leaving New Orleans Tuesday. So I am very disappointed in Viatour though my friend had recommended them to me. I am now concerned about booking through Viatour again. They ought to review their website.
October 2014
Only gave it a 3 star because we had booked the breakfast and we did not get it. The tour itself was great.
April 2014
The brochure indicated the grand niece of Degas would lead the tour, she did not. The guide was very knowledgeable of Degas and New Orleans history. Very little original art.
Advertisement
Advertisement