Experience the best of New Orleans' opulent Garden District on this approximate 3‐hour walking tour.
Marvel at the enormous antebellum mansions, learn about some of the district's famous residents
including Anne Rice and Sandra Bullock, and visit homes used in the films Interview with a Vampire and
Dracula 2000. You'll also wander through the macabre above‐ground tombs at Lafayette Cemetery, one
of the city's most significant 'Cities of the Dead'.
Highlights
Walking tour of the opulent Garden District in New Orleans
View well-preserved examples of Greek Revival and Italianate architecture, including the homes of Anne Rice and Sandra Bullock
See where Confederate President Jefferson Davis passed away

Visit the Lafayette Cemetery, one of New Orleans' distinctive above-ground cemeteries

Stop for refreshments at Magazine PoBoy Shop

Roundtrip transportation by coach from the French Quarter included
Visit the interior of Opera Guild Home

Recent Photos of This Tour
Garden District Walking Tour: Mansions and Lafayette Cemetery
What You Can Expect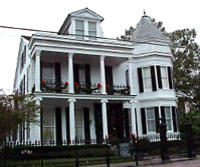 Board your morning coach in the French Quarter and enjoy watching the city wake up as you travel to
the neighboring Garden District. This area, which now boasts some of the most splendid, preserved
antebellum mansions in the South, was once occupied by multiple plantations.
As you stroll through manicured streets and admire colorful facades and cast‐iron fences, learn how the
area was slowly appropriated by wealthy Americans in the 19th century who sought distinction from the
French population in the French Quarter. Your guide will complement the spectacular urban scenery
with legends of the Garden District's past and present residents, from Jefferson Davis – the 'First and
Only President of the Confederate States of America' – to local author Anne Rice, actor John Goodman,
and famous football player Archie Manning. Before leaving the Garden District, take an interior tour of a
distinguished home from the Civil War era.
The final leg of your walking tour is Lafayette Cemetery, one of New Orleans oldest surviving – and still
operating – 'cities of the dead'. Spanning just one square block, this mysterious site houses more than
7,000 people in tombs and mausoleums. Hear about the distinctive above‐ground burial system and
some of the cemetery's famous interred – both factual and fictitious.
Capture some photos and partake in complimentary refreshments at Magazine PoBoy Shop before
returning by coach to your starting point in the French Quarter.
May 2016
Marcia, our guide, was interesting and informative. Her small facts about the area showed how much she has learned and is learning about her tour. Her tip on lunch at Commanders Palace was great and we actually went the very next day. Overall a great experience that we would recommend to anyone coming to New Orleans.
May 2016
Our guide was very friendly and knowledgeable, great tour!
m rue United States of ...
May 2016
great way to learn about the neighborhood history and see historical homes.

May 2016
Nancy was our tour guide and she made the entire 2 hours terrific. She was so knowledgeable and enthusiastic about every spot we stopped at. She was a great representative of a smart Southern woman and we had a great time. Not to mention the incredible pecan praline cookies she gave out at the end!
April 2016
It was a very good tour. Our tour guide Nancy really knew her history. I highly recommend it.

April 2016
Awesome tour! Our guide, Marcia, was very knowledgeable about the Garden District and the historical homes there. Highly recommended.
April 2016
Excellent tour loaded with history, architecture, local flavor, and personal commentary from Carol, our wonderful guide. We learned a lot and enjoyed the experience.
April 2016
Good tour, even in the rain, the inside of the opera house is the highlight
April 2016
Lovely walk through the Garden District. Our guide Carol pointed out all the celebrity homes, and shared tidbits about renovations and histories of the various homes. You get to tour the Seebold mansion too. My highlight was seeing the Manning home. :
The cemetery portion of the tour is very brief. If you want to learn more and spend more time in a cemetery, then take a tour that is specifically for cemeteries.
Note... there's lots of walking over uneven surfaces the sidewalks are not exactly level and smooth.
April 2016
Our guide was Midge. She was great. We enjoyed seeing all of the mansions in the Garden District, including Sandra Bullock's, John Goodman's and a couple of Anne Rice's previous houses. Nice walk.
Watch out for the sidewalks though. We enjoyed seeing the Lafayette 1 cemetery and the history along with it. I would recommend this tour to see these spots.
Advertisement
Advertisement