Immerse yourself in legend and mysticism on this 2‐hour voodoo walking tour through New Orleans.
Admire culturally infused architecture as you pass through the French Quarter en route to St Louis
Cemetery No 1. There, meander through a maze of haunting yet impressive mausoleums including that
of Marie Laveau, the city's most revered voodoo priestess. Learn of her contribution to New Orleans'
rich – and continued – voodoo tradition.
Highlights
2-hour architecture and cemetery walking tour in the French Quarter, New Orleans

Walk by shotgun homes and Creole townhouses in the French Quarter with your expert guide

Learn the origins of voodoo and its association with the Big Easy

Hear the story of the famous Voodoo Queen of New Orleans, Marie Laveau
Visit Marie Laveau's grave at St Louis Cemetery No 1
Learn about the burial traditions and cemeteries of New Orleans
What You Can Expect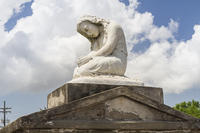 Your journey through mystical New Orleans' begins on Royal Street in the French Quarter. Choose a
morning or afternoon start time and meet your friendly local guide for a narrated walk through the
French Quarter. Discover the architectural diversity of the area as you pass French and Spanish‐inspired
buildings, gorgeous Creole townhouses, 'Entresol' houses and shotgun homes. Catch a glimpse of a
cloistered courtyard and hear of its utilitarian function.
As you stroll, enjoy tales of New Orleans' voodoo history and peek into a small shop that specializes in
voodoo ritual materials such as herbs, oils and amulets.
You'll hear more from your guide about alargely
misunderstood religion that still enjoys a formidable presence in New Orleans.
You'll soon arrive at St Louis Cemetery No 1, the oldest and most famous cemetery in New Orleans.
Spanning just one square block, this site houses thousands in crypts and mausoleums of varying
extravagance. Your guide will explain the reason for above‐ground burial and introduce some of the
site's famous residents such as Marie Laveau. Wander through the labyrinth of graves to locate her
tomb, a spiritual destination for people from across the world.
Your return to the French Quarter passes by the old train station and through Louis Armstrong Park
where you'll visit Congo Square, a historical site from the 1800s where slaves and free people met on
Sunday to openly trade, socialize, play music, dance and practice voodoo rituals.
Your tour ends in the French Quarter in mid‐ to late‐afternoon.
Please note that this 2‐hour covers about one mile of the city, so comfortable walking shoes are
recommended.
May 2016
April 2016
awesome tour. If you visit a cemetery in New Orleans make it this one! I learned a lot about voodoo and the architecture in New Orleans.
March 2016
GREAT tour guide Fred was a history major and well versed in the French Quarter stories, history and legends. Great time! My adult kids loved it also.

March 2016
The tour was awesome! It was a large group but the guide managed to keep us together. We saw a lot of neat things and learned a lot.
February 2016
Fred was our tour guide, he was awesome! Very knowledgeable and could tell he enjoyed his job. He was very personable.. If you're able to request a guide I would request Fred, you won't be sorry.

April 2015
Tour guide was VERY knowledgable and we learned a lot we didn't already know. I have Ben on similar tours, but they did not give the details that he did! I would definitely recommend this tour to others!
April 2015
enjoyed tour and guide was great very informed we enjoyed his knowledge sharing and he seemed to really enjoy his work would highly recommend to others my daughter and granddaughter has been on same tour and loved it
March 2015
Our tour guide was simply amazing and shared her personal stories about the area and cultural history. It was one of the best tours I've been on :)
theresa a United States of ...
November 2014
October 2014
Very interesting tour. Our guide was very knowledgeable and accommodating. Would definitely recommend this tour if you're interested in St. Louis Cemetery No. 1 history as well as the French Quarter.
Advertisement
Advertisement