Delve into the darker side of New Orleans' with an evening walking tour of the city's most eerie sites!
Wind through the dark corridors of the French Quarter and hear spooky tales of vampires, voodoo,
witchcraft and famous hauntings from your local guide. Pass by infamous locations with grisly histories
such as St Germaine House and LaLaurie House. Cap it off with a drink to warm your chilled blood at a
local pub (own expense).
Highlights
Haunted nighttime walking tour in New Orleans
Visit spooky sites in the French Quarter such as the St Germaine House, LaLaurie House and Lafitte's Blacksmith Shop
Be entertained by legends of ghosts, voodoo and witchcraft
Stop at a bar for some drinks with your fellow travelers (drinks not included)
What You Can Expect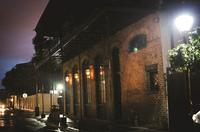 Your ghostly adventure begins in the evening at the Supreme Court Building in the French Quarter. Meet
your local guide and set off on a journey through the dark recesses of New Orleans' haunted history.
Steel yourself for legendary tales of wickedness, witchcraft, voodoo, ghosts and vampires!
Your 2‐hour tour winds through the French Quarter, passing creepy sites such as Muriel's Restaurant and
the New Orleans Pharmacy Museum, known for its questionable medical practices in the 19th century
such as bloodletting and leeching. See the St Germain House, former home of rumored vampire Jacques
Saint Germain, and hear blood‐curdling tales of LaLaurie House and its wicked mistress Madame
LaLaurie. Pirate enthusiasts will enjoy a stop at Lafitte's Blacksmith Shop, former property of the famous
privateer Jean Lafitte. One of the city's oldest buildings, this functioning bar was once the base of a
massive smuggling operation.

June 2016
This tour was amazing! Our guide Trish was extremely nice and informative. Loved it!
June 2016

June 2016
This was so much fun! Andy our guide was a real character - a professional ghost hunter who has a gift for story telling. The group was on the large side which worried me at first but wasn't a problem. Lots of stories from around the city, mainly on the ghost front but a couple of good vampire ones as well. Really worth doing, especially as night draws in.
June 2016
AMAZING! By far my favorite tour from the trip.Our tour guide Andy was awesome. He was really knowledgeable about the city and could tell he had a passion for the paranormal. Definitely recommend!

May 2016
Jannine était super et a fourni de nombreux détails. De plus, on sentait bien qu'elle aurait pu organiser une conférence sur le sujet. Le bonus : Je voyageais seule et elle a sû créer un vrai groupe de visite.
Jannine was great and she gave us incredible details. Furthermore, you could feel that her knowledge could allow her to give a conference on this topic. Big Bonus : I was travelling all by myself and she'd know how to straighten the group feeling.
May 2016
This was an amazing tour. Bond or you can call her Pocahontas, or travel guide or hey you, she answers to it all was extremely knowledgeable about each stop we went to and only true documented facts. She is in the process of getting her doctorate in New Orleans History and went purely off of the history books and documented/proven stories. She was a creative and fun story teller who knew how to keep the group's attention. If you take this tour, she is the one to go with, request her!
April 2016
Tour guide was very animated and knowledgeable.

March 2016
Highly recommend this to you if your up in the French Quarter, and see if Drew can be your tour guide... Awesome dude and very energetic story telling skills, apart from excellent sense of humor... Glad I went on this tour and don and #39;t read into the reviews 2 much most of the peeps were prob too drunk.
March 2016
This was fun and very informative. Learned a lot of history about the French quarter. Our guide Was nice and loud and fun to be with. Walking was not tiresome, started and ended right on time
February 2016
Melissa was an excellent guide!! She was very friendly, knowledgeable and answered questions. New Orleans Ghost tour is definitely something everyone should do when visiting the city. It was so much fun and totally worth it!!
Advertisement
Advertisement