Discover New Orleans 'spirited' side on a fun and informative cocktail tour! You'll rub shoulders with
local imbibers at historic bars and restaurants and sip on classic concoctions like the Sazerac and Pimm's
Cup. Immerse yourself in 2.5 hours of sampling and storytelling from your guide and savvy mixologists,
and learn the famous – and sometimes scandalous – histories of drink and drinking culture in New
Orleans.
Highlights
Walking tour of New Orleans original cocktails
Discover the history of renowned libations, including the Sazerac and Pimm's Cup
Visit the oldest restaurant in New Orleans, and its wine cellar and private dining area
Enjoy a view of New Orleans through its history of fine dining and drinking.
This tour has been featured on The Travel Channel

Recent Photos of This Tour
New Orleans Original Cocktail Walking Tour
What You Can Expect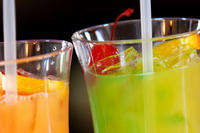 Your journey through the 'spirits' of New Orleans begins in the French Quarter. In mid‐afternoon, meet
at the Gray Line Lighthouse Ticket Office, dressed in 'casual' fine‐drinking attire – some dress codes
prohibit tank tops, cut‐offs or super short shorts. With an expert guide and fellow drinks enthusiasts,
you'll spend the next two hours visiting historic local haunts to sampling iconic cocktails.
En route to the first bar, check out the distinctive local architecture. You'll see French‐ and Spanish‐
inspired buildings, gorgeous Creole townhouses and intimate courtyards – some of which offer a great
space for imbibing and mingling. At each legendary venue, admire the mixology of notable bartenders
and learn the origins and truths of centuries‐old cocktails from your guide. Any of the featured southern
drinks are available for purchase, so treat yourself to a Sazerac (or two).
Your tour also includes a stop in at Tujague's, the oldest authentic Creole restaurant in New Orleans,
serving loyal locals since 1856. Sample a sweet, minty Grasshopper – invented here! – and tour its
historic wine cellar and dining rooms before returning to the starting point, where your excursion ends.
You'll finish with plenty of time (and insider information) to continue the fun with your own self‐guided
drinks and eats tour.
June 2016
Sandi was a charming guide with plenty of iknowledge and history and we loved the bars we visited and the drinks we tried
June 2016
This tour was amazing!! Best guided tour I and #39;ve ever been on anywhere!! Thanks Joe for such a wonderful experience!!
June 2016
This was my second tour with them...loved it!
June 2016
We got to see bars we wouldn and #39;t see otherwise- great tour guide! Very informative and funny!
NAG United States of ...
June 2016
Outstanding, informative tour. Joe G. was a great guide, taking us to bars that were not simply drinking establishments but also historical landmarks. I learned more about NOLA on this tour than any other. I highly recommend this tour to anyone interested in cocktails and/or history.
June 2016
The Walking Cocktail Tour was great - very informative and a lot of fun!

June 2016
Very enjoyable trip around some of the bars of New Orleans. It doesn't give you much of the history of the city itself, but let's be honest that isn't why you are there! The cocktails are great, the guide informative and it is a fab way to see some of the main sites of New Orleans.

June 2016
This was a fun tour, introduced me to bars I would never have discovered as an independent traveler. Joe was an informed, relaxed tour guide who delivered history of NOLA with charm and expertise. The cocktails along the way were fun as were the other guests on the tour. Well worth booking.
June 2016
Our tour guide, Joe, was fantastic! He is a retired professor from Tulane and he was very knowledgeable about the bars and historic areas of the French Quarter. I would take this tour again.
June 2016
Sandi was a AWESOME guide! My wife and I loved her stories about the history of New Orleans. That is why we went on this tour. The drinks were fun, but having drinks along with a tour of the bars and restaurants of the French Quarter was REALLY great! If you just want to drink, then go to Bourbon Street. If you want to have a few while interacting with a great tour guide like Sandi along with other interested folks, then this is the perfect activity. This tour was one of the highlights of our trip to New Orleans.
Advertisement
Advertisement