265 Reviews
Location:

New Orleans, Louisiana

Duration:

2 hours

(approx.)
Discover New Orleans 'spirited' side on a fun and informative cocktail tour! You'll rub shoulders withlocal imbibers at historic bars and restaurants and sip on classic concoctions like the Sazerac and Pimm's Cup. Immerse yourself in 2.5 hours of sampling and storytelling from your guide and savvy mixologists, and learn the famous – and sometimes scandalous – histories of drink and drinking culture in New
Orleans.
Highlights
Walking tour of New Orleans original cocktails
Discover the history of renowned libations, including the Sazerac and Pimm's Cup
Visit the oldest restaurant in New Orleans, and its wine cellar and private dining area
Enjoy a view of New Orleans through its history of fine dining and drinking.
This tour has been featured on The Travel Channel

Recent Photos of This Tour
New Orleans Original Cocktail Walking Tour
What You Can Expect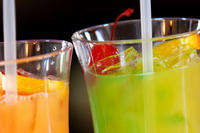 Your journey through the 'spirits' of New Orleans begins in the French Quarter. In mid‐afternoon, meet at the Gray Line Lighthouse Ticket Office, dressed in 'casual' fine‐drinking attire – some dress codes prohibit tank tops, cut‐offs or super short shorts. With an expert guide and fellow drinks enthusiasts, you'll spend the next two hours visiting historic local haunts to sampling iconic cocktails.
En route to the first bar, check out the distinctive local architecture. You'll see French‐ and Spanish‐inspired buildings, gorgeous Creole townhouses and intimate courtyards – some of which offer a great space for imbibing and mingling. At each legendary venue, admire the mixology of notable bartenders and learn the origins and truths of centuries‐old cocktails from your guide. Any of the featured southern
drinks are available for purchase, so treat yourself to a Sazerac (or two).
Your tour also includes a stop in at Tujague's, the oldest authentic Creole restaurant in New Orleans, serving loyal locals since 1856. Sample a sweet, minty Grasshopper – invented here! – and tour its historic wine cellar and dining rooms before returning to the starting point, where your excursion ends. You'll finish with plenty of time (and insider information) to continue the fun with your own self‐guided
drinks and eats tour.
November 2015
Joe was amazing and a true New Orleans icon.
November 2015
Tour was fantastic! One suggestion I would make, have an option to pay a little extra for the tour to include drink SAMPLES not a full drink at each place. That way if you don't like a drink, you haven't paid for and wasted an entire drink. I think people would pay extra to include samples in their tour. I realize the bar owners make more money off the full drinks, but Viator should cater to their paying customers and not the bar owners.
November 2015
Had a great time learning about the history of NOLA, especially the French Quarter, got a tour of some parts of the historic restaurants where one would never have access without knowing the right people or being invited.
November 2015
We went with a group of 4 and had a great time.it was poruing but to bad walking around.Very interesting tour learning about some of the historyof the quarters and some of the famous drinks.We would do it again!Great tour guide..
November 2015
Sandi was a great tour guide! we got to see the workings and inner details of some of the best resturants in New orleans. Also, the history of many of the cocktails that were presented during the tour were informative, fun and refreshing in comparison to some of the city's most well known stories. I recommend Sandi!
November 2015
For the past 9 years, a group of us from all over the country converge on New Orleans for the week of Halloween. Every year, we do one touristy type thing swamp tour, plantation tour, etc. This year, we didn't plan ahead, so at the last minute, I booked the 6 of us for the cocktail tour.
We arrived at the appointed time and place for the tour and waited to be sorted in to groups for the tour. As we waited, an intoxicated homeless man approached me. We chatted briefly, he told me a joke, and I gave him a cigarette and walked over to join my group of friends.
At this point, Sandy approached me with an angry look on her face. She immediately began chastising me in front of the group for talking to this man. I live in a city with one of the highest homeless populations in the nation, right now. As a tour guide in my city, I understand the problems they can cause for guides and companies. However the way Sandy approached me was 100 inappropriate for a professional tour guide. To scold me in front of a group of people, including my friends and strangers was unprofessional, condescending and flat out rude. I almost left and asked for my money back, and would have if she had been our guide.
Luckily, we got Brian. As a former bartender and current bar/history tour guide in my city, I was a little worried about how the tour would go, but Brian was awesome. He was very knowledgeable about craft cocktails, the history of New Orleans, and the locations that we visited. We stopped at four places and at each place, he described the beverages we were having and why they were important to history. He was very patient about me fangirling about Paul at Broussards. He was personable, made sure that everyone had time to ask questions, and chatted briefly with each member of the our group. Beyond that, he did a great job with crowd control, which is hard to do with a large group of drunk people :
I highly recommend Brian and the tour. I would do this one again.
October 2015
This was the best tour we took. Our tour guide Joe at first glance we was worried however he was fantastic with the stories and knowledge about the history of the famous drinks and each location we visited. So friendly enjoyed talking with him at every stop while we tried a drink at each location.
October 2015
Our guide Ettienne sp?, was great. He was very knowledgeable about the history of New Orleans and shared personal insights of the town. He took us to the more upscale restaurants and bars that were away from crazy Bourbon Street. We toured one of the oldest restaurant in New Orleans located in French Quarter, Antoine's, which had lots of interesting historical memorabilia to see. I would highly recommend this tour, oh and the cocktails were good too!
October 2015
The best tour I have been on in New Orleans. Mr. Joe was awesome!
October 2015
This is one of the best tours we've taken.
Advertisement
Advertisement