Take a wild ride through the bayous of Cajun Country on this 2‐hour airboat adventure from New Orleans. In a small group, wind through tree‐lined swampland and spot abundant local wildlife, including nutria, alligators and giant catfish, and stop at Destrehan Plantation to get a taste of the elegant antebellum south.
Highlights
Enjoy a scenic drive along the shores of Lake Ponchartrain

Tour Destrehan Plantation with costumed guides bringing history to life

Free time to explore the spectacular grounds of the plantation

Experience real Cajun Country on a high-speed airboat ride

Encounter local wildlife
Recent Photos of This Tour
What You Can Expect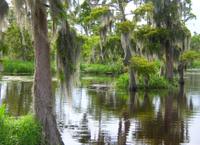 Your 5.5‐hour bayou and plantation tour begins with morning pickup from your downtown New Orleans hotel. Make sure to grab breakfast and coffee before boarding the bus for the 30‐minute ride to your airboat launch point. In a bayou‐side Cajun Village near Paradis, LA, you'll transfer to a small airboat for an exhilarating 2‐hour ride. Skirt along the water, viewing the lush greenery and spotting (and maybe
getting up close and personal) with local wildlife.
Following your bayou adventure, enjoy a relaxing drive along Lake Pontchartrain to Destrehan Plantation, the oldest documented plantation home in the Mississippi Valley. As a costumed guide leads you through the restored antebellum mansion, hear stories of the estate's former owners and slaves before taking a self‐guided tour through vibrant gardens and down oak‐lined paths.
The tour bus will return you to your hotel in early‐ to mid‐afternoon.
June 2016
A great experience in a group of only 7 of us.
The air boat ride was a highlight of our trip meeting our guide and driver/ pilot Garry who was fun and knowledgable, entertaining us with his local knowledge and very funny tales.
I would highly recommend the airboat tour, the plantation house is a must, it is an important part of this areas history.
May 2016
The swamp tour guide was very entertaining and informative. The plantation tour was also very nice. Madeleine was great as our tour host.
April 2016
AWESOME!
Special Kudos to Madeleine and the local tour operator for taking such good care of us!
This tour is a long one with no meals available to buy, so bring snacks and water. Or do like some folks on our tour did and bring a cooler. The plantation and swamp adventure do not have anything more than sodas and candy, so if you don't want to go into diabetic shock, bring something to munch on in between tours.
The Destrehan Plantation was very interesting and if you're lucky enough to Candance as your Interpreter of History, you are in for a treat! I felt like we needed another 20 minutes at this location to go check out the grounds a little more and see the 1811 Slave Revolt exhibit after the official tour. But we were strapped for time and had to jump back in the van to head to our Swamp tour.
Swamp Adventures is super fun. Don't be surprised and squeal with fright, like I did when Levi the Gator sidles up to the boat as you are boarding it at the dock. Note...while I get the impression some of the gators who are named are like pets... they are not ... they are still wild animals. Rodney was our driver and he's super skilled at maneuvering this boat over and around tight spots. It was so amazing where he took us. And I love the feel of zooming around the swamp. Rodney also has a wicked sense of humor and totally got me when he put an alligator chick really close to my ear as I was looking at something else. I'm embarrassed to say that I screamed again, which caused the rest of the boat to scream as well since they didn't know what happened and we were all in a heightened sense of where is the gator or snake we thought we saw? We were of course, totally safe. Rodney was just messing with me. I loved it of course. And my mom totally jumped at the chance to hold the alligator chick she's braver than me.
You want to do this tour if you like history, nature and a little bit of adventure. Oh... and if you like boats and zooming around.
February 2016
Captain Gary was courteous and was able to show us a lot about the swamp. Joni and I had a great time and will do this again the next time we get down there. We were able to see gaters and a lot of birds. We also got to see several Nutrea.
September 2015
Guides were wonderful. Had us on the edge of our swamp boat seat!
June 2015
This was a real blast, great guide, really knew his stuff and made the whole experience a lot of fun
June 2015
The Airboat swamp adventure turned out to be everything we could have wanted. Captain Jack was terrific and I would highly recommend this to everyone.
May 2015
The airboat tour was amazing! Captain Gary was experienced and Knowle able. Even got to hold a little female gator! Plantation tour was a bit of an anticlimax but gave a feel for plantation life in beautiful surroundings.
January 2015
Oh Captain Monkey....great experience despite it being the wrong season for lots and lots of gators. Captain Monkey found us lots of gators and other beautiful things to look at, seriously great fun and sooooo educational. The passion and respect for the environment was just amazing.....don't miss this one.
December 2014
Our tour guide, Dylan, was awesome! He was very prompt and friendly. We learned so much about the city, in an entertaining way. The plantation was great and was hosting a fall festival, so we got way more than we planned for! The air boat/swamp tour was amazing and beautiful. I would recommend this tour to anyone!
Advertisement
Advertisement