Experience the grandeur of New Orleans' rich and conflicted past on a small‐group plantation tour. Take a 5.5‐hour journey through Oak Alley Plantation and Laura Plantation, spying other historic plantations as you travel the Great River Road. View stunning architecture, oak‐lined esplanades, and enduring sugar cane fields while learning about the plantations' fascinating – and often somber – histories from
expert guides.
Highlights
Guided tours of Oak Alley and Laura plantations from New Orleans

See guides in period costume and gorgeous old oak trees at Oak Alley Plantation

Tour the gardens and historic slave quarters at Laura Plantation

Learn about Oak Alley, Laura and other local plantations from your guide

Small-group tour limited to 13 people for a more relaxed experience

Recent Photos of This Tour
What You Can Expect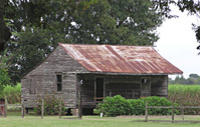 Choose the morning or afternoon for your historic plantation tour and enjoy pickup from your downtown New Orleans hotel. Once aboard the bus, settle into a comfortable seat and prepare for a journey back to the antebellum south, before the American Civil War shook the foundation of plantation‐life. Enjoy lively onboard commentary from your guide as you trace the shoreline of Lake Ponchartrain and Great River Road en route to your first stop – Oak Alley Plantation.
So named for the postcard‐perfect canopy of knotty oak trees that line its entry promenade, Oak Alley Plantation is centuries‐old jewel of the South that has enjoyed recent revival. Begin with a walk up the romantic yet imposing oaken path to the 'Big House,' a perfectly restored example of antebellum elegance and Greek Revival architecture. Meet knowledgable guides in period costumes and learn about
the many lives that once occupied the plantation. Tour the opulent rooms of this classic southern home, the Civil War Encampment exhibit and Slave Quarter exhibit, then take some free time to wander the enchanting grounds.
Then continue along Great River Road, catching views and stories of Whitney, St Joseph and Evergreen plantations along the way. Arrive next at Laura Plantation, a Creole plantation whose distinctive and colorful manor house starkly contrasts the reserve of Oak Alley. Accompany your guide on a tour of the mansion, outbuildings and slave quarters, soaking up stories of Creole culture and West African
folktales, said to be the inspiration for Br'er Rabbit stories. Meander through vibrant flower and vegetable gardens and marvel at the surrounding sugarcane fields – a lush backdrop and stark reminder of the site's dramatic past before heading back to town.
Your 5.5‐hour tour ends with a drop‐off at your point of origin in the mid‐afternoon or evening.
April 2016
April 2016
Excellent tour, even on a rainy day it was well organised and catered for and we were able to do all activities. Highly recommend
April 2016
Our driver wasn't the friendliest, however he was very informative and the plantations were great.
This is the 2nd time I've done this tour and I don't regret either!! LOVE the small group format...
March 2016
Loved the guides at the 2 plantations - very entertaining and knowledgeable. Our driver was very good also and had a ton of history to share. The tour ended up being a couple hours longer than planned due to heavy traffic. Van not very comfortable
March 2016
I can't laud this tour enough!
We had a group of 6 wth the wonderful Niji as our driver/guide. She was so informative, very well-versed in the history and culture.
Laura Plantation was our first stop and Rose, the guide there, was a treat. It is a fascinating place with quite the story, which Rose told so well.
Oak Alley is a stunner and drew quite the crowd. Chelsea was our guide there and she was also great .
Do not miss this tour!
March 2016
Fabulous - very informative about the history of the people and the places!
March 2016
We had a great time on our tour of Oak Alley and Laura Plantation. Our tour guide, Guy was very knowledgeable and personable.
March 2016
Great tour.
Really informative tour guide/driver.
Laura plantation tour was exceptional.
Oak Valley was beautiful.
Worth every penny!
March 2016
Excellent tour! We were picked up at our hotel, and entertained with good narrative all the way out and back about 50 miles to the plantations along the Mississippi. The tours themselves of the Laura Creole Plantation and the Oak Alley Plantation were fascinating. It was a long day 6 hours, but so interesting all the way through. We felt very well-treated by the tour staff and the staff at the plantations. I have some walking issues, but I made it through the tours just fine. They are well-paced.
February 2016
Tours by Isabelle, a great way to do the tours.
Advertisement
Advertisement