Witness a different side of New Orleans's history with a visit to the dynamic National WWII Museum. While away the hours exploring wartime artifacts and discovering fascinating facts and histories at this world-class museum — considered one of the top museums in the nation! Your entrance pass includes admission to the 4D film 'Beyond All Boundaries' as well as an interactive experience on the USS Tang submarine, one of the war's most successive vessels.
Highlights
General Admission ticket to The National WWII Museum
The Museum features interactive exhibits, a 4D cinematic experience produced by Tom Hanks, soaring aircraft, personal histories, and more.
Recent Photos of This Tour
The National WWII Museum Ticket New Orleans
What You Can Expect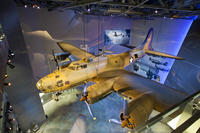 Journey through time to WWII — the war that changed the world — with a visit to New Orleans' National WWII Museum. Make your way to the museum and head straight inside with your entrance ticket. Upon entering the Louisiana Memorial Pavilion, explore its multiple exhibits featuring D-Day and Home Front histories and view an authentic C-47, or hop aboard the mini-train to one of the other exhibit spaces.

The train is a lasting symbol of military transit of the wartime era. As you ride to one of the other collections, imagine the plight of WWII soldiers as they went to war. Disembark at the Campaigns of Courage collection, where you get the American soldier's eye-view of the war through 360-degree displays of key settings and dog tag stations with story points. Continue to the US Freedom Pavilion for a rare look at preserved war machines and a sobering walk through the galleries that honor American servicemen. Don't leave without participating in the Final Mission: USS Tang Submarine Experience, a thrilling interactive tour one of the most successful WWII submarines (included with your ticket).

Next head to the Solomon Victory Theater for a complimentary viewing of Beyond All Boundaries, an epic 4D wartime documentary produced by Tom Hanks. Relax and enjoy the approximate 50-minute showing that includes first-hand accounts of life in battle and on the home front.

Explore the museum at your own pace, stopping to browse genuine artifacts, engage in savvy interactive displays, remember fallen soldiers and take needed snack breaks (own expense) in the American Sector Restaurant or the Soda Shop.
December 2015
Excellent tour, very detailed and somewhat graphic. Tom Hanks commentary was great.
November 2015
Great museum, lots to see. You should allow most of the day to see everything and take it all in.
Ranita Q USA
November 2015
Absolutely amazing - too much to see for one day. I'll definitely be back to visit again.
The 4-D movie is spectacular.
October 2015
Wonderful experience. The 4D experience was amazing. I will go back again, in fact I became a member. Would highly recommend this museum to be visited.
October 2015
THE MUSEUM IS FANTASTIC. IF YOU EVER GET A CHANCE BE SURE AND GO. A FIVE STAR.

August 2015
My husband and I loved it. A wonderful facility and great learning experience.
August 2015
A great tribute to the generation that fought with honor to preserve our freedom.
July 2015
This was by far the best part of our trip. The movie Beyond all Boundaries was a true masterpiecethere were tears shared by more than just myself and gave you a small taste of what these brave men and women went through during WWII. I see why the museum is rated so high and hope to get back someday.
July 2015
Extremely interactive and visual
July 2015
Advertisement
Advertisement