Step up the luxury of your Steamboat Natchez excursion with this Viator VIP dinner cruise. Your exclusive experience begins with a complimentary Champagne cocktail while you take a guided tour of the boat's authentic fixtures and spaces such as the museum‐quality engine room. In the dining room, you'll have a reserved table where you can relax, indulge in a sumptuous buffet and enjoy a live jazz performance. If you want to go all out, upgrade to a full‐bar option.
Highlights
Steamboat Natchez dinner cruise with private engine room and boat tour, a Viator Exclusive

Cruise the Mississippi on an authentic paddle-wheel steamboat and enjoy lots of perks!

Go on an exclusive tour of the boat and its engine room led by the first mate

Admire New Orleans from your reserved seat while listening to live jazz and savoring a buffet dinner

Receive a Champagne cocktail, shrimp cocktail, boarding photo, jazz band CD and more treats

Don't miss this insider New Orleans experience -- it can't be booked anywhere else!

Why Our Insiders Chose This Tour
The Steamboat Natchez is the last paddlewheel ship still operating in New Orleans. And this is the only tour where you get a private look around the boat and the engine room, complete with souvenirs and front-row dinner seats.
Recent Photos of This Tour
Viator VIP: Steamboat Natchez Dinner Cruise with Private Boat and Engine Room Tour
What You Can Expect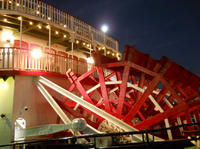 Choose one of two evening start times for your VIP dinner cruise and head to Toulouse Street in the French Quarter to board the beautiful Steamboat Natchez. When you step on board, you also step back in time as calliope music fills the air and the captain's voice pours through an antique megaphone.
Your exclusive VIP experience begins with a personal reception. Ship staff will greet you with a complimentary Champagne cocktail in a souvenir etched glass. Pose for a photo op to capture the moment; you'll take home a print to mark the special occasion. Then, follow your host (who may even be the captain!) on an insider tour of the vessel to see all the workings of the ship including the engine room and the enormous paddlewheel.
Afterward, you'll be escorted to your reserved seat, where you'll get unobstructed views of the striking New Orleans shoreline at dusk, and a front-row seat for a performance by the Grammy‐nominated jazz group Dukes of Dixieland. Whet your palate with fresh shrimp cocktail and a glass of wine. As for dinner, the buffet might include anything from cornmeal‐crusted fish to cheesy penne pasta. Top it off with Natchez's signature bread pudding accompanied by coffee and tea. Read on to the Itinerary section below for a sample menu.

Once you have wined and dined, take a stroll across the deck or sit back in your seat and enjoy live jazz. The music plays on until the evening cruise ends back at the departure point in the French Quarter. Take home a complimentary Steamboat Natchez pin and Dukes of Dixieland CD as tokens of your magical night aboard the Steamboat Nanchez.

Upgrade option
Receive all the luxuries of the original tour, but include an open bar (call‐brand select cocktails, beer and house wine) for the entire duration of the cruise.
Itinerary
Sample Dinner Menu
Steamboat SaladOnion, Cucumber, tomato and mixed greens in a lemon herb vinaigrette
Soup du Jour
Southern Fried FishZesty cornmeal crusted and fried to a golden perfection
Pork LoinBlackened in NATCHEZ Creole Spice and served with Creole Mustard sauce
Strip Loin of BeefHand carved, cooked medium rare and served with a bleu cheese‐horseradish emulsion
Penne Quattro FormaggiBlend of baked mozzarella, Fontina, Asiago and Bellavitano Gold cheeses
Roasted Garlic Mashed Potatoes
Creole Creamed SpinachSpinach braised with onions, artichoke hearts, cream cheese, Parmesan, and feta cheese
NATCHEZ Bread PuddingA New Orleans soufflé of La Louisiane French bread, eggs, cream, vanilla and cinnamon with a Callebaut® Belgian white chocolate sauce
La Louisiane Hot Fresh Bread
April 2016
If you want to be treated like royalty, take this VIP tour. Yvonne was wonderful and the tour of the ship with the captain was fun and very informative. Dinner was very good and all the special treatment that comes with the VIP package was well worth the money.
April 2016
To start off a wonderful evening with a glass of champagne along with The personal attention throughout the night, skipping the lines, meeting the captain, learning about the ship and to top it off a great band playing while eating a nice dinner with a complimentary bottle of wine. Wonderful!
April 2016
I already rated our trip. It was fabulous and definitely a great ride, tour and food. Everyone was so wonderful with food and service.
April 2016
We did pay a bit more for this dinner cruise, but the VIP experience was well worth it. We skipped the long boarding line and was escorted by a lovely guy named Bruce. he continued to care for us all night. We were given an extra entree, bottomless drinks, a reserved table outside, and a personalised tour of the boat from the captain. Then we were given a Gift pack at the end which was a lovely surprise , it contained some goodies as well as the photo that is taken when boarding. Bruce then escorted us off the boat 1st so that we did I not have to fight the queues getting off the boat. There are about 1200 people on this cruise, but we felt quite special. A lovely experience. Highly recommended.

tnacoelho France
March 2016
Une belle expérience qui inclue évidemment le repas mais pas que ! Un tour complet du navire en présence du Capitaine qui nous raconte l'histoire du bateau. Un concert de jazz avec une table de choix. Une table réservée sur la terrasse depuis laquelle on peut boire un verre tout en naviguant sur le Mississippi. Génial !
March 2016
This was both a fun and interesting cruise. The dinner was very good, as well as the service. We enjoyed the tour of the engine room and learned very interesting facts about the Natchez Steamboat.

Hiroller Canada
March 2016
Ernie and I took the Viator VIP: Steamboat Natchez Dinner Cruise. The Night that we took the tour, it was raining hard. I thought that the night was going to be a disaster. But I was wrong. We arrived at the pier a little early and was greeted by some of the crew. We were treated like Royalty. They escorted Ernie and I onboard and took us to our reserved table. Then they served us a complimentary glass of bubbly. A short time later our Captain gave us a private tour of the boat which was sensational. I grew up in Anacortes, Washington and lived on the water, but this was something special and I learned a lot about steamboats. It is the only steamboat in New Orleans that is powered totally by steam.
After the tour, the Captain escorted us back to our table for dinner where the dinning staff took good care of us. The main dinner was buffet. I thought that there might be more LA southern types of food, but the food that they did have was superb. The music was good ole Dixieland music and the band was awesome.
If Ernie and I do return to NOLA we will go in the spring or summer and we will be taking this tour again. We have no regrets with this tour.
P.S. Sorry for not having any photo's but I do not have easy access to the photo's to share with you today.
February 2016
Very much enjoyed the experience. Our host, Jourdan, was excellent. The engine room tour by the Captain was very informative and included a brief excursion onto the crew only area by the paddle wheel. Going in my thought was the VIP tour was a stupid amount of money for the two of us, but I purchased it anyway because I wanted a special experience for personal reasons. Coming away, my wife an I were both very satisfied that we had gotten our money's worth and more.
February 2016
THIS STEAMBOAT NATCHEZ VIP DINNER CRUISE WAS WELL WORTH THE MONEY. THEY MADE US FEEL THAT WE WERE SO IMPORTANT TO THEM, THE CHAMPAGNE WAS GOOD, THE FOOD WAS GOOD, THEY GAVE US A TOUR OF THE ENGINE ROOM WHICH WAS VERY INTERESTING AND GAVE EVERYONE A GIFT. I WOULD GO ON THIS TOUR AGAIN.
February 2016
Completely satisfied with tour, and service.
Advertisement
Advertisement