918 Reviews
Location:

New York City, New York

Duration:

1.5 hours for the tour; allow 2-4 hours for the 9/11 Museum if option is selected
On this 1.5-hour walking tour of Ground Zero, hear about acts of true heroism that helped to rally a nation, and gain an understanding of the World Trade Center attacks on September 11, 2001. Hear firsthand stories of the tragic event from a professional, certified guide, and listen to the personal experiences and connections to the day that the world stood still. Explore the 9/11 Memorial and the site of the former World Trade Center. To see artifacts directly associated with that fateful September day, upgrade your ticket to also include the 9/11 Museum.

Highlights
Certified guided walking tour of Ground Zero and the 9/11 Memorial
Be captivated by first-hand stories of 9/11 from your guide, who has a personal connection with the event
Gain an understanding of the tragedy and heroism of that fateful day
Upgrade to add admission to the 9/11 Museum to see artifacts associated with the events of 9/11
Why Our Insiders Chose This Tour
Ground Zero is an essential stop on any first-time visit to New York. I suggest opting for the Museum admission ticket for a complete experience.
Recent Photos of This Tour
9/11 Memorial and Ground Zero Walking Tour with Optional 9/11 Museum Upgrade
What You Can Expect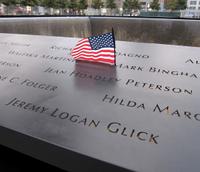 This tour begins when you meet your guide outside of St. Paul's Chapel. Please note that you will not meet at the 9/11 Museum or 9/11 Memorial.

You'll begin the tour with a short visit inside of St. Paul's Chapel, which in addition to being the oldest church still standing in New York City, is also the spot where rescue workers took shelter to eat and sleep. Amazingly, despite its proximity to the blast and destruction, the chapel was protected from dust and debris when a tree that had fallen actually shielded the building from any major harm. Before leaving the chapel, take note of the iron fence, located on Broadway St., which is where flyers of missing relatives and loved ones were posted in the days after the event.

After leaving St. Paul's Chapel, continue with your guide to the 9/11 Memorial where you'll hear the tales and gain horrific insight to the events of 9/11. Walking around where the World Trade Center once stood, absorb the firsthand, personal stories of September 11th 2001 from your guide. Later on at the 9/11 Memorial, pay your respects to the nearly 3,000 people who were killed on that fateful day. Alongside two reflecting pools, you'll find the names of every victim inscribed in two large panels, and the man-made waterfall that flows through the Memorial is North America's largest. In total, the Memorial encompasses almost an acre, and you'll have until 6pm to explore the site on your own.

9/11 Museum Upgrade

If you'd prefer, you can also upgrade to include entry to the 9/11 Museum. Inaugurated in May 2014, the museum consumes over 110,000 square feet (10,219 square meters) of the World Trade Center archaeological site. Your guide will offer a brief introduction of what you'll find in the museum, which includes archives, narratives, and multimedia displays of the people affected by the tragedy. These exhibits portray intimate retellings of loss, compassion, and recovery—a fundamental part in understanding the attacks of 9/11 and aftermath.

November 2015
The guide was very informative and great. It is a must tour for all who go to New York
November 2015
Wonderful experience with a very interesting guide. Would recommend this guided tour to everyone.
November 2015
Our tour guide was not only knowledgeable about the 9/11 memorial, but she also gave a personal rendition of what her family's story from that day. Great tour.
November 2015
This tour was the most rememberable tour we did coming to to New York.We did not get time to see the museum but if we return we will be sure to.
November 2015
My husband and i truly enjoyed the tour. Our tour guide Linda was very good. Have to say that the time and money they put into this produce is well worth it. They did a beautiful job!!!!!!!!!
November 2015
My husband and I were very touched and loved the tour! Our tour guide was amazing and full of stories that made the tour very heartfelt!
November 2015
Superb Trip..............
Ground walking tour ok - with some interesting facts, didn't feel that the guide had too much of a personal connection with events tho'.
Museum was superb - very moving experience.
Hint: - Don't miss the museum if you choose this tour - It was the highlight of this visit.
November 2015
Excellent tour Brilliant guide in Tony who had first hand experience of the event and this came across.
November 2015
The guide John was very interesting conversing on his experience on 9/11. The museum a great place of respect for the victims. Very well done. Jan b Aust.
November 2015
Enjoyed the personal account of that fateful day and the rebuilding efforts that followed.
Advertisement
Advertisement