In remembrance of the events that took place on September 11, 2001, take this 1.5-hour walking tour of Ground Zero and the National September 11 Memorial. Walk through the space of the former World Trade Center in New York City. A certified guide with a personal connection to the events of that day shares stories of tragedy and heroism. Get a deeper understanding of the events that took place here. Upgrade to add entry into the National September 11 Museum.
Highlights
Certified guided walking tour of Ground Zero and the 9/11 Memorial
Be captivated by first-hand stories of 9/11 from your guide, who has a personal connection with the event
Gain an understanding of the tragedy and heroism of that fateful day
Upgrade to add admission to the 9/11 Museum to see artifacts associated with the events of 9/11
Why Our Insiders Chose This Tour
Ground Zero is an essential stop on any first-time visit to New York. I suggest opting for the Museum admission ticket for a complete experience.
Recent Photos of This Tour
9/11 Memorial and Ground Zero Walking Tour with Optional 9/11 Museum Upgrade
What You Can Expect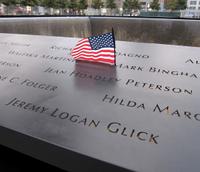 This Ground Zero walking tour begins at St Paul's Chapel, aka the Little Chapel That Stood. St Paul's is the oldest public building in New York City that's still actively used. This church somehow survived the falling debris from the 9/11 attacks on the World Trade Center despite being only one block away from the melee. It became a kind of rescue center during the aftermath of the tragedy, and the iron fence that surrounds it became a place for family members to post notices about their missing loved ones.

As the tour continues, walk to the FDNY Memorial Wall and FDNY Ten House. Hear the heroic stories about the emergency responders on that day and see the fire station at Ground Zero.

Finally, enter the National September 11 Memorial, aka the 9/11 Memorial, a tribute of remembrance and honor to the almost 3,000 people who were killed on 9/11 — at the World Trade Center site, in the plane crash near Shanksville, Pa., and at the Pentagon — as well as the six people who were killed in the World Trade Center bombing in February 1993.

There are twin reflecting pools at the very spots where the Twin Towers once stood. Look up and see One World Trade Center's Freedom Tower.

There is an optional upgrade to include entry into the National September 11 Museum — 110,000 square feet of exhibit space located at the heart of the World Trade Center site. The museum tells the story of 9/11 through multimedia displays, archives, narratives and a collection of artifacts. The lives of every victim of the 2001 and 1993 attacks are commemorated here.
May 2016
guide linda was great with good feelings and insight
May 2016
breath taking tour, but the tour guide made if real!
May 2016
My entire group enjoyed the tour. Tony was awesome. He was knowledgeable and great at relating information to us. Will definitely go again.
April 2016
My husband and I really enjoyed the tour. We have been all over the world with the military and feel that this is one of the best. We were at the tower before it went down and was again here when there was rubble. We have watched the Freedom Tower go up. It was so interesting to hear Len's stories about things and we did learn alot of things. The tour was just fast enough to make sure the elderly could keep up. That makes a big difference because they want to see things too but they can't do it so fast. Len's personality was so good and we laughed with him. He was so informative about everything. WE learned things that we never knew before and we even came back to his brothers house who are New Yorkers and told them things they didn't know. We have been to ground zero more times than they have. Overall I would give them five stars.

April 2016
John, our tour guide, was excellent. He spoke clearly, loudly enough for all to hear. He was very knowledgeable and personable.
April 2016
This was one of the best trips ever. Our tour guide Rob was amazing. If you're interested in what happened on this sad day, then this trip is a definite must.

April 2016
If I could rate this tour higher I would. Our guide I'm sorry I don't remember his name was so informative and insightful. He told us many personal stories about that day and the days that followed. I cannot praise his enough. Thank you. You made our visit to the memorial and museum very pleasurable.
April 2016
I am the travel agent that booked this tour for my clients.
They loved and even wrote me a thank you note.
They told me the guide was a first responder which made the tour one they will never forget.
April 2016
Our tour guide,Len did a wonderful job of guiding us through the history of this area. He was knowledgeable, personable, and answered everyone's questions. I highly recommend this tour prior to visiting the museum or the tower.
April 2016
There aren't really words to convey this experience. I am so glad I did this because I learned so much. The 9/11 Museum upgrade is definitely worth it. Plan on spending several hours if you can.
Advertisement
Advertisement