Enjoy a Sunday brunch unlike any other! From the decks of a classic schooner sailboat, enjoy breathtaking views of the Manhattan skyline, the Statue of Liberty, the Brooklyn Bridge, Ellis Island and other New York Harbor treasures while enjoying a Champagne brunch!
Highlights
Champagne brunch cruise in New York City
Sail the waters of New York Harbor on a classic sailing ship

Enjoy wonderful views of the Manhattan skyline, the Statue of Liberty, Ellis Island and the Brooklyn Bridge

Delight in a brunch buffet including muffins, bagels, croissant sandwiches, quiche, coffee tea and unlimited Prosecco
Show off any nautical skills you have by helping the crew sail the ship!

What You Can Expect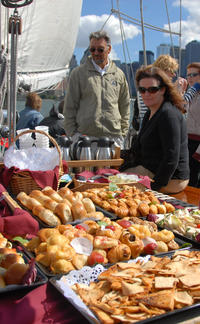 Step aboard the Shearwater, a classic sailing ship, and cruise around New York Harbor! A beautiful sailboat built in 1929 from native hardwoods, the Shearwater is one of New York City's only floating designated landmarks.

In the outdoor or indoor seating space, relax and enjoy drinks from the open Champagne bar as you take in magnificent views of the stunning Manhattan skyline. Spot famous landmarks including the Statue of Liberty, the Brooklyn Bridge and Ellis Island.

This sailing tour includes a plentiful brunch buffet including assorted muffins, homemade breads and quiche, bagels, salmon, fruit, plus tea, coffee and Prosecco.

If you have any nautical skills, feel free to help the professional crew sail the ship! Or, you can simply sit back, relax, and admire the gorgeous views with a glass of ice-cold Prosecco in hand.

Please see below for sample menu.
Itinerary
SAMPLE BRUNCH MENU
Smoked salmon with sliced tomato, onion and capers
Bagels with cream cheese, butter and jams
Assorted danishes and muffins

Granola and yogurt parfaits
Freshly sliced summer fruits
Sliced country breads featuring zucchini, pumpkin and banana

Quiches of spinach and mushroom, ham and onion
Mini brioche sandwiches of watercress with cucumber and goat cheese, Black Forest ham with brie and honey mustard, and smoked turkey with bacon and cheddar

Tea and coffee service
Unlimited Prosecco and mimosas

Menu subject to change

September 2015
Absolutely loved this tour! Met some fantastic people from all over the place US, UK, even a fellow Kiwi!.
Free flowing bubbles and delicious food. Awesome photo opportunities up close to the Statue of Liberty. Highly recommended and thanks for a great time. :
August 2015
This tour was the highlight of my trip. I really recommend it! It's a great sail with around 30 people, in which we can enjoy beautiful views, very good brunch and Champagne. For the ones who like sailing like me, do not hesitate, it's going to be a wonderful experience! The level of this tour is excellent!
June 2015
Beautiful boat, friendly crew, good food, small group of people and spectacular views.
Could not ask for more!
August 2014
Amazing tour, easy to find, ultra relaxing - great staff and a beautiful view of the city.
Glasses constantly topped up and delicious food. Definitely recommend.
June 2013
Very nice,good organized, would be good to put a street direction of the harbor where teh ship leaves, because tha taxi driver had no idee how to get us there
February 2014
The name of this tour doesn't accurately reflect the tour itself - it suggests a relaxing time spent sipping champagne whilst seeing the sights. In reality the craft has very little in the way of seating and was a very uncomfortable way to spend a couple of hours. Just a small area has seating with cushions, the rest of the passengers have to perch on wooden boxes or sit on the floor (which then means you don't get a view of the surroundings). In fact it was so uncomfortable that for several days afterwards, the backs of my legs were bruised and painful from the edge of the wooden box I sat on the whole time. We sailed as far as the Statue of Liberty and then just going round and round the same area killing time until the 2 hours were up. Also, there was no form of commentary as to the surrounding sights and areas.
Sadly, the nearest you get to 'champagne' is a plastic cup of cheap Prosecco. I can't comment on the food for two reasons. Firstly, the sheer logistics of trying to balance whilst clambering over other passengers and holding onto a plastic plate on a rocking boat, proved impossible. Secondly, after seeing other passengers pick up food with their bare hands, examine it and then put it back again completely put us off eating! It would have been far better to have pre-packaged picnic boxes to avoid both problems.
There were quite a mixture of ages on the trip but I would only recommend it for groups of younger people, not anyone (who like us) was expecting a relaxing trip.
Advertisement
Advertisement