New York City may be a fashion capital, but shopping in Manhattan can be daunting. Why not book a Fashion on Fifth Avenue Shopping Tour and let the experts guide you. You'll spend 3 hours exploring Fifth Avenue's best high-end boutiques in the company of a professional stylist, obtaining tips on everything from what cuts work best with your body shape to the finest colors that flatter your skin tone. Splurge on a full clothing makeover for the ulimate NYC experience.
Highlights
3-hour fashion and shopping tour of New York City

Gain tips from a professional shopping guide
Tour Fifth Avenue's high-end boutiques

Upgrade to a post-tour clothing makeover for an extra-indulgent experience

Enjoy a coffee break at Trump Tower

What You Can Expect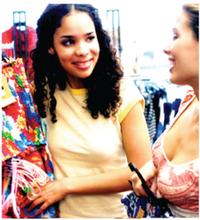 Meet your tour group and shopping guide at Midtown Center for your 3-hour fashion tour.

Get an introduction to NYC's fashion industry through visits to a selection of high-end boutiques and trendy shops. Feel like a fashionista with your guide's tips on which styles and pieces fit your lifestyle, budget and body type. Stops include Zara, Armani Exchange, Juicy Couture and Saks Fifth Avenue.

Stop for coffee at Trump Tower. Have a seat with your fellow shoppers and use the time to ask any questions of your guide over a beverage and a pastry.

Upgrade your experience with a full makeover session and personal styling. Prep for a night on the town in the Big Apple under the guidance of a beauty and fashion stylist, including recommendations for spa treatments.
September 2011
My daughter and I enjoyed a great morning on the fashion tour, Eliza was a great fashion guide. would recommend this tour.
July 2011
The guide (Eliza) was great. She is defintely an expert! After the group tour I took a personal tour with her and found some gorgeous pieces that will absolutely change my look. Thank you, Eliza.
If you want to know where smart New Yorkers shop and get advice where to shop with a small budget: take this tour!
March 2011
excellent-the tour guide was exceptional. very enjoyable and will book again
December 2010
I took the Shopping Tour on 5th Avenue the other Tuesday. I was a bit reluctant concerning this tour as it is kind of a girl thing. But Eliza did really make me feel part of this tour! Her advices on fashion really helped to understand that I really needed a change in my way of looking! THANK YOU ELIZA!
December 2010
We had 2.5 hrs with Eliza who showed us some totally awesome places.!...if you were not a New Yorker you would never even know that these crazy cool places even exist! I went back to them afterwards even and shopped SO much...I got some seriously perfect pieces that you would only find in NYC and went to the stores that Eliza recommended(clearly she is an expert!!)....the tour also took us to the high end places like Louis Vuitton and I totally wouldn't have dared to step inside them otherwise so that was a fantastic experience....we saw the absolutely gorgeous diamond that Audrey Hepburn wore at Tiffany's...OMGosh I WISH!!. The tour was so much fun and Eliza was super cool and friendly, informative and eager to please...i had always wanted to be in NY and to feel like I was part of its fashion empire..what a great time.it was a morning well spent ..highly recommend this tour!<3!
December 2014
Tour was pretty good, but would've liked to have more history of fashion, history of area, more about the different shops we went to. Was really interesting to go into all the high end stores, and everyone was friendly, but didn't want to touch or try anything on. I suppose I wouldn't have ventured into the stores without the tour, so that was positive!
September 2011
I was disappointed in this tour. I expected more. We did go ion some 5ht Avenue stores, but I expected a history on the store as well as some tips on what is in fashion. We did get to shop, but we could have done that on our own. We got the names of a couple discount stores, but the tour ended about 45 minutes earlier. Also, it did not end at Trump Tower for a coffee and snack where the writeup said. I do not think I would do another shopping tour unless I could guarantee it had more to offer.
December 2013
David T United Kingdom
December 2010
Expected more in depth tips and advice on shopping in New York.
April 2013
Trip was not as advertised in the least as it was a tour of stores of fresh flowers, elevators and wallpaper. Tour guide was unresponsive to groups request. Why ask the group what they would like to see and then just ignore them. Tour guide was not knowledgable and to discuss to bra and undergarment sizes with males present was not acceptable as everyone felt embarrassed. It was a total waste of money and time
Advertisement
Advertisement