Find out where the ghosts are in New York City on this guided 2-hour walking tour through the Big Apple's scariest streets. Look and listen as a local guide shares terrifying tales from sites in Greenwich Village's haunted history, like the potter's field, a mass grave under one of New York's most beautiful parks. Walk past Hangman's Elm, the oldest tree in Manhattan, which has seen more than its share of scare. And find the home where Edgar Allan Poe wrote many of his stories of mystery and the macabre.
Highlights
A haunted ghost tour of New York's historic streets
Take an easy walk through the haunted hotspots of Greenwich Village and West Village
Travel to Edgar Allan Poe's New York residence, where he wrote and published renowned stories
Learn the stories behind the purported ghosts who wander Gay Street and White Horse Tavern
Discover Washington Park's dark past, including Hangman's Tree
A knowledgeable and entertaining guide provides full narration throughout your spooky tour

Why Our Insiders Chose This Tour
Take a peek into the shadows when the sun goes down and discover the darker legends and history of New York's Greenwich and West Villages. Though you may not see any ghosts, it's a fun and entertaining way to spend an evening strolling around these historic districts.
What You Can Expect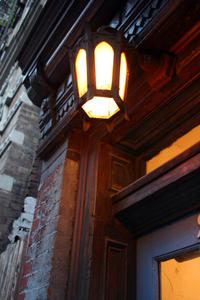 Meet at the Washington Square Arch in Washington Square Park to begin this spine-chilling 2-hour walking tour through New York City's scariest streets. Unbeknownst to many visitors, this popular park used to be a community graveyard for "undesirables." To this day, the remains of more than 20,000 people rest under Washington Square Park. Hangman's Elm, also known as the Hanging Tree, is an English elm located at the northwest corner of the park. Your guide knows all the scary stories and will share the sinister side of the city as you walk through Greenwich Village.

Onward to the Greenwich Village and West Village streets. See the home where Edgar Allan Poe used to live. He wrote the story "The Cask of Amontillado" and revised and published "The Raven" while living here. The White Horse Tavern is known as the place where writer and poet Dylan Thomas drank heavily, downing 18 shots of scotch. He became ill from that and died a few days later.

There are many more scary stories to hear on this New York City ghost tour — for those who dare.
April 2015
We liked the tour very much. With her gripping stories about haunted places in the Village, the guide fascinated us all. In the twilight the places seemed really haunted, even, of course, we saw no ghosts. The tour took us to magnificent streets in the West Village and we learned a lots of interesting facts about the history of the neighbourhood.
March 2014
We all thought this was amazing. The tour was cool and we could relate to some of the authors,poets that were discussed. The story about The Raven was cool. We had to go back to the last stop and check out the scary cat statue in the window of a house next to Mark Twain's house.We thought the tour was very informative. We also thought that it was a little ironic that most of the the buildings are under new construction/renovation. At the time of the tour two of our boys were reading Huckleberry Finn. Thanks for the great tour.
January 2014
Loved it so much fun history and ghosts all in one

June 2014
Guide knowledgeable and friendly
June 2014
This was slightly strange, the tour itself was fascinating and brought out some interesting stories...but I wouldn't categorise it as a Ghost Tour as we'd thought, really only a couple of stop off points were allegedly haunted, but as a historical tour it was very good...
Deanna D United States of ...
October 2015
Tour guide Ben was really nice and informative, but tour overall was lacking. This tour needs to be renamed. Maybe something along the lines of Historical NYC Walking Tour with reference to possible hauntings in the area. Not sure, but the name isn't the best. Also, there were quite a few kids on our tour, and they looked really bored. I don't think it was meant for kids at all.
December 2013
Good to walk around Greenwich with a purpose, especially to freshen up after arriving from the UK. Tour guidewas uninteresting in the main and was not a good orator sowe drifted off after an hour. Overall ok but not the most interesting talk.
June 2014
Sorry did not enjoy this tour. It should be renamed 'History tour of Greenwich Village'. The tour took us around all of Greenwich Village, which is beautiful and well worth a visit, but its not a Ghost tour. The guide takes you to different houses where famous people have died! The only positive thing to come from this tour was we got to see Greenwich Village, which we probably would not have visited. I would highly recommend a visit to Greenwich Village with it lovely Bistro's and streets but make the trip yourself, not on this Ghost Tour, sorry.
Advertisement
Advertisement