In remembrance of the events that took place in New York City on September 11, 2001, take this guided, 2-hour tour of the Ground Zero Museum Workshop. See and touch hundreds of images and artifacts from the 9/11 recovery and experience the heroic efforts of the New York City Fire Department. Listen to audio stories and real Ground Zero sound effects.

Notice: This museum is the Ground Zero Museum Workshop, NOT the National September 11 Memorial and Museum, and it is appropriate for children.

Highlights
A must-see museum BEFORE you visit the 9/11 Memorial at the Ground Zero site
Pick up and hold actual Ground Zero artifacts
The only museum of its kind in New York

View images by the Official Photographer at Ground Zero

Celebrate the memory, bravery and lives of the people involved in 9/11

Why Our Insiders Chose This Tour
Visiting this dramatic museum first makes seeing the 9/11 Memorial even more moving. You get to hold actual pieces from the Twin Towers and watch a powerful video about that fateful day.
Recent Photos of This Tour
Ground Zero Museum Workshop Tour
What You Can Expect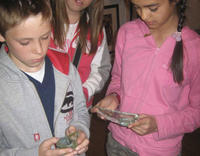 To see images and artifacts from 9/11 is one thing. To touch them and to be able to hear their stories is quite another. Do both at the Ground Zero Museum Workshop in remembrance of the tragic events that took place in Lower Manhattan on September 11, 2001.

This is not the National September 11 Memorial and Museum near the new Freedom Tower in Lower Manhattan. This award-winning museum is located in the historic Meatpacking District. It lets visitors see what it was like to be on the front lines with FDNY firefighters after the 9/11 attacks and to experience the aftermath at Ground Zero through the lens of photographer Gary Marlon Suson.

See the largest piece of World Trade Center window glass in existence and the Frozen Clock, which is stuck at 10:02 a.m., the precise time the South Tower collapsed. There's the famous Genesis 11 charred Bible page plus a collection of images described as "rare" by the New York Times because they can only be seen at this location. There are also 3-D photo installations that place visitors into the hole that was left at Ground Zero.

This kid-friendly museum is a great way for parents to teach their children about the 9/11 attacks in a gentle manner. The museum doesn't focus on the day of the attacks but rather the nine-month recovery effort to locate the many missing victims.

The Ground Zero Museum Workshop is the winner of three TripAdvisor awards: Top 25 Museums in the USA, Traveler's Choice and five-time Hall-of-Fame Certificate of Excellence honors.
April 2016
Lots of photos and items packed into a very small room, with an audio explanation of each item. Very interesting and moving. Need to allow about two hours for the full audio tour. Near to Chelsea Market and the High Line.
December 2015
Probably the most impressive photo museum ever. The actual photographer was present the day of our tour and his stories and photos were electrifying. This tour os a MUST for anyone wanting to pay tribute to those that died on 911.
November 2015
Absolutely stunning and moving, in a very intimate setting!
November 2015
Very moving.highly recommend a visit to this little gem
April 2015
Brilliant - so glad we did this - very emotional!
January 2015
December 2014
Memorable experience during this 2 hour tour of poohoto collection and actual items from Ground Zero. Intimate and up-close look at the devastation after 9/11.
August 2014
This was an intimate, moving, experience from a participant's view. The artifacts, photos and spoken account was very moving. If you want to roam through a big, boring, impersonal museum, this is NOT for you. It IS however, for anyone who wants to see and hear a personal, first hand account of the event.
July 2014
Gosh, what can I say. Take some tissues with you. We were fortunate enough to meet Gary who was the only photographer given access to take the official photographs. There are numerous photos and items to look at and you can take photos of all the exhibits bar one and the reason for this will become obvious to you once you are there. The Museum is located in the Meat Packing District and it is on the 2nd floor of a building so it is not an obvious looking museum. It is very different from the 911 Museum so it is well worth doing both of them. The tour guides are lovely too and make you feel very welcome. You are also allowed to touch some of the exhibits and a lot of the money goes to the charity to support the families of the victims.
June 2014
Loved this tour. Is hard to find as no signage, if you go take extra time to locate the workshop.Highly recommend to do this tour first before 911 memorial and museum viewing. Very initimate small museum but definitely worth going to.
Advertisement
Advertisement