284 Reviews
Location:

New York City, New York

Duration:

2 hours

(approx.)
Visit the Ground Zero Museum Workshop for an intimate, detailed and emotional introduction to the "Real Ground Zero" and to things you won't see at the nearby September 11 Memorial & Museum. The "kid-friendly" non-graphic imagery, 100 audio stories, Ground Zero artifacts and rare photos housed in this non-profit museum exhibit the heroic efforts of the FDNY firefighters on that fateful day in 2001 and the 9-month "Recovery Period." Winner of TripAdvisor's "Top 25 Museums in the USA" award in 2013 & 2014, this is the only place you can actually pick up and hold Ground Zero artifacts, a chilling reminder for adults and a chance for young children to learn about a significant moment in history. Conveniently located in the historic Meatpacking District near the High Line Park, Chelsea Market Eatery and Whitney Museum.

Please note: This museum is the Ground Zero Museum Workshop and NOT the National 9/11 Memorial Museum
Highlights
A must-see museum BEFORE you visit the 9/11 Memorial at the Ground Zero site
Pick up and hold actual Ground Zero artifacts
The only museum of its kind in New York

View images by the Official Photographer at Ground Zero

Celebrate the memory, bravery and lives of the people involved in 9/11

Why Our Insiders Chose This Tour
Visiting this dramatic museum first makes seeing the 9/11 Memorial even more moving. You get to hold actual pieces from the Twin Towers and watch a powerful video about that fateful day.
Recent Photos of This Tour
Ground Zero Museum Workshop Tour
What You Can Expect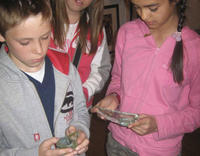 The Ground Zero Museum Workshop in the Meat-Packing District on West 14th Street features stunning images, rare video and remnants from the Ground Zero Recovery Period, all packed into an intimate and emotional space. On display are 100 of Gary Marlon Suson's most well-known images, including the charred Genesis 11: Tower of Babylon Bible Page found in the WTC rubble, the Frozen Clock stuck at 10:02am, marking the collapse of the South Tower and several FDNY Honor Guard images. The actual clock itself is also on display in the museum.

The only all-access, sanctioned photographer at Ground Zero, Suson's one-of-a-kind, 3-D photo installations place viewers into the "hole" at Ground Zero. Visitors are also allowed the rare opportunity to pick up and hold World Trade Center steel and window glass. The Non-Profit Museum, a must-see before visiting Ground Zero, also benefits numerous 9/11 and Fire Department-related charities and is endorsed by many noted firefighters and 9/11 families. Tours are limited to just 25 people, and include a powerful 15-minute video.

The Ground Zero Museum is about 5-minutes from Ground Zero via the "E" train. Daily tours last about 90 minutes and include the intimate stories behind 100 images and remnants. This is a "don't-miss" museum that touches the heart of young and old alike. No graphic or morbid images are displayed and the museum is known for its sensitivity to a very tough subject matter. Suitable for children.
November 2015
Absolutely stunning and moving, in a very intimate setting!
November 2015
Very moving.highly recommend a visit to this little gem
April 2015
Brilliant - so glad we did this - very emotional!
January 2015
December 2014
Memorable experience during this 2 hour tour of poohoto collection and actual items from Ground Zero. Intimate and up-close look at the devastation after 9/11.
August 2014
This was an intimate, moving, experience from a participant's view. The artifacts, photos and spoken account was very moving. If you want to roam through a big, boring, impersonal museum, this is NOT for you. It IS however, for anyone who wants to see and hear a personal, first hand account of the event.
July 2014
Gosh, what can I say. Take some tissues with you. We were fortunate enough to meet Gary who was the only photographer given access to take the official photographs. There are numerous photos and items to look at and you can take photos of all the exhibits bar one and the reason for this will become obvious to you once you are there. The Museum is located in the Meat Packing District and it is on the 2nd floor of a building so it is not an obvious looking museum. It is very different from the 911 Museum so it is well worth doing both of them. The tour guides are lovely too and make you feel very welcome. You are also allowed to touch some of the exhibits and a lot of the money goes to the charity to support the families of the victims.
June 2014
Loved this tour. Is hard to find as no signage, if you go take extra time to locate the workshop.Highly recommend to do this tour first before 911 memorial and museum viewing. Very initimate small museum but definitely worth going to.
June 2014
An intimate museum that tells the story of the tragic events during and after 911. The photographs and auditory presentations of those involved in trying to rescue/recover the many people caught in this tragic attack on the citizens of our country are moving and informative. The photographer who was allowed access to record for future generations this heart breaking time was present. He wanted this museum to touch each person and was available to answer questions and to give small details of the nine months he spent capturing the faces of workers, families, and individuals. The museum is well done and will be a memory for our adult family members and for our young ones who were able to have the experience of touching, seeing, and hearing what so many people of New York were forced to deal with on 911 and many months that followed. J. New, June, 2014
June 2014
I have commented on trip adviser.
Believe me This is a must to see.
Advertisement
Advertisement