Well before the Globetrotters and the "Harlem Shake" appeared, there was Harlem, the neighborhood that is the birthplace of hip-hop. Harlem's contributions to hip-hop art and culture are unmatched. On this guided, 2-hour walking tour, led by a hip-hop historian, check out important landmarks like the Apollo Theater, the Graffiti Wall of Fame, Lenox Lounge, historic Harlem jazz clubs and more. See popular locations for hip-hop music videos and hear exclusive stories. Admission to the Museum of the City of New York is included.

Highlights
Discover the origins of hip-hop on a guided walking tour of Harlem

Hear history and stories from your guide, a real hip-hop pioneer

See the legendary Apollo Theater

Visit Dip Set, the oldest record store in Harlem

Enjoy admission to the Museum of the City of New York

Recent Photos of This Tour
What You Can Expect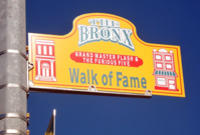 Take an unforgettable journey through the history and evolution of hip-hop culture on this 2-hour walking tour in Harlem. Expect to meet, greet and be guided by hip-hop legends.

Learn about the history of New York City, and then visit important landmark locations like the Apollo Theater, the epicenter of African-American culture and a driving force in shaping America's musical landscape. Lenox Lounge is a bar that has hosted classic performances by many great jazz artists. See some of Harlem's oldest record stores and clubs

This Harlem hip-hop walking tour is family friendly and suitable for fans of all ages. It's a unique musical and cultural experience that can only be presented by the city's legends of hip-hop themselves — offering guests a rare, interactive, off-the-wall look into New York's legendary hip-hop culture.

June 2015
April 2015
My tour was outstanding. the tour was given by Grand Master Caz who was the best. As an member of the Cold Crush Brothers an original Hip Hop group he was extremely knowledgeable. We had teenagers with who are still talking to the friends about the tour. As an adult who comes to Harlem frequently, I learned so much.
December 2013
This tour was amazing. We were lead around Harlem by a veritable hip hop pioneer . He had lots of stories and insights into hip hop and the Harlem neighbourhood. Really amazing. Great guide and nice guy too. Went out of his way to show us even more to Harlem . Highly recommend thisctour
June 2013
This was a great tour both in terms of HipHop and seeing Harlem. It was especially great to have the tour hosted by a genuine Hiphop artist.
April 2013
very good my son was really impressed we had a real rap star doing tour,wish i had asked for an autograph but forgot !

Francine Australia
June 2012
JDL, our tour guide is excellent. He is so friendly and knows the area really well. I learnt a lot about the hip hop culture and it was great to get to know more about the Harlem area.
Maria C Canada
May 2012
This was a stellar tour. Nelson was knowledgable and very passionate about his subject. I learned so much about the hip hop culture I can't pass by graffiti art now without feeling a new respect for it. My only criticism was the weather ; it poured rain.

August 2011
wkd tour,didnt no wat 2 expect bt really inetersting n would reccomend 100percent,fab tour by j.d.l.....loved it!!
Kim E USA
July 2011
Despite the cold, rainy day, the tour was great. The tour guide, JDL Wilson was the real deal. He was extremely knowledgeable, and was happy to answer any and all questions, making the tour interactive and fun!
July 2011
J.D.L. was the best. It was a really special tour. My 17 year old granddaughter loved it as well and I highly recommend it to everyone. Rosalie
Advertisement
Advertisement