This behind-the-music story of Frankie Valli and The Four Seasons will take you from the streets of Newark to the heights of stardom. Follow the incredible journey of four guys bound by one dream — to make it to the top without giving up, selling out or forgetting where they came from. Experience electrifying performances of golden greats that took these guys all the way to the Rock and Roll Hall of Fame: "Sherry," "Big Girls Don't Cry," "Can't Take My Eyes Off You," "My Eyes Adored You" and more. Be sure not to miss this unforgettable, Tony Award-winning Broadway musical this season!
What You Can Expect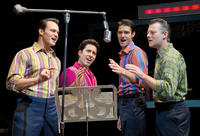 Likely to Sell-out! Jersey Boys on Broadway regularly sells out weeks and months in advance. Book ahead of time to avoid disappointment.
Jersey Boys is the story of how a group of blue-collar, working-class boys from the wrong side of the tracks became one of the biggest American musical sensations of all time--Frankie Valli and The Four Seasons. They wrote their own songs, invented their own sounds and sold 175 million records worldwide...all before they were 30!

This new musical features their beloved hit songs "Sherry," "Big Girls Don't Cry," "Rag Doll," "Oh What a Night" and "Can't Take My Eyes Off of You," just to name a few. Make your vacation in New York complete with the Tony Award-winning Jersey Boys on Broadway!
June 2016
Absolutely fantastic. Would recommend
December 2015
Fantastic show! Loved every minute! 9th December . Thanks a lot
Jenny Derbyshire
November 2015
Could see this show over and over again. Outstanding.
November 2015
Excellent show great cast have seen this in Vegas and although we thoroughly enjoyed it there I felt that there was slightly more personality put into the Broadway show the only downside is the tiny seats I recommend it on a a visit to New York the guys are great!
November 2015
Another WOW - we arrived at the theatre 45 minutes before the start and collected our tickets at the box office. The seats were amazing and the show was just fabulous!
November 2015
October 2015
My wife talked me into going to this play because it is not something I usually enjoy. I was really surprised, the lead singer was just great, the music was fantastic some of the female vocals were not quite on, and it was a great evening! I must admit the theater seating was worse than on an airplane! The show did make up for this though.

October 2015
Great musical! Seats were good, however, in this theater, there were a few rows up in front corner that the people couldn't even SEE the stage! We were just behind them. It could've been very upsetting if we had gotten any closer to the front. We where in 6th row from the stage, but over on the side. I remember thinking I would be ticked if we'd gotten those seats. Just something to think about. I highly recommend this show!
October 2015
Top class show would go again if in NY
October 2015
Fantastic and where else would you rather watch this show than on Broadway. I've booked to see it again in Manchester UK.
Advertisement
Advertisement