See the Tony Award–winning musical with a kick — 'Kinky Boots' on Broadway! With a fun and fabulous original score by Cyndi Lauper, the show is based on a true story and celebrates the uplifting themes of reinvention and self-acceptance. Take your pick of a matinee or evening performance and prepare for the show that 'The Washington Post' deems 'sweetly, voraciously, irresistibly good!'
Highlights
2.5-hour show of the musical Kinky Boots, on Broadway in New York City
Enjoy a fun and uplifting musical adapted from the 2005 film of the same name, and based on a true story
Root for the characters as they strive to accept new ways and stay afloat in hard times, with a shimmering twist!

Discover why Kinky Boots won six Tony Awards in 2013, including Best Musical, and was nominated for 13 total
Revel in the fanciful work of the creative dream team: Cyndi Lauper, Harvey Fierstein and Jerry Mitchell
Choose from several show times and get top seats in the Orchestra or Front Mezzanine
What You Can Expect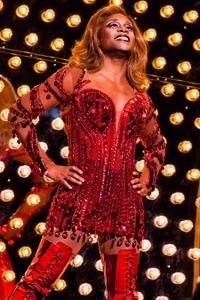 Inspired by a true story and based on the movie of the same name, Kinky Boots is one of the most celebrated musicals of the decade. Winner of six Tony awards in 2013, including Best Musical, Best Choreography, and Best Original Score Written for the Theater, the show's vibrant spirit is powered by the creative team dream of Cyndi Lauper, Harvey Fierstein and Jerry Mitchell.
Choose from a matinee or evening performance and make your way to New York City's Al Hirschfield Theater, where you'll enjoy top-tier seats in either the Orchestra or Front Mezzanine sections. Let your spirits be lifted by the story of a struggling shoe salesman who saves the family business after taking inspiration from a fashion-forward drag queen.
Celebrate the journey of Kinky Boots' compelling characters as they follow their passions, overcome stereotypes and learn the joy of self-acceptance. You'll be ready to kick up your heels with spirited song-and-dance numbers in this show that The New York Times calls 'the hottest musical on Broadway' with 'audience-hugging charisma.'
June 2015
This show was awesome!! Thank you
June 2015
Fantastic production! So much energy and excitement. Cindy Lauper's music was great. The performance had the audience on their feet as one.
March 2015
Clever show with good seats and no problems getting tickets or seaets.
March 2015
March 2015
January 2015
We were pleasantly surprised that we had such good seats in the Orchestra Section. The venues in NYC are small and intimate and viewing is not a real issue like large venues in other cities. I would definitely buy Broadway tickets again from Viator. Saved lots of money on tickets and we were pleased with our seats.
December 2014
Kinky Boots was fantastic...we really enjoyed the show!
November 2014
Brilliant show, highly recommend!!!!!
October 2014
Excellent show, excellent seats. Just showed our Viator paperwork and got our tickets. Would recommend this show to anyone.
September 2014
This was fantastic, the calibre of the stars singing, the amazing costumes and boots, made for a very entertaining night.
Advertisement
Advertisement