Adults and children alike love 'Matilda the Musical,' an Olivier Award–winning Broadway production based on the acclaimed children's book by Roald Dahl. Be awed by the power of imagination as you follow the story of Matilda, a young girl who dreams for a better life and dares to change her destiny. Sing along as she creates deviant schemes to escape her unloving family and overthrow her tyrant school headmistress. Enjoy an afternoon or evening performance with a top-price seat at the Shubert Theatre in New York City.
Highlights
Watch Matilda the Musical on Broadway
Enjoy an award-winning musical that tells the story of a young girl's imagination and brilliance
Based on the celebrated children's book by Roald Dahl
Winner of a record-breaking seven Olivier Awards in 2012
Choose from multiple show times
What You Can Expect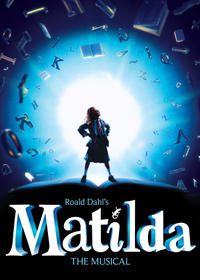 Bring the entire family to
Matilda the Musical
on Broadway, now playing at the Shubert Theatre
in New York City. Book your matinee or evening show ticket for a guaranteed top-price seat in the orchestra or front mezzanine section, so you'll have an excellent view of every captivating moment of this beloved musical.
Adapted from the eponymous children's novel by British author Roald Dahl, the 2.5-hour award-winning production depicts the wild imagination, contagious charm and piercing intellect of an avenging young girl who plans to to dupe her self-centered parents and topple her school's evil principal, Miss Trunchbull. Be prepared for plenty of laughs along the way!
Matilda the Musical, which received a record-breaking seven Olivier Awards (the top honors in British theater) in 2012, including Best Musical, is sure to be a delight for families and children of all ages.
May 2016
Was not cheap, but was elated when we arrived at Theatre as had front row seats!
November 2015
The whole family loved this show - even my husband and eldest daughter who are not huge fans of musical theatre.
We had great seats - right in front of the stage, where we could see the actors close up. The Sam Shubert Theatre is quite a small venue and at first we were concerned about being so close to the stage but actually when the show started we realised how great the seats were and despite being only one row back, we saw everything with ease.
To be honest 'Matilda' kept us spellbound right up until the end, and the quality of acting and singing was superb, especially when you consider how young some of the cast are.
It's definitely a show worth seeing for all ages!
June 2015
Fantastic! Highly recommended, kids also loved it (4 and 5yrs).
June 2015
bad seats bat a great show

June 2015
This was amazing. We went as 2 adults no Childeren in our party. Very enjoyable and cast was amazing!!! Tickets where front of Stage so couldn't have got any closer. Would highly recommend it.
April 2015
Fabulous show. Tickets easy to collect and realt good seats.
March 2015

October 2014
Great show, pretty good seats, we had a lot of fun
July 2014
So much fun - talented cast. Tickets were wonderful and really easy to use
July 2014
Amazing show! Super quick and easy to get the ticket in exchange for the printed voucher. The theatre is very cleverly decorated. Sets and props are very well done. Acting and singing absolutely awesome. A must see show for all ages.
Advertisement
Advertisement