Do the 4th of July in style – Big Apple style. Cruise in a luxury yacht around lower Manhattan, taking in the incredible views of the skyline, feasting on hors d'oeuvres, indulging in a buffet dinner, all while admiring the dazzling fireworks show.
Highlights
4th of July cruise in New York City
Cruise on the Zephyr, a luxury yacht
Celebrate with the best view of the Macy's fireworks show
Admire picturesque views of the sparkling Manhattan skyline at night
Sate your appetite with hors d'oeuvres, buffet dinner and desserts

Listen to music from the live DJ

What You Can Expect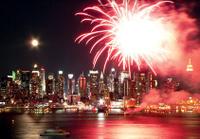 Climb abroad the Zephyr, a luxury yacht for a thrilling night of fireworks and food, marking an unforgettable 4th of July. Relax inside the boat or position yourself on the moon deck for amazing views of lower Manhattan, including One World Trade Center and the Woolworth building, as you cruise around New York Harbor.

Enjoy snacks while on the boat and eventually dig in to the delicious buffet dinner. As the sun sets and Manhattan begins to light up, get ready for the incredible Macy's fireworks display. This New York fireworks cruise will be an unforgettable celebration for you and your family and friends – make memories as vibrant and festive as the pyrotechnics extravaganza in the sky.
Itinerary
Sample Menu *subject to change*

Stationed Hors d' Oeuvres
Assorted cheeses and crackers with fruit board
Fresh vegetable crudité
Assorted antipasto with a variety of Italian meats
Chips and dips – guacamole, hummus, tomato and basil, white bean
Passed Hors d' Oeuvres
Homemade potato and zucchini chips with gorgonzola
Vegetable spring rolls with Asian sauce
Mini sliders with caramelized onions
Crab cakes with herbed aioli
Mini Italian hero sliders
Dinner Buffet
Fillet of beef with red wine sauce
Chicken Francese
Fillet of sole oreganato
Twice-baked potato gratin with gruyere cheese
Germelli pasta with fresh tomato and basil
Classic Caesar salad
Garlic bread and assorted flat breads
Desserts
Berry skewers
Chocolate covered strawberries
Assorted cookies and brownies
Cannoli, carrot cake, cheese cake and chocolate mousse cake
July 2014
Beautiful spacious Yacht. Great friendly staff on board ship, fun environment with a great DJ. Perfect view of the Macy's Fireworks display and Statue of Liberty. Highly recommend this to anyone looking for a good time with friends and family.
July 2012
4th of July on the Hudson? The best place to be! Friendly staff, pretty decent food, the weather held out, Fantastic Firewords show, and on one of the biggest boats on the water! We lined up early,( and it was flippin hot), but to insure good seats, it was well worth wainting in line on the pier for an hour for the boat. Even though we didnt know what seats to pick, we opted for the top deck, on the rear of the boat. And what a break, best seats in the house! Back of boat faces the fireworks show! Great Boat, 4th of July, do it!!!
July 2012
All in all, it was a terrible trip. The buffet was atrocioopus. For the price, I would have expected more. The ship was too crowded. There were not enough tables. The lloudsp-eaker did no0t work during the fireworks. This trip can only be rated as UNSATISFACTORY and certainly not worth the price.

Darryl D USA
July 2012
Very nice boat and crew was very accomidating, Our family had a wonderful time and the views of the Manhattan skyline were fantastic. Great location and viewing of the fireworks. The food was very good and there was plenty for all even seconds. Everyone had a great time and we meet seveal other families that were also visiting New York. I would recommend this tour and we would do it again if we were back in the big Apple.
July 2012
Excellent. All the arangements went like clockwork and the views of the fireworks were awesome.
July 2012
a magic 4th of July to be sure... boat was very comfortable, just the right amount of air conditioning... and the food was very good. Well worth the effort to go.
July 2012
Well worth the $. Loved the roving waiters with trays of food before the buffet was ready. Great variety, buffet had many choices, bar areas were crowded but line moved along and after awile it was easy to get drinks. Downside...hand out water before boarding so people can stand the summer heat and have enough cutlery. Ran out and people had to clean and share plastic forks. Top notch crew
July 2012
Great trip. Views were great. service was OK based on number of people on the boat. Food was......What I expected for a crowd that big...Not great.....Could have had more choices at bar and a few more munchies around for longer.
July 2012
It was a nice ride on the Hudson, however the food was not so nice. We did not like the buffet style. Wish the food was tastier.
Advertisement
Advertisement