Celebrate the passing year and the coming year in style: on a fun cruise that gets you an up-close look at the midnight fireworks show. Relax on comfortable yacht as it sails around New York Harbor offering excellent views of Lady Liberty, the New York skyline and, of course, the fireworks extravaganza. Indulge in the open bar and munch on snacks. And then dance to the DJ'ed entertainment.
Highlights
3-hour New Year's Eve fireworks cruise in New York City

Enjoy great views of the Statue of Liberty, Empire State Building, Brooklyn Bridge and more
Relax or dance to live DJ entertainment

Watch fireworks and toast to the New Year with a glass of Champagne

Open bar, desserts and coffee included throughout the cruise

Recent Photos of This Tour
New Year's Eve Fireworks Cruise in New York City
What You Can Expect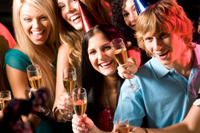 Hop on the boat at 9pm at Pier 78 on the westside of Manhattan and be prepared to party. As the 150-person boat pulls out and heads down the Hudson River, marvel at the lit-up skyline: the Empire State Building, the New York Times Building and, eventually, One World Trade Center, the tallest building in North America.
Enjoy a drink from the open bar and snack on food (available for purchase). Once at the southern tip of Manhattan, drink in the up-close views of the State of Liberty and Ellis Island. And then get a groove on as you dance to DJ'ed music.
Finally, at midnight partake in a toast with a glass of Champagne as you ring in the new year and fireworks light up the sky over New York City.
March 2014

Lex Luther United States of ...
January 2016
I had low expectations so I wasn't too disappointed.
CONS:
Long wait to board should have been able to board when you arrived
Getting there early didn't matter, mad rush to door at boarding
Very limited indoor seating boat and building
Limited open bar Ice ran out fast
I thought we'd get closer to fireworks
PROS:
Great views of New York got pretty close to Statue of Liberty
Free drinks the few they had
People were friendly
Music was decent
Affordable price 300 for two
January 2015
Overall a little disappointing and not especially good value for money. The location was quite remote and difficult to find and the receptionist was not particularly welcoming when we finally arrived at 9.30pm. We were kept waiting in a small café area until 9.45pm when we were allowed to board and the boat was not what was expected. However the open bar was well stocked and the disco was entertaining.
January 2016
Spending New Year's Eve in New York was something I was looking forward to. The Fireworks Cruise, I thought would be great, as did not want to venture into Times Square. What a huge disappointment. Total overcrowding on the boat. Obviously as it was cold outside everyone wanted to be inside - - 150 people crammed into a few seats although it seemed more than 150 and then the rest having to stand which was used as dance floor also. Huge queue for a drink, people ended up helping themselves to beer out of a plastic bucket. Food was non-existentnt really, a few sweet items in plastic containers - why would one want cake when drinking alcohol - not enough to even go around, even if you wanted it. Initially only had one toilet working for 150 people drinking alcohol. Huge continual queue for that. Just totally wrong !! They finally unlocked the 2nd toilet, but at that stage of the night didn't seem to make much difference. We went up top to look at the fireworks at midnight and ended up staying up there as felt so uncomfortable and squashed down below. Not fun, sitting right beside the toilet and only being able to view people in the toilet line. I would strongly recommend that you consider not having this on your website for next year. Totally not worth the 149.00 per person.
January 2016
We did not enjoy this at all. In fact, when to boat went back to the shore to pick up more people after about an hour we got off. I don't know how many people was on it but there was only one bathroom which of course stayed full and people waiting in line the whole time. All the seats downstairs were taken so we had to go up top to sit down. It was extremely cold. Our choices were stand the whole time or sit in the cold. It was miserable and I would not recommend.
February 2015
Not for anyone over 30. Over crowded. Most people had to stand for 4 hours. Very long line to the one bartender. Expected better for the price.

sem65 Australia
January 2014
This is a blatant ripoff!! It's a barge, not a cruise boat! The desserts are choc chip cookies, you have to pay for anything else which are chops, pretzels etc. open bar is also a bit of a joke. There was absolutely no class or anything exciting or stylish about this cruise. When midnight struck, if you weren't out the door first, you had no chance of seeing the fireworks. It was cold, the toilets blocked up and as for tea and cofee......it was a Luke warm urn and we practically had to beg for sugar. This was a very disappointing New Years and I'm very sorry I wasted my money on my bucket list trip. Thumbs down!
January 2014
the Tour boat and what was offered for the price was not adequate and not worth it. You had 105 people crammed in to the lower level of the boat with one corner of the boat set up with a table with a improvised bar, coffee that was not hot and a bathroom that was not flushing properly and almost overflowing with waste as people waited to go in.
I feel this was not worth the experience and the price charged.
And the Deejay was not great…concluding the evening with not even a song for New Years like Sinatra singing New York, New York.
We will not be dealing with this company again. Maybe a better description of the boat would've prevented us from jumping on this package…but then I could you offer that. It was what it was. A big disappointment, especially after driving from upstate new york to spend our New Years Eve looking at the fireworks.
You asked I told you…this is not hyperbole.
Advertisement
Advertisement