Satisfy your sweet tooth with a dessert-themed walking tour through New York City. Choose between two distinct food tours: the Wine and Dessert tour takes you on a gourmet exploration of at least six Upper West Side eateries, sampling such offerings as handmade bon bons, deliciously warm doughnuts and the best vino varietals to accompany your various tastings. Or bring fromage into the mix with the Beer, Cheese and Dessert tour, which also includes a pairing of craft beers and chocolates.
Highlights
2.5-hour culinary tour on the Upper West Side, Manhattan

Visit famous New York eateries

Sample chocolate bon-bons and truffles, fresh pastries, a selection of cheese and gelato

Wine and beer tasting with pairing lessons

Professional guide and knowledgeable food expert

What You Can Expect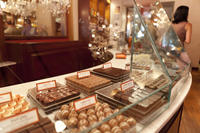 You will be guided by professionals with culinary experience and knowledge of New York's food culture. Your guide and the representative from the various eateries will show you how these foods are made and how to best accompany them. Best of all, you will get to taste the wide assortment of treats on offer - a chocoholic's delight!

Wine and Dessert Tour
Sample desserts and wine in at least six locations. Some of the delicious desserts you'll taste include chewy fresh baked cookies, handmade pastries, warm Italian filled doughnuts, artisan chocolate bon-bons. To continue to delight your palate, you'll also have the chance to sample between three to six different varieties of wine and learn how to pair wine with desserts.

Beer, Cheese and Dessert Tour
Visit trendy new hot spots and local hidden gems in at least six locations. You will sample an exquisite selection of cheese and desserts, and also visit an innovative bar to taste their different delicious craft beer (a flight of four) and chocolate pairings.

Don't let your taste buds miss out on the treats that New York City has to offer. This New York City culinary tour is a fun and unique experience that offers diverse flavors to suit every appetite!
December 2013
Wendy was a great tour guide! We really enjoyed all aspects of the tour! Looking forward to another tour in the future!
July 2011
It was truly fabulous!! Our tour guide was great!! A must do tour for anyone visiting NYC
March 2011
Great Tour, good food, and would recommend to anyone
December 2010
Excellent Tour! Our guide was really friendly and knew his stuff. The desserts and Chocolates were delicious
March 2015
There were only 3 of us in the tour guess that is what happened when you go on Super Bowl Sunday so it was personalized and easy to get in and out of each place. All of the samples were wonderful, it was a great tour.

November 2012
Unfortunately, our tour was cut short by hurricane Sandy, so I believe we missed at least one wine tasting spot. Usually with these kind of food tour, there are a lot more explanations of food, history, city, etc., but again, our tour was cut short, so I was little bit disappointed. If it was on a regular day, I would have enjoyed it much more. Besides that, the tour was nice.
July 2011
I really enjoyed my wine and dessert tour. John, the tour guide, was very knowledgeable and approachable. The shops chosen were perfect. I recommend it 100%.
April 2012
Liked the tour and the stops and shops were great. Tour guide very knowledgeable. But ... he had to wait in line with other customers at most food stops. No separate line or server just for tour group. We went on another food tour from another tour vendor and that tour every stop had separate server ready with tasting menu. No undue delays. No standing around outside while tour guide goes in and stands in line with other customers to get our samples. Suggest you work something out with your tour stops to give some priority to tours and move them along.
December 2011
Escort did a very good job. Lots of history about the West Village. Lots of walking, lots of sweets. Only had one stop for wine tasting and only tasted 3 wines, so it really is more for the chocolates and desserts.
December 2011
Please be aware half of this tour is a wine tour, we booked this believing it was a purely 100% chocolate and dessert. The places we did go for Chocolate were good, the day was surprisingly filing with me what we did get to taste.
Advertisement
Advertisement