Discover the culinary delights of New York City's food cart scene! With this guided walking tour, visit six of NYC's impressively gourmet food carts to sample delicious dishes served up right on the street. No muss, no fuss, and definitely no white tablecloth — just fresh, delicious street food. Choose from a Midtown or Financial District tour, then follow your guide and your stomach as you learn about the history and flavors of New York's beloved food cart culture.
Highlights
Guided food cart tour in New York City

Taste six different food cart dishes in Manhattan

Learn the stories behind these curbside kitchens during your walking tour

Choose a tour either in the Financial District or Midtown

What You Can Expect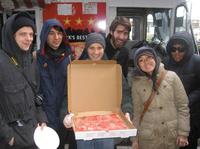 With the fast pace of life in New York City, food carts are a popular option for those who want a quick and delicious meal on the go. Manhattan's street food scene has evolved from basic hot dog and pretzel pushers to seriously gourmet to-go offerings scattered throughout town. Choose from a walking tour of Midtown Manhattan or the Financial District, then meet your friendly foodie guide for a 2-hour exploration of these curbside kitchens.

Stop at six different carts to sample delicious multicultural and fusion dishes. Because the mobile food trucks change locations from day to day, the exact stops will vary. Expect globally inspired offerings like Middle Eastern falafel, Korean short ribs, Pakistani curry, Greek souvlaki, Belgian waffles, and Mexican chocolate brownies.
Learn about the history of mobile dining as you walk from cart to cart, and see parts of the city you may otherwise have overlooked. Bring your sense of adventure and your appetite for a tasty and memorable afternoon!
June 2016
This tour was my favorite part of visiting NYC, 6 generous samplings from food carts that are from different ethnic groups. Highly recommend !

Shirley I United Kingdom
March 2016
Great tour and a fantastic way to see New York and eat like a local, the story behind how food carts originated and the modern problems they have was all very interesting. Every cart owner was happy to chat, answer questions and were very welcoming.
January 2016
This tour was sooooo amazing. We were just with the 2 of us and the guide. We got told so many things about the history of food and foodcarts in NY and also about NY itself. The food we had at the carts was really very good as well and we tasted some food we never tried before. The last cart we went to was a funny one for us because it was Belgian waffles and the names of the waffles and snacks they have were all written in Dutch and since we are from Holland we could read what it said and the names were real funny :- I would really recommend this tour to anyone visiting NY...especially to the ones who want to do something outside of the box that every tourist does.
November 2015
We loved it. It was informative, well paced and delicious fun.
November 2015
Good tour guide...good food. Very informative.
October 2015
There were only four of us in the group do we got a lot of attention from Doug. Each cart we visited represented a different country and #39;s cuisine. We learned about regulations in NYC on the carts. Learned history of food carts with many old pictures. A great time and very filling!
September 2015
Brian was fun and informative. We learned so much about the Food Cart culture and rules AND ate some delicious food. Highly recommend!
July 2015
Bryan was a great host on this tour, he is a lot of fun but very informative. The food from all the trucks was great, we would never normally eat from trucks like this on the street.
Jacqueline M United Kingdom
July 2015
This tour and our guide Bryan was just great. Highly recommended. We tried food that we would not have been brave enough too and it was all great. We also learnt lots of the history, we had no idea about, very interesting, I won't spoilt it. I love doing the food tours, you learn so much and get to try the local cuisine, some better then restaurant quality, definitely the case here.
May 2015
Loved this tour. Brian was awesome, really knew his stuff about New York and the food scene. A definite do during any visit!
Advertisement
Advertisement