Nab yourself a 4-day ticket for the New York City Hop-on Hop-off Tour. This package includes several different ways to see the city, including admission to the Top of the Rock Observation Deck, a pass for the hop-on hop-off ferry and a shopping tour of Woodbury Common.
Recent Photos of This Tour
New York City Hop-on Hop-off Tour, Shopping and Top of the Rock
What You Can Expect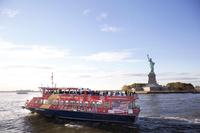 Use your 4-day hop-on hop-off ticket to explore New York City on the following routes.

Downtown Tour: Take a tour of legendary neighborhoods of Lower Manhattan, including Greenwich Village, SoHo, Tribeca, Times Square, Wall Street and the Financial District, among others.

Uptown Tour: Head uptown to see another side of Manhattan, including the Upper West Side, the Upper East Side (which includes Museum Mile and The Met), MoMa and Harlem.

Brooklyn Tour: Explore the hippest of the five boroughs in New York City. Cruise through Brooklyn's cool and leafy neighborhoods, passing verdant Prospect Park and gawking at the well-preserved brownstone homes.

Night Tour: Marvel at New York at night, as the skyline glitters and shimmers with flashing and blinking lights. Also, make a stop at this historic Fulton ferry.

Hop-on Hop-off Ferry: Spend a day getting around the city via the various water taxis that ferry people around New York. There are regular departures between 10am and 3pm that go between Lower Manhattan and Brooklyn.

Woodbury Common Shopping Tour: Travel to and visit the legendary Woodbury Common Premium Outlets. Shop 'til you drop at more than 200 brand-name outlet shops that offer discounts of 25% to 65%. Name brands include Chanel, Dolce & Gabbana, J. Crew, Gucci, Prada, and much more.

Read the Itinerary for a full list of stops on each route.

Attraction Admissions:
In addition to your hop-on hop-off tour routes around the city, your ticket also includes entry to the Museum of the City of New York and the Top of the Rock. Learn more about the history of New York City at the intriguing museum, and then ride up the Top of the Rock elevator to the 70th floor where an unobstructed 360-degree view of New York City awaits. See for miles and miles as the breathtaking view is unforgettable.
Itinerary
Stops on the Downtown Tour include:
Theater District: 8th Ave - 49th and 50th St
Carnegie Hall 7th Ave - 56th and 57th St
NYC and Company Visitor Center - 7th Ave and 51th St
Times Square - 7th Ave between 46th and 47th St
Times Square - 7th Ave between 41st and 42nd St
Macy's 34th St - 7th and 8th Ave
Empire State Building - 34th between 5th and 6th Ave
Flatiron District - 5th Ave between 22nd and 23rd St
Union Square/Ladies Mile - 14th St between 5th and 6th Ave
Greenwich Village 2 - Bleecker St between Carmine St and 6th Ave S.
SoHo - Broadway between Spring and Broome
StreetChinatown/Little Italy - Broadway between Lispenard and Walker St
St Paul's Chapel - Broadway between Vesey and Fulton St
Battery Park/Statue of Liberty and Ellis Island Ferry
Bridge and Pearl St Exchange
South Street Seaport - South and Fulton St
Lower East Side/Chinatown - Pike St between Madison and Henry St
East Village - 1st Ave between St Marks Place and 9th St
Kip's Bay - 1st Ave between 34th and 35th St
United Nations - 1st Ave between 44th and 45th St
Waldorf Astoria Hotel - 49th St between Lexington and Park Ave
Rockefeller Center - 49th St between 5th and 6th Ave
Times Square - 49th St between 7th Ave and Broadway
Stops on the Uptown Treasure and Harlem Tour include:
Plaza Hotel/Central Park - Central Park South between 5th and 6th Ave
Columbus Circle/Time Warner Center
NYC and Company Visitors Info Center - 7th Ave between 52nd and 53rd St
Midtown Manhattan - Broadway between 49th -50th St
Times Square South- 8th Ave between 42nd -43rd St
Theatre District South - 8th Ave between 45th and 46th St
Theatre District North - 8th Ave between 49th and 50th St
Lincoln Center - Broadway and West 63rd St
Central Park/Strawberry Fields - Central Park West and 72nd St
American Museum of Natural History
Cathedral of St John the Divine - Amsterdam Ave and 112th St
Apollo Theatre/Harlem - 125th St between Frederick Douglass and Adam Clayton Powell Jr Blvd
Big Apple Jazz Center - Adam Clayton Powell Jr Blvd between 131st and132nd St
Schomburg Center - Lenox Ave (Malcom X Blvd ) & 135th st
Harlem Market/ Shopping - 116th St between Malcolm X Blvd and 5th Ave
Museum of the City of NY/Conservatory Gardens/El Museo del Barrio - 5th Ave 103rd St
Guggenheim and Jewish Museums - 5th and 90th St
Metropolitan Museum of Art - 5th Ave and 83rd St
Frick Collection/Whitney Museum/Central Park - 5th Ave and 72nd St
Central Park Zoo - 5th Ave and 66th St
Brooklyn Tour:
This double decker bus tour of Brooklyn takes you through trendy and historic neighborhoods offering you unforgettable views of the famous Brooklyn Bridge along the way. Pass the wonderful oasis of calm within the chaotic city, Prospect Park, and see stately mansions as well as one of the first vehicular parkways built in the US with its triumphant entrance way - the grandest of arches at Grand Army Plaza.
Brooklyn is not just about monuments and museums, it is a borough of people from all walks of life. See the diversity of America's first suburb as the you become acquainted with the place one in seven Americans can find a connection to. This is a continuous tour, no stops are made.
Night Tour:
New York's only double-decker night tour where you stop at the historic Brooklyn Fulton Ferry Landing for a photo opportunity and breathtaking views of the glittering necklace of the Manhattan Skyline. Enjoy nighttime views and ambiance of Times Square, Empire State Building, Greenwich Village, SoHo, Manhattan Bridge, Brooklyn Bridge and Lower East Side.

Hop-on hop-off Ferry:
Enjoy a day of hop-on hop-off privileges aboard a harbor ferry. Frequent departures from 10am to 3pm, this convenient ferry has three stops at World Financial District, Pier 11 and Dumbo.
From the World Financial Center stop, find easy access to numerous attractions including Wall Street, Brookfield Place, Museum of Jewish Heritage and the 9/11 Memorial and Museum (not included). At Pier 11, explore Lower Manhattan's waterfront including South Street Seaport and the Vietnam Veterans Plaza. From down under Manhattan Bridge Overpass, more commonly known as DUMBO, stroll along the Brooklyn Heights Promenade with its spectacular views of Manhattan, take a ride on on an antique carousel in the Brooklyn Bridge Park (not included) or dine at one of the area's delicious dining options such as The River Café or Grimaldi's.
Museum of the City of New York:
The Museum of the City of New York embraces the past, present and future of New York City and celebrates the city's cultural diversity. It does so through its rich collections, a lively schedule of exhibitions and an array of programs for adults and children. The Museum is dedicated to fostering an understanding of New York 's evolution from its origins as a settlement of a few hundred Europeans, Africans and Native Americans to its present status as one of the world's largest and most important cities.
Top of the Rock Observation Deck:
Is your New York bold? Is it brilliant? Is it tranquil? Is it peaceful? Discover New York in all its forms from 70 stories up at Top of the Rock Observation Deck. Dazzling multimedia history exhibits are a feast for the eyes and stimulate the minds of all ages. And then there's the view: the city's only crystal-clear, 360 experience of your New York.
Woodbury Common Shopping Day Trip:
Enjoy the thrill and excitement of finding the world's finest designer labels for less at Woodbury Common Premium Outlet. Enjoy a distinctively upscale shopping experience while saving 25% to 65% every day. Make sure to visit all 220 designer and name brand outlet stores, where you will find impressive savings on Coach, Dolce and Gabbana, Escada, Fendi, Gap Outlet, Giorgio Armani, Gucci, Neiman Marcus Last Call, Saks 5th Avenue - Off 5th, Polo Ralph Lauren, Tod's, and Versace, just to name a few.
June 2016
I purchased the four day pass for myself and my son. This was our first trip to New York. Super easy getting our VIP passes to wear around our neck when boarding the bus at the Visitors Center in Times Square. I found the guides on the buses very knowledgeable and helpful. Some were more helpful than others. My favorite guide was a female on May 12th around 7pm. She was very good with historical facts and had a dry sense of humor. The itinerary stated the last bus was at 5:30 but we wrote the last one at 7:30pm. We had just finish another tour that was all day and ended by St. Paul Chapel. We were just getting ready to call a taxi and notice our bus was still picking up passengers. We were very happy to get on the last bus going to Times Square, and close enough to walk to our Hotel. The First day in NY we rode the bus to the Empire State Building. The next day we had to take a taxi to our Statue of Liberty Ellis Island tour because the tour started earlier than the bus started picking up passengers. Our third day we went to Harlem. It was raining on that day. It was the first time we did not sit at the top. They provided yellow ponchos. A lot of people sat in the rain. I just was not feeling sitting in the rain so I sat down stairs for the first time. I loved the tickets to the Top of the Rock. The view was breathtaking. I also liked all the nice shops and the whole NBC thing there not to mention the shops. I was very happy with this tour and if I am ever in New York again (next year) I will Hop on and Hop off again.
January 2016
A must for everyone visiting NYC

January 2016
We only went on the bus once during the four days because of choosing taxi, subway and walking a lot. The guide was very enthusiastic and educated. The trip to the Worlds biggest outlet was great. Six hours of shopping at great prices. Empire State Building at night is magical.
March 2015
Thoroughly enjoyable trips on the Uptown and Downtown tours. On top of the bus freezing but well wrapped up - our guides were very knowledgeable and made the experiences more interesting.
December 2014
We had a great time loved the tours we did them all apart from the harbour cruise we just didn't have the time
July 2014
This tour was excellent. We even upgraded to a VIP pass because the person who gave us our ticket was really nice and friendly. He deserves a commendation but unfortunately, i was not able to get his name. This is really worth getting before a trip. Thanks a lot Viator!!!
June 2014
Just love the hop on bus tours. We paid the extra dollars for the VIP Passes which were good. First in line and no queuing at Hard a Rock a Cafe. Only disappointment was our guide on the Bronx tour as she didn't speak very good English.
April 2014
January 2014
The boat tour was fantastic and when there they let us choose Empire State or RF centre. Woodbury common was great and bus was great. The bus tour was good too just avoid the busses with a cover over the front as it's hard to see through but generally very enjoyable.
December 2013
This is a great way to get around.We found all the guides really helpful and informative.Would definitely
recommend this tour to anyone wanting to see everything.The Woodbury Common tour was great as there are so many departure and return times. The buses are very frequent, we didn't wait more than 10 mins. for any bus.Would definitely buy again. Thank you City Sites .
Advertisement
Advertisement