Enjoy the New Yorkiest of New York nights with this action-packed tour of the Big Apple. Start with a leisurely stroll down the High Line Park at sunset, indulge in a hearty meal in bustling Little Italy, take a cruise around the State of Liberty while doing a Champagne toast and then finish the evening with a visit to the Top of the Rock Observatory Deck.
Highlights
Evening guided tour of New York City by climate-controlled sprinter minibus

Explore the High Line Park on a fully-guided walking tour

See NYC from the water on a one-hour Manhattan Harbor cruise

Enjoy a traditional Italian dinner at Grotta Azzurra, 3.5*-rated on Yelp and Tripadvisor

Toast your evening with a glass of champagne under the Statue of Liberty!

Ascend to the Top of the Rock Observation Deck for panoramic views of New York City at night

The complete New York City evening experience!

Recent Photos of This Tour
New York City Night On The Town Tour
What You Can Expect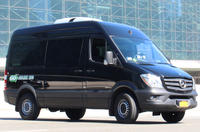 Hop in a comfortable sprinter minibus in Midtown and cruise through the dynamic streets of Manhattan, heading south to the ambient Meatpacking District, a neighborhood that was formerly rundown and crime ridden and is today one of the trendiest, most happening spots in New York City. After getting off the minibus, ascend up to the High Line Park, once an abandoned elevated railway that was turned into a fascinating park and walkway. Take a 30-to-45-minute guided walking tour of the High Line and don't forget your camera: there are some striking views to be had.
After the tour, hop back on and head to Grotta Azzurra, an old Italian restaurant in the Little Italy neighborhood. The restaurant, founded in 1908 by the Davino family, was a happening mid-century hang-out for the "Rat Pack," including Frank Sinatra, who once said it was his favorite Italian restaurant. Indulge in some Italian-American classics for dinner (see menu below).
When dinner is over, get transported to the historic South Street Seaport where you'll board a boat for a one-hour cruise. See the incredible Manhattan skyline and cruise around Lady Liberty, getting amazing views while sipping a complimentary flute of Champagne.
The night concludes with even better views: from the 70th floor of Rockefeller Center at the Top of the Rock Observation Deck. Spend some time taking in the perfect panoramic views of the City that Never Sleeps.
Itinerary
MENU

Choose from 9 delicious dishes below*:

1. Linguine Marinara, classic tomato sauce
2. Chicken Parmigiana, tomato sauce and mozzarella
3. Pork scallopini sautéed with butter and white wine
4. Skirt steak grilled served with onions and wild mushrooms sauce
5. Basa white filet of fish prepared oreganata style
6. Homemade sausage served with peppers and onions
7. Eggplant parmigiana, traditional preparation
8. House salad Romaine lettuce, red onions, ripe tomatoes with white vinegar
9. Insalata Mista Mesclun salad, diced tomato, red onion and balsamic vinaigrette

*Includes soft drinks (water and soda). Menu subject to change
June 2016
This tour is the best value tour I have ever been on as not only was it a great night, it was also fantastic value for money. When Bonnie our excellent tour guide took us first of all to the Chelsea Market and a brief walk along the new 'High Line' garden walk, I had a feeling we were in for a good night. We were then taken to the harbour for a an evening cruise on the Hudson River going under the Brooklyn Bridge and then onto the Statue of Liberty where the sun was setting right behind it for some great photographs. Another highlight of the boat trip were the great views of the city. We were then taken for what turned out to be an excellent meal at a lovely restaurant in Little Italy. Bonnie recommended if you were a fish lover to have the Basa fish dinner, and indeed it was an excellent meal. I must admit I was not expecting such a fine dinner on a tour, as other trips that I have been on that include a meal the food in general was very average. We were then taken to the Rockefeller Center for a trip to the 'Top of the Rock' for some awesome views of the city at night. If you take this trip you must be aware that you have to make your own way back to your hotel from the Rockefeller Center, one of the reasons for this is that you can take as long as you want and are not restricted to a set time, and it would be difficult for a guide and the driver to wait for everyone to get back down again.
June 2016
A highlight of our recent visit and a good value, enjoyed with my husband and 2 adult kids. Tip: eat a late lunch glad we did that day, as it was 9 pm before we got to the restaurant. Tour guide was a character, worked very hard to engage and entertain us and had expert knowledge of the city. At first was disappointed that our group was too large for the Mercedes bus as promoted, but on the plus side our group was quite small 14 for the open-top double-decker that we rode instead and we really did get a great view of sites and it helped that the weather was good. High Line walk was very brief, might have enjoyed a few more minutes there. The boat ride was fabulous, views of the bridges, Manhattan skyline and Lady Liberty just as the sun was setting, will remember those images in my mind for a good long time and got some fabulous pictures. For a 99 buck tour, the champagne was not Dom Perignon but a nice touch. All of us enjoyed our dinner, didn't have exceptional expectations, this is an evening tour on a schedule, after-all. Top of the Rock was icing on the cake - more spectacular views, pictures and memories for a lifetime. Our hotel was an enjoyable stroll away. Perfect way to spend an NYC evening!
June 2016
Loved the entire tour. Tour guide was very knowledgable about the city and was very nice. A great tour for the price!
May 2016
Hands down worth the time, money. Our guide was informative, professional, Mercedes Benz bus was comfortable, walking tour was impressive (the history of the meat market district), breathtaking cruise to Liberty at sunset, ambiance at Little Italy was unique and the Top of the Rock, and #39;just rocked. and #39;
April 2016
Fabulous! I wish I could remember our tour guides name as she was hilarious I know she had come at the last minute to cover for someone, she made the tour even better! We went to Grey Line Visitors Centre 30 minutes before the trip to get our tickets, there was about 30 people in total so they split us into 2 smaller groups, I think you get a much better experience this way.
We were given a tour of the High-Line and an unexpected tour of Chelsea Markets where we spotted a couple of famous faces before we boarded the ferry. We got skip-the-line boarding just as daylight was fading and got to experience sunset while on the Hudson! Our guide took photos of us in front of the Statue of Liberty and then we headed back.
In little Italy we were seated and served in record time and the meal was lovely. The Top of the Rock tickets were good for 2 days so our tour guide gave us the choice to be dropped off at our hotels on the way and use the tickets the next day if we wanted, a couple of people chose that option but we decided to continue and the night time views are truly spectacular!
Our hotel was in times square and it only took us 10 minutes to walk back. Even at 11pm you feel completely safe in the city.
April 2016
Tour was great and well worth the money. I would recommend this tour to anyone.
March 2016
I am usually pretty skeptical on city tours and not a big fan of large tours that are very crowded. This tour exceeded my expectations and was very well done. We had a small group a great guide and a great experience. The meal was only so so but the rest was great.
January 2016
This tour was an amazing value! It gave us a great overview of the city so we knew which areas we would like to return to. The views from the harbor cruise at night were stunning. Dinner was certainly enjoyable and our guide was awesome! I would highly recommend this tour to anyone visiting New York, especially for the first time.
November 2015
Great trip with very informative guides
November 2015
Great experience! Our tour guide was excellent!!! Certainly recommended for first time NYC goers.
Advertisement
Advertisement