Special Offer
Book by August 20 to save 15% off our previously offered price!
Follow the New York City Freedom Trail and learn how a group of brave men and women forged the network that became the Underground Railroad on this guided, 2.5-hour walking tour. See the site of Fort Amsterdam, the first settlement in colonial Manhattan. Visit the African Burial Ground National Monument, a memorial dedicated to enslaved Africans in colonial America. View the former New York City stations that were included on the Underground Railroad and discover how New Yorkers risked their lives to help people escaping slavery.
Highlights
Guided walking tour of New York City slavery and Underground Railroad sites
Trace the Underground Railroad with your local guide and learn about its role in freeing slaves

Visit the site of Fort Amsterdam, the first settlement in colonial Manhattan
See the NYC African-American Freedom Trail and visit the African Burial Ground Memorial
See abolitionist homes and churches and hear stories about important abolitionist figures, including Frederick Douglass

What You Can Expect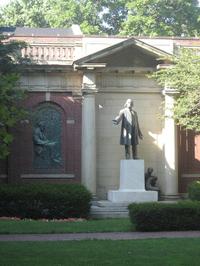 Begin this walking tour at the Museum of the American Indian in Manhattan. Then get ready to journey back in time to trace the history of slavery and the Underground Railroad in New York City.

The Underground Railroad was a network of secret routes and safe houses used by 19th-century African-American slaves to escape to freedom with the help of abolitionists and allies who supported their cause. This path from slavery to freedom ran right through New York City, where thousands of people, including noted social reformer and abolitionist Frederick Douglass, escaped to the most populated city in the nation.

Visit the site of Fort Amsterdam, the first settlement in colonial Manhattan, and learn about the important role slaves played in transforming American society. Walk down Wall Street and see where slaves hid while escaping to free states with the help of abolitionists.

Visit the African Burial Ground National Monument, a sacred space in Manhattan and memorial dedicated to enslaved Africans in colonial America. It has been called the most important archaeological find of the 20th century and is an important reminder of a period in New York City history that is oftentimes forgotten.

Finally, walk to the former site of the first African-American church in New York, which was also one of the stops on the Underground Railroad.
August 2015
The tour was very detailed. The host appeared to be very knowledgeable and had pleasant demeanor. Would highly recommend.
August 2015
This tour provided such an interesting way to view NYC's history. The guide had his master's degree in the field, so he was very knowledgable. He was able to field all questions posed with ease. Despite the blistering heat, this tour was phenomenal!
June 2015
Our tour guide Ludi was amazing. Her energy and passion for the information was phenomenal! We all learned so much more than we thought possible. We especially liked the Underground Railroad oyster bar location. I've known about slaves,,my whole life, but hearing how they were treated in a more detailed way, helps ,me appreciate my life all the more.
Thank you for having this tour available. Everyone should take this tour, regardless of race.
June 2015
This was an excellent tour led by a guide well versed in the history with a clear, fascinating story to tell. We learned a lot . I would recommend it to anyone.
January 2015
This was a very interesting tour. The tour guide Sean made it very interesting especially as it was a difficult subject.
Nanny of the ... Australia
October 2014
This tour was most informative. The guide had a voice that everyone could clearly hear above the traffic. He did not walk too quickly. I would recommend this tour to Antonella interested in slavery.
August 2014
Very good and informative tour
July 2014
Very informational and interesting! Discovered things I did not know and the tour guide was excellent!!!!

Francine Australia
May 2014
Extremely interesting. I learnt a great deal about the history of 'New Amsterdam'. I would recommend this tour to anyone interested in this topic. The guide really knew his topic and gave plenty of opportunity to ask questions. The walk was not particularly arduous and the guide didn't rush ahead or make it difficult to keep up. The museum visit was excellent.
December 2013
Very interesting tour - lots of great information and knowledgeable guide
Special Offer
$35.00 Save $5.25
Advertisement
Advertisement