Explore New York City's world-famous financial district on this entertaining, educational and shocking 75-minute Wall Street walking tour. Led by engaging and knowledgeable Wall Street insiders, you will see landmarks like the New York Stock Exchange, the Federal Reserve, Goldman Sachs and Deutsche Bank. Get the exclusive inside scoop about the culture and lifestyle of a Wall Street trader.
Highlights
75 minute New York City walking tour of Wall Street

Guided by former Wall Street professionals

Recommended by the BBC and The New York Times
As seen on Oliver Stone's "Wall Street 2: Money Never Sleeps" DVD

See the New York Stock Exchange, Federal Hall, Trump Tower, Federal Reserve, Charging Bull, Trinity Church and more!
Recent Photos of This Tour
New York City Wall Street Insider Tour
What You Can Expect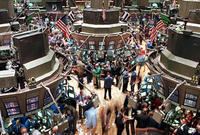 Begin this Wall Street tour in front of 15 Broad Street and let the education begin. Guided by true Wall Street insiders, see world-famous financial landmarks such as the New York Stock Exchange, the Federal Reserve Bank of New York Building, Goldman Sachs and Deutsche Bank (aka 60 Wall Street). While winding through the narrow streets of Lower Manhattan, hear exclusive stories from an insider perspective.

Learn about the more than 400 years of history that led to today's Wall Street — from the Dutch trading outpost to the humble beginnings of the New York Stock Exchange to the current financial market. See where high-powered meetings take place, where billion dollar deals are negotiated and where the fate of our nation's economy is determined. Hear the stories of how some of the biggest U.S. financial institutions were built by immigrants and their entrepreneurial spirit. Also, discover the Financial District, commonly referred to as FiDi, with its rich history and architecture.

June 2016
Excellent tour. Sandy was a wonderful personable guide. He emailed me personally afterwards with a reading list and some well-wishes!
June 2016
Tom was our tour guide. He was very knowledgeable of the NY Wall Street area. He brought his experience of working in Wall St. as a trader to the tour and made it very interesting. I gave this to my boyfriend as a gift because he is enthralled with stocks and trading. I thought I was going to be bored with the experience but to my surprise I was very entertained.
June 2016
Tom was our tour guide. He was very knowledgeable of the NY/Wall St. area. He brought his experience of being a trader for a number of years to the tour and was very enjoyable to listen to. I bought this for my boyfriend because he is very enthralled with Wall St. and stocks. I thought I was going to be bored but to my surprise Tom made it a very enjoyable experience.
June 2016
We thoroughly enjoyed this tour. Anyone can walk around the Wall St area but having the insider take us and stop at all the buildings and learn about past history brings it to life. It was a small group, just right and we felt involved. The insider was very knowledgeable and made financial facts interesting. The only thing was that I was expecting to hear about the Wall St crash in the 1920's but that was not covered. Still a good tour though, recommended.
June 2016
Excellent tour. Guide was very knowledgeable.
May 2016
This was an absolutely amazing tour. Our tour guide, Jon, knew all the in's and out's of wall street. He took the time to explain the history behind the buildings and the famous people behind wall street. I felt like I was on an AP US History course. I wish the tour would have lasted longer. Jon was friendly and engaging with everyone. I highly recommend this tour, and if you are lucky you will get Jon.
April 2016
April 2016
Our guide was excellent and we only wish that we could see the inside of the NYSE building.
March 2016
Tom was an amazing guide, full of knowledge and kept the group entertained on a very cold February day!
An absolute highlight of our trip, would recommend to anyone wanting to do tourist attractions. It and #39;s a short walk, but packed full of stories and history from a Wall Street insider. Thanks Tom
March 2016
Tour guide, Jon, was delightful. He knew the subject well, interacted with our group extremely well and has evidence passion and enthusiasm for sharing the history of the Financial District.
Time flew by and we were delighted.
Advertisement
Advertisement