57 Reviews
Location:

New York City, New York

Duration:

2 hours

(approx.)
On this unique walking tour of New York City, you will explore the world-famous financial district of Wall Street and learn from real industry insiders about the recent global financial crisis. Become privy to the secrets of the New York City financial giants and hear first-hand accounts of the events of 2008 that brought down such global giants as Lehman Brothers and Bear Stearns. An enthralling and intellectually stimulating way to tour one of the world's most famous streets!
Highlights
2-hour New York City walking tour of Wall Street

Learn about the most significant financial crisis since the Great Depression

Guided by Wall Street insiders with front line experience at major banks

Explore the history of lower Manhattan

Recommended by the BBC and New York Times

As seen on Oliver Stone's "Wall Street 2: Money Never Sleeps"

Recent Photos of This Tour
What You Can Expect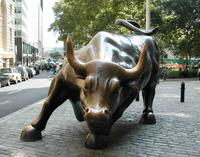 You will meander through the narrow, winding streets of Lower Manhattan led by Wall Street experts, who will tell you exclusive stories from inside the trenches that will inform and shock you! Learn how some traders made billion dollar profits while banks collapsed, and find out more about the volatile culture and lifestyle of the Wall Street Trader.

Explore the fascinating, historical district of Wall Street that it is a living, breathing body that still affects the world today. You will discover rich history and visit famous financial landmarks, such as the New York Stock Exchange, Federal Reserve, and Charging Bull.

Even born and bred New Yorkers will gain valuable insight through storytelling and personal interaction with former Wall Street professionals. If you have an interest in finance, current affairs or want to learn more about the worst financial crisis since the Great Depression, this New York City tour is for you!
November 2015
Our tour guide was extremely knowledgable. It was a very interesting tour.
October 2015
I thoroughly enjoyed this tour, with George, our tour guide, who kept us enthralled with stories of wall street and the financial crisis, with a very clear explanation of what lead to the GFC. We covered a lot of the financial district, while listening to george, and I thought it was a highlight of our recent NYC visit. Great tour.
October 2015
An excellent review of the Wall Street area, with a great narration of 2008, 1929, the 1700s and much more. Plenty of photo opportunities, and a lot of good character. Our tour guide George had great info for every question we had, and kept a good walking and narration pace for the length of the tour. We even went over-time with the full approval of the group answering all of the questions. Like any walking tour in a metro area, there can be difficulties keeping the group together across crosswalk signal changes, but George managed to keep track of us all as we moved from place to place. If you have an interest in the mechanics and events of this world-class financial district, this is a highly recommended tour.
July 2015
My husband and I took our two Virginia Tech Eng students with us. I was thrilled, we all thoroughly enjoyed the tour! Both our boys remarked how interesting the sites were!! Our tour guide was very informative and a pleasure to listen to. Already have recommended to numerous friends!
June 2015
Guide was an expert in his field of Finance. Wonderful tour!
June 2015
George was great! The tour was jam-packed with interesting, little-known details. We learned not only about the financial crisis, but many historical facts and fun anecdotes about NY. My husband grew up in Long Island, worked many years in Manhattan, and was still truly amazed by the tour.
June 2015
Excellent tour. Just the right balance of financial and historical information--- fact and anecdote.
April 2015
I thought it might be a good idea to do the Financial Crisis tour and I was particularly lucky in that our little group got two guides the experienced Tom who was a trader / day-trader and now specialises in New York history and the new guy John who was a former banker for a major firm and then went to work for the Office of the Comptroller of New York City and was responsible for the debt issues made by the city. The level of detail was fantastic what were the CDOs that brought the markets to their knees in 2008 ? How did they get so attractive to the market and why did the rating agencies such as Standard and Poors and Moodys and Fitch get so unobjective about it all ? All these and other questions were explained simply and with the benefit of detailed knowledge. And along the way, you get to see the buildings that housed the banks and the agencies which ultimately paid the price Lehman Brothers, AIG and the New York branch of the Federal Reserve. All in all, a very good morning spent in amongst it all.
April 2015
Sandy was a very knowledgable and entertaining guide. Mu family and i houroughly enjoyed our financial crisis tour.
March 2015
Advertisement
Advertisement