Elevate your trip to New York City with a 4-hour tour of Brooklyn Heights to learn about African American gospel music and experience it in person. Take the subway from Manhattan to the Brooklyn Heights neighborhood to admire historic churches and brownstone homes. Consider the history behind the heavenly hymns as you stroll around Brooklyn and along the Promenade on the Hudson River. End the tour on a high note with a Sunday-service experience at the acclaimed Brooklyn Tabernacle.
Highlights
4-hour gospel music tour of Brooklyn, departing from Manhattan

Learn about African American gospel music's roots in New York from your guide
Stroll through the Brooklyn Heights neighborhood and admire iconic brownstone homes

View Plymouth Church, where gospel music was first made popular by the Jubilee Singers

Snap photos of the Manhattan skyline from vantage points in the Brooklyn Heights neighborhood
Clap and sing your way through a spiritual performance at the renowned Brooklyn Tabernacle
Why Our Insiders Chose This Tour
Real gospel soul is closer than you think when you're staying in Manhattan. A quick jaunt to Brooklyn brings you to one of the best gospel choirs in the nation. Attending a church service at the Brooklyn Tabernacle is a truly uplifting experience.
What You Can Expect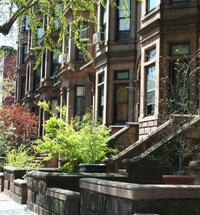 At your selected time, meet your guide in front of the Trinity Church in lower Manhattan. Once the group is together, take the subway (own expense) to Brooklyn for an easy, 2-hour walking tour to discover the history of African American gospel music. Your experience culminates with a 2-hour live gospel performance.

On your walking tour, enjoy the iconic brownstone homes and stroll along the Brooklyn Heights Promenade for an unbeatable view of the Manhattan skyline on the Hudson River. Along the way, your guide delves into the evolution of the genre, from its origins in American slavery to its influences on today's Billboard charts. Pass by Plymouth Church, where the a cappella group known as the Jubilee Singers captivated New Yorkers, and put gospel music on the map. Keep your ears perked to learn about other important figures including Charles A. Tindley (aka the "Father of Gospel Music) and Thomas A. Dorsey, and how this inspirational music influenced a wide range of jazz, rock and blues musicians such as Elvis Presley and the Beatles.

After your walking tour of Brooklyn Heights, you'll arrive at the Brooklyn Tabernacle in the heart of downtown for a church service. What began with a handful of members in a small, run-down building is today a nondenominational congregation of nearly 10,000 people. It's perhaps best known for its Grammy Award–winning choir, which has catapulted the gospel genre into the hearts of people around the world. See for yourself as sermons get a boost from either the Brooklyn Tabernacle's own choir or from visiting gospel groups. You might find it hard to resist letting out a "hallelujah!" as the unified choir sings uplifting songs and hymns.

When the service is over, you are free to explore Brooklyn at your leisure with a provided map that notes subway stations and dining suggestions.
June 2015
This was a great experience. The guide was informative and enthusiastic.
April 2015
We where there with Easter. Magnificent play Love of God
February 2014
Fantastic experience. Alicia, our tour guide, was lovely. Very friendly and full of lots of interesting information. In spite of the temperature (about minus 9!) we had a great trip. The highlight, of course, was the gospel service. Very uplifting. Thank you.
September 2015
The church service was very inspiring and the music very moving.
December 2014
The guide was very good - even using her own talent to demonstrate the development of gospel music. The Brooklyn Tabernacle visit was wonderful. My only criticism is that there could be a little more content in the walking part of the tour as we spent too much time just waiting (not helped by the freezing weather).
July 2014
What a wonderful way to see a piece of Brooklyn in additional to finding out the history of how Gospel began. Be prepared for a great deal of walking in hot or cold weather. Wear a hat and sunglasses plus your sunscreen or umbrella and jacket. We ended up at the Brooklyn Tabernacle for a rousing, spirit- moving church service with the B. Tabernacle Choir. Really enjoyed this tour.
June 2015
We decided not to go on this tour. After we had paid, and received further information, we found we were to meet downtown NYC, then take a train to Brooklyn, and then spend 2 hours at a Church Service which we would not be able to leave easily.
C'est la vie!
But the advertising did not indicate the true nature of the event .
Advertisement
Advertisement