Escape from the hustle of Times Square to the scenic aerial greenway of High Line Park on this guided, 2-hour walking tour. High Line Park is a revitalized piece of New York City's past, a public park built on a freight rail line elevated above the streets of Manhattan's Meatpacking District. Hear the story behind New York City's "park in the sky" from a knowledgeable guide who will offer an insider's perspective on its history, design and landscape.
Highlights
2-hour walking tour of High Line Park

Tour Manhattan's trendy West Side neighborhoods of Chelsea and the Meatpacking District

Learn about the rich history of High Line Park and the long forgotten High Line, an elevated railroad track

See the White Star Pier, the old Nabisco factory and the Collier Publishing building

Led by an informative local guide

Why Our Insiders Chose This Tour
Go beyond the typical tourist attractions with a laid-back stroll in this cool, elevated park that's popular with locals. Awesome views!
What You Can Expect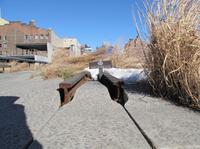 The High Line, aka High Line Park, is a 1.45-mile-long (2.33-km) New York City park built in Manhattan on an elevated section of old New York Central Railroad called the West Side Line. The High Line has been redesigned and planted as an aerial greenway and rails-to-trails park.

This two-hour walking tour runs the full length of the park, from the Tiffany and Co. Foundation Overlook — with a view eastward to the Meatpacking District and westward to the Whitney Museum of American Art — to the CSX Transportation Gate.

In between, there are sundecks and more overlooks to see. There's also a two-block-long pathway that winds through a miniature forest of dogwoods, bottlebrush buckeye, hollies, roses, and other dense shrubs and trees, plus a grove of bigleaf magnolia, sassafras and serviceberry trees. There's even some of the wild landscape that grew up on the High Line before it was a park, like crab apple trees, asters, sedges, goldenrods and alumroot.

On this tour, there will also be a chance to visit Pier 54, where the survivors of the Titanic arrived, and the old Nabisco factory at Chelsea Market, where the original Oreo Cookie was invented.

June 2016
Met Anni in Chelsea and had the most amazing and informative walk, she told us things and pointed out so many things that we would have missed if she hadn't been with us, she was worth every ...and as for the tip on where to go for our last night...brilliant , we had the greatest time and went out with a bang or was it a hangover?anyway it was a fantastic end to our trip...thanks..Jenni an Leahx
February 2016
We loved our High Line Tour. Annie was a very knowledgeable and entertaining guide. Highly recommended - it was worthwhile to go with someone who can give you a bit of the history and some of the things to look out for along the way.
December 2015
Great and informative tour.
November 2015
Ann was friendly, outgoing, informative, managed an unexpected delay and had a good sense of humour. She helped make it a very enjoyable day.

missskybird Australia
November 2015
Recently spent the morning with Annie our guide on the New York on the High Line Park Walking Tour.
Annie was very well informed, interesting and fun and highlighted many points of interest around the Meat Packing District, Chelsea Markets and the High Line.
The High Line now extends to 34th Street which was an added bonus. I would definitely recommend this tour.
October 2015
Anne was charming and she knew her stuff! I loved all the extra treatment she gave and extra advice. I would book again from your company. I will recommend your company also.
September 2015
While we could have walked this ourselves what a treat to be guided by someone as knowledgeable as Annie was. She was great! We wound up being in a small group of 4 and it was well worth the cost.
August 2015
Loved it! Tour Guide, Anne, was great.. We had her all to ourselves..just my and my husband.
So nice to get an inside view from a real New York City resident. We like to take tours for that reason! It was a beautiful day and really fun!
July 2015
We had a great tour with Bill. He provided a lot of interesting facts about the area how the High Line Park came to be. It really is an oasis of calm and beauty when walking n Manhattan and we loved it.
June 2015
Loved the tour and Annie was a wonderful guide!! There is so much more info we wouldn't have known if we'd just strolled it by ourselves.
Advertisement
Advertisement