Hip-hop music began in New York City. And there's no better way to explore the genre of music than by taking this entertaining and informative tour with one of rap's Grandmasters. The unique experience offers an interactive tour through Manhattan, Harlem and the Bronx, show the origins and evolution of hip-hop and rap music.
Highlights
Hip-hop tour of midtown Manhattan, Harlem and the Bronx

Gain insight into the origins of the music from your Grandmaster guide

Discover the sites of historic battles and video locations
Experience interactive activities that bring hip-hop to life

View the Graffiti Wall of Fame in Harlem

Suitable for the whole family
Recent Photos of This Tour
What You Can Expect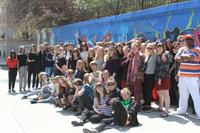 Board the comfortable coach and get ready to be schooled (and entertained) by this fun tour that focuses on the origins and history of hip-hop, a genre of music that began in New York City. With your Grandmaster guide, trace the history and influences of the genre, from the early pioneers such as Grandmaster Caz and DJ Red Alert to the Sugarhill Gang to Public Enemy to Jay-Z.
Visit rap-related sites such as the Graffiti Wall of Fame, the legendary Apollo Theater, Rucker Park and much more. Stop into a soul food restaurant for lunch (at own expense). Partake in the 'Show Your Skills' segment of the tour and get dressed up in bling.
This tour is essential for the hip-hop enthusiasts and those who love them. Fun for the whole family!
June 2016
My boyfriend and I went on this trip last week and we thoroughly enjoyed it. We were lucky enough to have Grandmaster Caz as our host who was so knowledgeable and entertaining. I loved seeing the graffiti in the different boroughs and the food at the Soul Food cafe was amazing! I would definitely recommend this tour, it was brilliant fun!
February 2016
This is a great tour for any age. I took my two 17 year old sons and my 63 year old cousin and we thoroughly enjoyed it. There were people on our tour from all over the world. Great experiencing for anyone.
November 2015
October 2015
The best tour in NYC!! If you're a old school, life long hiphoper or know little to nothing about the culture this tour is awesome! Highly recommended!!
September 2015
This is the best tour I have ever been on! Worth every dime and truly a unique experience. Not your average tour!
August 2015
We had an awesome time on this tour - a bit pricey but still worthwhile. Very informative, we learnt alot. The tour was very interactive and we got to see quite a bit of New York which we would not have done by ourselves. Five stars xxxxx
July 2015
Great tour and Grand Master Caz and Rayza were excellent guides and hosts.
June 2015
My 13 year old son, my husband and I saw, experienced and learned so much on this fun and entertaining tour. The tour exceeded our expectations and ended with a delicious lunch. I highly recommend this memorable tour to anyone who is interested in hip hop culture!
June 2015
Best tour I have ever been on. This is a must for any Hip Hop lover, young or old. It gives you a history of the culture of Hip Hop and is all hosted by none other than the legend that is Grandmaster Caz. He is a true artist from Old Skool Hip Hop generation and his local knowledge and enthusiaum makes this trip captivating!
May 2015
This was the best tour I've ever been on. Highly interactive and real old school superstars!
Advertisement
Advertisement