Lower Manhattan is not the only place to experience New York City's thriving art scene. Choose from three burgeoning niche galleries in DUMBO (Down Under the Manhattan Bridge Overpass), Long Island City and Williamsburg on these guided, 2-hour New York art tours. A knowledgeable guide/curator will help to showcase a wide variety of outstanding artwork, from contemporary and emerging to paper and street art, in these hip New York City neighborhoods. Talk with the artists and gallery owners and have an opportunity to purchase any of the works on display.
Highlights
2-hour walking tour of New York's neighborhood art galleries

Choose from a tour of DUMBO, LIC or Williamsburg

Led by a professional guide and experienced curator
Talk with artists and gallerists
Visit a wide variety of contemporary art galleries

See experimental and provocative sculptures
See contemporary, emerging, paper and street art
What You Can Expect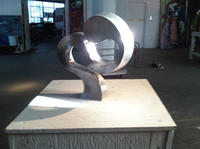 Choose from among three neighborhoods, but one thing remains a constant on these three tours — you'll see an abundance of great artwork.

DUMBO Gallery Tour
In Brooklyn, head to the DUMBO neighborhood. This area has become one of New York City's premier arts districts, with venues like the Klompching Gallery, a hot destination for contemporary fine art photography in Brooklyn; St Ann's Warehouse, a performing arts institution; and the A.I.R. Gallery, the first all-female cooperative gallery in the United States.

Williamsburg Gallery Tour
Also in Brooklyn is Williamsburg, with a large local arts community and hipster culture. Figureworks is a gallery here dedicated to contemporary and 20th-century fine art that explores the human form. Causey Contemporary Gallery exhibits the technically and conceptually challenging work of 13 core artists. And Pierogi Gallery showcases the contemporary works of both emerging and established artists.

LIC Gallery Tour
In Queens, Long Island City is noted for its thriving arts community. There's the Fisher Landau Center for Art, a private foundation that offers regular exhibits of contemporary art. And MoMA PS1 is an affiliate of the Museum of Modern Art. It's the oldest (and one of the biggest) nonprofit arts centers in the U.S. that's devoted entirely to contemporary art. Visit with artists and learn about becoming an art collector on any budget. Discover repurposed manufacturing sites where artists now work, including M55 Art and Space Womb, which exhibits abstract art from new and well-known Asian artists.
Kris F USA
October 2014
Our tour Guide was wonderful and very informative.
June 2013
This was a fabulous way to begin a NYC holiday! The DUMBO neighborhood is filled with art with no pretense, and many, many friendly residents and shop owners. With its cobble-stoned streets and avenues, one could be in Amsterdam or parts of Boston/ San Francisco. The guide for this tour was an artist herself from Harlem; her comments on the galleries' works were up-to-date and informative. As well, her knowledge of the development of this neighborhood as one of Brooklyn's finest gems was genuine and interesting. I highly recommend this tour as you will come away feeling more a part of a sometimes overwhelmingly large city!
October 2012
Saw some very interesting galleries especially enjoying the graffiti art and the walk around DUMBO.
July 2012
It was very good. We were a group of 3, with 2 other people. Savanah, the guide was excellent, very informative, and showed us not only interesting small galleries and artists, but a great insight into Brooklyn life, interesting destinations and very useful information about directions, the Subway and New York in general
July 2012
The guide was very informative and knew her art. It was good to see round Brooklyn with someone who knows the area well. We looked round some galleries that you wouldn't know where there without the guide.
Advertisement
Advertisement