New York City is a drinking town. And this bibulous tour takes you to one of three bustling booze-flowing parts of town, visiting some of the best bars and pubs in the Big Apple. Hit the true local spots, eschewing the tourist traps and the bridge-and-tunnel bars. From historic saloons to celebrity hangouts to classic New York dive bars, this tour will show you the real Big Apple drinking scene!
Highlights
3.5-hour pub tour of New York City

West Village, East Village or Hell's Kitchen Pub Crawl

Tour New York's famous neighborhoods

Visit Café Wha?, the scene of Jimi Hendrix's first live performance

Pubs visited include The Whitehorse Tavern, Kenny's Castaways, Playwright Celtic Pub, Old Town Bar and McSorley's Old Ale House

Learn about the history of the bohemian movement in New York

Local and professional guide

Recent Photos of This Tour
What You Can Expect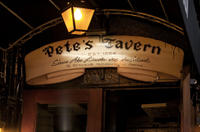 Greenwich Village Pub Crawl
Make your way around the confusing, winding and sometimes not-necessarily-straight streets of historic Greenwich Village. Learn about the history of rock and folk music from the 1960s, as your guide introduces you to a couple of classic Village dive bars. It was here where music legends Bob Dylan, Jimi Hendrix and Janis Joplin, among many others, got their starts. Walk down famed Bleecker Street. Linger on MacDougal Street, home of Cafe Wha? where many famed artists first performed.
Hell's Kitchen Pub Crawl
It may sound ominous, but Hell's Kitchen, located in Midtown West, is a hell of a place to go on a pub crawl. Begin this tour at a bar that was once frequented by famed playwrights, gangsters and even the police. Quaff a drink or two, learn about the history of the neighborhood from your guide, and then pop into the old Westies Gang headquarters. Then finish the evening by hanging out a true dive bar -- even the booths are held together with duct tape -- that serves free hot dogs.
East Village Pub Crawl
The East Village, the grungy but hip counterpart to Greenwich Village, is a true drinkers' neighborhood. Start the crawl at a pub that has been the scene of many music videos, movies and TV shows. Learn about the history of the East Village and how it's gone from gritty to hip in just a couple of decades, and then go to a famous 'speakeasy' for a cocktail. Finally, finish the night at a historic pub where Abraham Lincoln once downed a couple of beers.
May 2016
A great experience our guide Brooklyn Jimmy was absolutely brilliant, very informative and funny, he told us lots about NYC and life there, he was an absolute gem of a man. The places he took us were unforgettable and we would never have found them otherwise. We would highly recommend this trip.
November 2015
The tour was amazing! The tour guide, Dennis, was super exciting and energetic and informative. I would recommend this tour to anyone who travels to New York. Fantastic@!!!!!

June 2015
Our pub crawl in Hell's Kitchen was exceptional! Dennis, our tour guide, is a native New Yorker. He was funny, unpretentious, and personable. We especially appreciated his knowledge of history and of the area. The tour began on time, moved at a good pace, and was unhurried. Our tour was the first night of our trip to New York it really helped us get our bearings. The 3 pubs and the beer were good, too! We had a fun evening with Dennis and the other 3 guests.
August 2014
Derek is a very nice guy and he knew a lot, hence making it very much worthwhile. Walking Eastvillage by night is cool. He also led us to some 'secret' locations you wouldn't find if you are not a local. All in all a very interesting tour and I will do it again next time in NYC.
May 2014
May 2014
Very fun went to places wouldn't normally have seen
February 2014
Thoroughly enjoyed the evening, Mike was a excellent guide who gave us a real insight into the history of New York while taking us to some great bars to soak up the local atmosphere. Would recommend to anyone visiting, no matter how short their stay
Once again, thanks Mike, you made our stay that little bit more memorable
January 2014
Highly recommend this tour. The tour guide was informative and took my husband and I to some wonderful spots we never would have went to on our own. This was our third trip to New York so we have done many tours, but nothing like this one. It was a refreshing change and the streets of The Village, that we visited many times during our days there, are even more charming at night. On our next trip to New York we will definitely book another pub crawl!
October 2013
Great job by this guide. Had a lot of fun.

August 2013
Michael J, our guide was super informative, friendly and a lovely soul too. This is not your traditional boozy, chug them down aussie pub crawl. Don't get me wrong, you get to drink everywhere you stop, but its sooooo much more than that. After walking this area (greenwich village) with Michael, I felt like we had a more personal level of insight into the village. He spoke also quite abit about the history of NYC AND the buildings, in the early days, which was fascinating. This is a man who clearly enjoys his jobs and loves sharing his city with others. He even escorted me to a pizza shop next door to the pub we had stopped at, so as I could grab a bit to eat before continueing on. Chivalry is not dead. Thanks Michale J for a fab night. Ian and Judy...Australia
Advertisement
Advertisement