On this Niagara Falls day trip from New York, fly to the falls by plane to maximize your time at this world wonder on the American-Canadian border. You'll see the falls from multiple angles as you tour both the Canada and US sides, plus take a Niagara boat cruise or experience the Journey Behind the Falls, depending on the time of year of your tour. With a return flight to Manhattan, it's easy to get to and from Niagara Falls from New York in one exciting day of adventure both in the air and on the water.
Highlights
Full-day trip to Niagara Falls from New York by air
Round-trip flight from New York City to upstate New York
Guided tour of Niagara Falls from American and Canadian sides
Niagara Falls boat ride or Journey Behind the Falls

Buffet lunch at a restaurant overlooking the falls, including soft drinks, tea or coffee
Fully narrated tour
Pickup and drop-off from Midtown Manhattan hotels
Recent Photos of This Tour
Niagara Falls Day Trip from New York by Air
What You Can Expect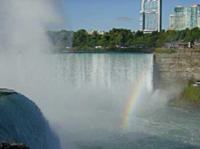 Your day trip to Niagara Falls starts with the transfer from Manhattan to the airport, where you'll hop aboard the plane for your approximate 1-hour flight from New York City to upstate New York. When you arrive, make the bus journey to the falls with your tour guide, who leads you on an exploration of Niagara sights on both the American side and Canadian side.
Fuel up with a buffet lunch at a restaurant overlooking the falls, and then embark on one of two experiences, depending on the time of year of your tour. In the warmer months (usually May to October), take a 30-minute boat ride on the waters of the Niagara River for an up-close look at American Falls and Horseshoe Falls, cruising close enough to the base of the powerful cascades to feel the spray of water on your skin.
During the cooler months (generally November to April), get a deeper look at the waterfall on Journey Behind the Falls, an attraction that allows you to walk behind the sheets of water for a different perspective. When your time at Niagara is up, return to New York City by air to end your day trip.
Please note:
Due to the extreme popularity of this tour, a minimum 5-day advance booking is required.
Due to current TSA policies, each passenger's date of birth, passport name, passport number, expiration date and country are required at the time of booking. Failure to provide this information will result in your reservation not being completed. Contact info and/or your New York hotels must also be provided in order to complete your reservation.
Passenger(s) MUST have the required documentation to enter Canada.
Depending on weather at the time of your tour, Niagara Falls boat cruises could continue into November, or may cease earlier than October 31.
May 2016
Highly recommended if you want to experience as much as possible at Niagara in a day!
Pick up and drop off from our hotel was included. Flights from JFK to Buffalo were with Jet Blue and took approx 1.5 hours. Eduardo, our guide picked us up from the airport and was very knowledgeable. We felt well looked after throughout the trip.The trip covers both the Canadian and American no visa needed for the canadian side sides of the falls and includes a ride on the boat. Prepare to get soaked! Lunch was at the Sheraton hotel all you can eat buffet with a great view of the falls. American dollars are accepted while in Canada and there are plenty of opportunities to buy souvenirs.

May 2016
We were the only ones on the tour and it was AMAZING. Our driver was very knowledgeable and friendly, and winter is a great time to see the falls because no mist and no crowds!
Remember, if you're from a country that doesn't customarily tip: you WILL need to tip the driver.
May 2016
Fantastic trip! From hotel pick up to drop off, it couldn't gone any smoother. Airport transfer perfect. The Falls were breath taking. So glad we went to the Canadian side of the falls. Loved the boat ride. Highly recommend this tour.

May 2016
Excellent, pick up on time, although flight delayed mechanical, we did not miss a thing and not rushed at all. Guiseppe fantastic tour guide and very well oranised, lovely lunch at the Sheraton, boat trip, a very good day indeed. And picked up from airport hassle free

May 2016
Great tour! Everything was very well planned out! You fly to buffalo then are met by your guide Eduardo who is extremely knowledgable. Very long day but totally worth it.
Alan D Australia
April 2016
Canadian side absolutely brilliant.
April 2016
Having read the last few reviews, there really isn't anything else to add. But I feel obliged to, just to compound what a great experience this trip was. Viator, really does deserve a pat on the back. For as jaw dropping as The Falls are, a day trip like this is really made or broken with the organisation. From the moment we were picked up from our hotel at 5.20am, to when we were dropped back at 22.00, the day ran like clockwork. This included transfers to and from airports, our boarding passes were retrieved for us. Going through Canadian customs, and USA customs on our return. Transfer to The Falls, lunch at The Sheraton, overlooking The Falls. A boat ride into The Falls. All of this , plus we had the company of our tour guide Guisseppe. What or who that man does't know, isn't worth knowing. Friendly, knowledgable, helpful. The list is endless. I can't speak highly enough of my experience on this trip.
April 2016
This was a great day, it was a very long day though. We were picked up at 5.30am and returned to our hotel at about 11pm. The transfer staff were friendly and helpful and when we arrived in Buffalo our tour guide Guisseppe was very friendly and very knowledgable and made for a really enjoyable day. We spent most of our time on the Canadian side of the falls which I was really happy with because the view is much much better. This tour is well worth doing, I would do it again.
April 2016
Absolutely Fantastic!! We flew from Kennedy Airport to Buffalo with JetBlue. We had roomy seats with personal monitors and complimentary snacks and drinks even thought the flight was only an hour long. Our friendly and informative tour guide Giuseppe was waiting for us at the airport. He has obviously been doing this job for a while as everyone knew him and he was extremely well liked this helped a lot when skipping the lines. We had no trouble crossing the border into Canada, In fact the officials there were so friendly they were telling us jokes. Giuseppe showed us the power stations and took us to a lovely and quaint gift shop where they gave us samples of maple syrup cookies. We had lunch at the Sheraton where the views are tremendous. We then went on the Hornblower which was absolutely amazing and it was worth the long day just for that. Afterwards Giuseppe took us to the top of the horseshoe falls where the view is stunning! We loved all of our trip to NY but this was definitely the highlight!
March 2016
What an amazing experience!! The booking and confirmation was very easy and went without a hitch. All the staff from start to finish was very welcoming and friendly who answered every question with interest. The whole trip was organised amazingly meaning we had a stress free day. We travelled on a mini bus with Spanish people too but the tour guide ensured that everyone was given the same information which was very informative. He couldn't have tried harder to ensure that everyone was happy. We stopped off several times throughout the day at different parts of the falls as well as having lunch on the Canadian side with amazing views of the falls. As we travelled in February the boat was not running so we went behind the falls which was included in the trip. Overall an amazing experience and well worth every penny!! Just be prepared for the freezing temperature if you are travelling in winter.... it was -15 degrees Celsius with a feel temperature of -22!!
Advertisement
Advertisement