Spend an afternoon in one of New York City iconic parks and let lunch come to you! Choose from either Rockefeller Center, Central Park or South Street Seaport and have a gourmet picnic delivered to your destination. Packages range from a classic picnic for two to a family picnic for four, and each comes complete with cutlery, a picnic surface and loads of artisanal delicacies. This unique dining experience is the perfect way to experience Manhattan's outdoor offerings.
Booking price is per picnic
Highlights
Have a delicious picnic prepared for you to enjoy in New York City
Choose from the classic, family or romance picnic packages
Choose from 3 delivery locations: Central Park, South Street Seaport or Rockefeller Center

Enjoy handpicked, high-quality New York delicacies

Treat a loved one, friends or family to a special dining experience
What You Can Expect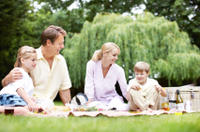 Spend a relaxing day in a park in New York City with your loved one, family or friends and enjoy a picnic packaged just for you! Choose from three types of picnics -- the romantic picnic with meats and vegetables, the family picnic with bread and artisan cheese, or the classic picnic with deli favorites -- all made fresh with only the finest ingredients from local New York bakeries, charcuteries, cheese and dessert shops. Each picnic can be delivered to three different parks: Central Park, South Street Seaport or Rockefeller Center. Skip the hassle of planning out the perfect picnic and visiting all of the different specialty stores. This is the perfect way to enjoy a day in New York City!

These gourmet picnics even come with their own picnic surfaces, cutlery and a reusable cotton tote for cleanup. Please see the Itinerary section for more information on the different picnic menus and remember that booking price is per picnic.
Itinerary
Romantic Picnic
(for 2)
3 kinds of artisanal cheese
3 cured meats from Salumeria Biellese
1 pate from Larchmont Charcuterie
1 fresh baguette from Pain D'Avignon
Pickled vegetables from Brooklyn Brine
Caramelized onions from Agrodolce
Rosemary garlic olives
Poland Spring sparkling water
Soda syrup from P&H Soda CO
Sea-salt caramels from Liddabit Sweets
Picnic blanket
Plates
Cutlery
Reusable cotton tote
Classic picnic
(for 2)
A selection of artisanal cheeses
2 cured meats from Salumeria Biellese
1 fresh baguette from Pain D'Avignon
Seasonal jam from Beth's Farm Kitchen
Rosemary garlic olives
Sea-salt caramels from Liddabit Sweets
Poland Spring sparkling water
Plastic picnic surface
Cutlery
Reusable cotton tote
Family Style Picnic
(for 4)
2 Baguettinis (small baguette sandwich selections)
North Fork potato chips NY deli-style pickle from Brooklyn Brine
Sea-salt caramels from Liddabit Sweets
Poland Spring sparkling water
Plastic picnic surface
Cutlery
Reusable cotton tote
September 2012
Great deal...Wendy did a great job of getting everything to me. The selection in the picnic was great and scored me plenty points with the wife!!! lol A++++++++
Pongo Saudi Arabia
August 2014
This event DID NOT HAPPEN. After speaking to the Perfect Picnic Company and arranging a meet location at 13:00, after a 50 min wait and numerous phone calls, I was told that the picnic had been delivered to the wrong person!
The Perfect Picnic Company agreed to give me a rebate for the 'lost' picnic
In fairness, to the Perfect Picnic Company a 'consolation' picnic was delivered to our hotel the next day which was not the picnic ordered and was wasted as we left for the UK that day!
I am still waiting for my rebate some 14 days after the event
Advertisement
Advertisement