45 Reviews
Location:

New York City, New York

Duration:

2.5 to 3 hours
Take a guided walking tour in New York City and taste pizza at three of Manhattan's top pizzerias along the way! Sample the pizzas of Little Italy and lower Manhattan on the Crosstown Pizza Tour. Or head to Greenwich Village and SoHo to see what tasty pies they offer on the Greenwich Pizza Tour. Or opt for the Lower East Side Pizza Tour for a delicious journey through the eclectic neighborhood. Spend time with the owners of each pizzeria that you visit. Learn about the different types of pizza that each venue makes, hear how pizza has changed over the years and enjoy a slice at each to determine your favorite!
Highlights
Mouthwatering pizza walking tour through Little Italy, Greenwich Village or SoHo
Trace and taste the history of pizza from Italy to America with a local pizza expert
Try different styles of pizza, such as Neapolitan, Sicilian or New York, from some of the city's top pizzerias
Receive your own pizza tour survival kit with a notebook, palate cleanser and more
This top-rated tour has been featured on the Travel Channel, Food Network, Cooking Channel and Discovery Channel – don't miss it!
Why Our Insiders Chose This Tour
Once you take this tour, you'll understand why it's been featured on so many TV shows. You'll love the super-knowledgeable guide and the chance to sample some of the city's most famous and delicious pizza!
Recent Photos of This Tour
What You Can Expect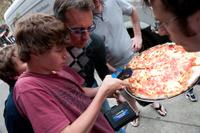 New York City is a hub for fantastic pizza, so how to choose where to go? On a pizza walking tour, of course! Enjoy slices of pizza from three local pizzerias and learn a little history while you walk through historical Manhattan neighborhoods such as Little Italy, Greenwich Village, SoHo and the Lower East Side. Your pizza enthusiast guide has the insider information on where to go and what to order, so relax and enjoy an afternoon in New York! You'll also receive a pizza tour survival kit that includes a notebook to jot down which pizzas you liked the best, palate cleansers and a take-home tour keepsake.

Crosstown Pizza Walking Tour (Little Italy and Greenwich Village)
Visit Manhattan's famous Little Italy, which the majority of Italian immigrants called home in the early 1900s. See the streets that once overflowed with peddlers and fruit carts and where a peasants' meal called 'pizza' made its debut in America. Visit America's oldest pizzeria, and admire the sights of these two lovely neighborhoods as you walk.

Greenwich Village Pizza Walking Tour (Greenwich Village and SoHo)
Discover the evolution of pizza from its humble origins in Southern Italy to its cheesy transformation in America's industrial cities. This Manhattan district was once a thriving Little Italy and is currently in the middle of a resurgence, with new shops being opened by recent Italian immigrants. Visit pizzerias that each specialize in a different type of pizza – types that symbolize its development from a lowly Neapolitan street food to a celebrated American staple.

Lower East Side Pizza Walking Tour (Lower East Side of Manhattan)
If you love pizza, welcome to one of the most pizza-dense neighborhoods, the Lower East Side. Everything from classic pizza-by-the-slice, old-fashioned Neapolitan fare to creative spins on this eponymous dish, this neighborhood has it all. Taste and discover its rich history. Learn about ancient pizza toppings and dough stretching techniques and compare the baking patterns of three different pizza ovens. This tour is for true pizza aficionados.

On your tour, you'll visit three of the following pizzerias:
Lombardi's, Joe's Pizza, Louie & Ernie's, Rizzo's, Keste, Nunzio's, Sam's Restaurant, John's of Bleecker St, Best Pizza, Patsy's, Totonno's, Luzzo's, Arturo's, Sac's Place, NY Pizza Suprema, Pizza Roma, J&V Pizzeria, Ben's of Soho, Zero Otto Nove, Pizza Box, Rose & Joe's Italian Bakery, Parisi Bakery, Pugsley's, Pala, Via Tribunali, Williamsburg Pizza or Two Boots
August 2015
Scott is a true pizza expert.From the first moment you meet him to the last bite of deep dish pepperoni pizza Scott is educating and explaining things about pizza that really make the eating experience more than just about food. You come away with an appreciation for all types of pizza cooked from a variety of oven types. Thank you Scott for the immersion experience.
June 2015
This tour was a lot of fun. Our tour guide Marim was funny and knew A LOT about pizza which was awesome. This was our first trip to NYC and will definitely recommend this tour to any other pizza lovers.
June 2015
excellent tour guide. Great experience
June 2015
Great tour for pizza lovers. Alexis was informative and entertaining. All pizza was delicious!
Rose C
United States of America
June 2015
Our tour guide Cedric was knowledgable and informative. Very nice tour.
May 2015
The tour with Scott was absolutely delightful! His enthusiasm was contagious and he made everyone have the best time ever! His knowledge of pizza, how it is cooked, various ovens...everything made our tour both informative and fun! He made us all feel like life-time friends as he passed on his passion for pizza to all of us. We got to tour the kitchens and see different kinds of ovens. We learned about the different kinds of pizza and he really got good conversations going. I would highly recommend this tour....and I would do it again if I have the chance to visit New York in the future. The best...a really nice guy!
March 2015
Absolutely outstanding. We got The Boss Scott for this tour and what he does not know about New York Pizza is not worth knowing. The three pizzerias we went to were Lombardi's, Prince St and Famous Joes, all different but all delicious. With plenty of detail and a detour to the oven repairers / manufacturers on the way, this tour is a must-do if you have any interest in New York Pizza. Bravo, Scott !
December 2014
This was a great food tour! Alexis, our guide, was very knowledgeable, entertaining, and so passionate about the details of preparing and eating pizza that I won't likely ever think of pizza in the same way. I Highly recommend this tour, and Alexis to guide you through the delicious world and history of NYC pizza!
December 2014
Very fun and interactive tour. My girlfriend and I enjoyed learning about pizza and all of the different styles. The tour guide knew so much and loves what he does. Highly recommended if you enjoy pizza like we do!
October 2014
Interesting, anytime I learn something new it is worth while. I would recomend to anyone....enjoyed the walking and seeing people in their natural state.
Advertisement
Advertisement