Taste your way through New York City's eclectic neighborhoods on this mouthwatering pizza walking tour! Stop in at three unique and highly rated pizzerias to sample different slices, from Neapolitan to Sicilian. Along the way, learn about the fascinating history and culture of the neighborhoods you walk through. Customize your pizza tour with a choice of itineraries that cover Little Italy, Greenwich Village, SoHo, and the Lower East Side.
Highlights
Mouthwatering pizza walking tour through Little Italy, Greenwich Village or SoHo
Trace and taste the history of pizza from Italy to America with a local pizza expert
Try different styles of pizza, such as Neapolitan, Sicilian or New York, from some of the city's top pizzerias
Receive your own pocket pizza journal
This top-rated tour has been featured on the Travel Channel, Food Network, Cooking Channel and Discovery Channel – don't miss it!
Why Our Insiders Chose This Tour
Once you take this tour, you'll understand why it's been featured on so many TV shows. You'll love the super-knowledgeable guide and the chance to sample some of the city's most famous and delicious pizza!
Recent Photos of This Tour
What You Can Expect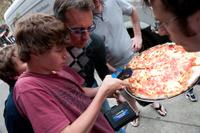 A true taste of New York City, this pizza walking tour has been featured widely on TV, from the Travel Channel to the Food Network. Let your local foodie guide show you Manhattan's best spots for cheesy, delicious slices while learning New York history and trivia along the way. Receive a pocket pizza journal as well.
Crosstown Pizza Walking Tour (Little Italy and Greenwich Village)
Stroll through the storied streets of Little Italy, where pizza was first introduced to America in the early 1900s by the Italian immigrants who settled here. Pop in at the oldest pizzeria in America, then make your way to neighboring Greenwich Village to sample a slice in this eclectic neighborhood.
Greenwich Village Pizza Walking Tour (Greenwich Village and SoHo)
Get a feel for the flavor of Greenwich Village and discover the evolution of this unique area from one of Manhattan's earliest Italian neighborhoods to a trendy post-bohemian scene. Learn how industrial America put its own spin on pizza after the cheesy dish made its way to New York from Southern Italy, and try three very different interpretations of this now-classic comfort food.
Lower East Side Pizza Walking Tour (Lower East Side of Manhattan)
Manhattan's Lower East Side is a pizza-lover's paradise, with dozens of pizzerias packed into this eclectic neighborhood. You'll find pizza-by-the-slice windows, crispy wood oven-fired creations, old-fashioned Neapolitan pies, and modern interpretations of New York City's signature dish. Talk to pizza makers to learn about the effects of different ovens and signature dough-stretching maneuvers.

June 2016
This was a great tour. Thank you, Scott for a fun and filling time. We will be back next time we are in NYC.
May 2016
Miriam and other guy guide were awesome.....loved all the history we got during tour....perfect amount of time.
April 2016
Great tour! Our guide was so very knowledgable and open to all questions. We visited 3 pizza places, and had 5 slices of pizza. The first stop offered 2 types of neapolitan pizza the second stop offered a large slice of New York pizza and the final stop offered 2 types of Sicilian pizza. Fabulous! I can't imagine any pizza lover who would not enjoy this tour.
February 2016
Tour guide Cedrick was awesome, very knowledgable and entertaining. Pizza was amazing. Strongly recommend trying this tour. Guaranteed good time.
December 2015
It was great as Scott knew everything about pizza. We had 15 people on the tour and we had a lot of fun and enjoyed three different styles of pizza
October 2015
What a great tour. Scott gave us so much info on pizza, he's a walking Wijipedia. Lots of fun and great pizza.
September 2015
Joe was the best tour guild we have had. He is so enthusiastic about pizza and the history of pizza. Definitely would recommend this to families visiting the city or those who want to know the history behind all the famous pizza joints in New York.
August 2015
Scott is a true pizza expert.From the first moment you meet him to the last bite of deep dish pepperoni pizza Scott is educating and explaining things about pizza that really make the eating experience more than just about food. You come away with an appreciation for all types of pizza cooked from a variety of oven types. Thank you Scott for the immersion experience.
June 2015
This tour was a lot of fun. Our tour guide Marim was funny and knew A LOT about pizza which was awesome. This was our first trip to NYC and will definitely recommend this tour to any other pizza lovers.
June 2015
excellent tour guide. Great experience
Advertisement
Advertisement