Kick-off the Christmas celebration at the iconic Tree Lighting Ceremony at Rockefeller Center in New York City! Get unbeatable views of this famous tradition from the elegant Brasserie, an exclusive VIP location complete with hors d'oeuvres and an open bar. Enjoy the warm, comfortable atmosphere before stepping onto your VIP viewing patio to experience the tree lighting like never before. Hear a New York City historian speak about the interesting history of the ceremony and have professional photographs of you taken with the beautifully lit tree to commemorate this once-in-a-lifetime experience.
Highlights
Watch the Tree-Lighting Ceremony at NYC's Rockefeller Center from a VIP viewing spot
Celebrate the beginning of the Christmas season with this exclusive, once-in-a-lifetime experience
Enjoy complimentary appetizers and an open bar in the warm, comfortable venue offering unbeatable views
Learn about the history and architecture of the Rockefeller Center and the annual tree-lighting ceremony
Let a professional photographer capture the magic

Round out the evening with dancing to DJ entertainment

What You Can Expect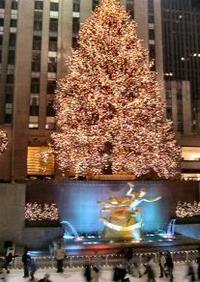 Take home a professional commemorative photo in front of the lit tree. Admire the famous tree-lighting ceremony at Rockefeller Center in New York City like a star! Located in an exclusive venue just a few steps away from the ceremony, this once-in-a-lifetime VIP experience will give you unbeatable views of this famous tradition.
In your warm, comfortable viewing room, enjoy complimentary appetizers and sip delicious drinks from the open bar. Stay tuned in with monitors featuring the nationally televised NBC special. When the ceremony begins, head to your VIP viewing deck for incredible views of the magnificent, dazzling tree lighting up.
The tree in the Rockefeller Center has over 30,000 environmentally friendly LED lights strung on more than five miles (eight km) of electrical wire, and is topped with a Swarovski crystal star! See the tens of thousands of people crowding the sidewalks below as you lounge at your elite viewing spot.
Hear about the history and architecture of the Rockefeller Center and the world-famous tree from a noted New York City historian and lecturer. Stay awhile and bask in the lighted brilliance of the tree or get out on the dance floor as DJ entertainment keeps the celebration going (from 9pm to 10pm). In addition, get your picture taken by a professional photographer with the beautifully lit tree in the background to make sure your memories last. All pictures will be available for download online, so you can share your experience with family and friends.
January 2015
First of all, I commend Viator for it's great staff, easy booking, complete instructions, etc. We had a fabulous time. It was a stretch for us to spend so much for an evening, but, as realtors say, this was about location, location, location.............or so we thought Turns out that Brasserie Ruhlmann was fabulous. We were treated as royalty with drinks flowing and fabulous and very filling appetizers. They really were more like cocktail buffet foods. With such a lovely night, we stayed on the patio most all the time, enjoying the experience in the best of ways. I'll give it 5 stars!
December 2014
All as promised. A very nice night!
December 2014
December 2014
We had a great time!! Thanks for making this such a wonderful trip!!
December 2014
Advertisement
Advertisement