New York City is a shopper's paradise, but the neighborhoods of SoHo and NoLita might just be the most exciting shopping destination in the world. Take this guided, 2.5-hour small-group shopping tour of all the worthwhile, independent clothing and accessory boutiques in the area. Learn about the current season's fashion trends and get assistance with wardrobe styling from a fashion expert while finding the best places to shop. This SoHo and NoLita shopping experience is a comprehensive adventure for both fashionistas and window-shoppers alike.
Highlights
2.5-hour shopping tour of NoLita and SoHo
Enjoy exclusive discounts at variety of shops, usable all day
Listen as your guide dishes about celebrities and shares the history of the district
Fill your bags with latest in trend-setting fashion

Find your fashion-forward style at eclectic and indie boutiques
Small-group limited to 12 people ensures a more personal experience
What You Can Expect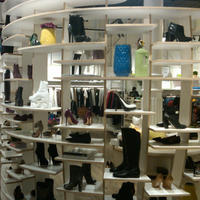 Shopping in New York City means going to the SoHo (South of Houston Street) or NoLita (North of Little Italy) neighborhoods. Both are known for their trendy upscale boutiques and national and international chain store outlets. This small-group tour is limited to 12 people for a more personalized experience.

This 2.5-hour shopping tour provides everything needed to enjoy these neighborhoods. Because the shops in these areas are so wide ranging, they are best explored with a fashion expert. Visit a selection of worthwhile, independent clothing and accessory boutiques. There won't be any mall stores on this shopping tour, but rather hidden gems offering trendy luxury, chic bargains and eclectic indie designs.

The fashion-savvy guide will provide updates on the current season's trends and help with wardrobe styling. Enjoy an overview of the area with celebrity trivia plus learn about the local history and architecture, with up-to-the minute information on sample sales and store openings.

Note: Several shops will offer exclusive store discounts for those on this tour, good for 10–20 percent off the same day as the tour. Stores carry apparel in sizes 0 to 12 (but there are always accessories!).
November 2015
My friends and I take shopping trips to NYC 2-3 times a year but had gotten into a shopping rut - always going to the same stores. This tour exposed us to a whole new section of the city to explore...small boutiques with unique items. Our guide was attentive to each tour participant's interests and told us lots of great facts about the neighborhood and the stars who live there. Highly recommend!
June 2015
This tour was the highlight of my teenage daughter's birthday! We've been to the city quite often but our tour guide, the effervescent Jackie, opened our eyes to another slice of life in the Big Apple. Jackie was knowledgable and accommodating, we experienced fashion, food and culture with a pro!
June 2015
We did not have enough people for the guided tour, so Viator arranged for a self-guided tour with printed itinerary and accompanying map. The itinerary was prepared based on the age of my daughter, and the resulting list of shops represented a list of styles that would suite anyone's tastes. We would highly recommend this as an option.
June 2015
We loved this tour! The girls had great knowledge on the local area, took us into a wide variety of stores that we would never have found on our own and were friendly, funny and helpful!
Thanks!
Keri L USA
June 2014
We had a great time. Our guide was knowledgable and very friendly. The tour was our favorite part of our trip to New York! If you love shopping you have to do this tour.
October 2013
Christine was FABULOUS! Catered to our interests clicked to what we would like to see and a very knowledgable guide of the area. My daughter and I loved it!
May 2012
This was a good, quick way to become familiar with the area. Our guide gave us a great map and pointed out some places we may not have known about, like a local artists market. You don't get a lot of time at each shopping spot, but with the map, you can mark the places you want to return to shop more. Don't miss the street vendor selling one of kind, beautiful rings on Prince and Greene. Say yes to this tour!
April 2012
Great tour. Guide personalized the tour for individuals while also giving great overview of the areas. Good insider tips too. Great tour.
April 2011
Wonderful tour - highly recommended to All who like to shop! Had no expectations from this tour; was just hoping to see some interesting stores. I was so impressed with the knowledge of the guide, the truly interesting array of shops we were taken to and the amount that was "crammed" into the time period. Its an artform to move women around like this. It was a really enjoyable experience. Check it out!
April 2011
A wonderfully comprehensive tour and great shopping experience. Our charming and knowledgable guide was attuned to our group and clearly ammended the stops to suit us. This was far more than just being led to a couple of stores. We were weaved through a large area, stopping in about 10 shops, all the while hearing interesting things about the area. I noted that this largely a chic and expensive area, and that the places we were taken to were unique but yet the more affordable locations among the many. But make no mistake, this is NYC, so dont expect cheap.But do expect some terrific shopping and a fun way to spend a morning in NYC
Advertisement
Advertisement