106 Reviews
Location:

New York City, New York

Duration:

14 hours

(approx.)
Fly by private 30-seater plane from New York City to the incredible Niagara Falls on a day trip; it's a Viator Exclusive that's available nowhere else! The experience allows you to avoid lengthy check-in procedures and enjoy a high-speed 1.5-hour flight straight to the falls for five hours of free time before returning to New York in time for dinner. Choose to visit either the US or Canada side of the thundering waterfalls, and enjoy four exciting attractions such as the 'White Water Walk' around the base of the falls or the 'Maid of the Mist' boat cruise.
Highlights
Viator Exclusive Niagara Falls day trip by private plane from New York
Fly by private charter plane from Long Island to Niagara Falls Airport including round-trip ground transfers
Avoid lengthy check-in procedures and enjoy a swift 1.5-hour flight non-stop to the falls
Start off your morning with an inflight breakfast

Visit either the US or Canada side of the Niagara Falls, and enjoy five hours of free time
Sightsee independently with access to four attractions such as the Maid of the Mist cruise or Hornblower Niagara cruise

Return to New York by plane and arrive back in time for dinner
Why Our Insiders Chose This Tour
Why fly commercial with long airport security lines and crowded planes when you can enjoy refreshments on an executive jet with other travelers excited to see Niagara Falls? This exclusive tour combines posh, high-end travel with all inclusive admissions for an unforgettable day-trip of your making!
Recent Photos of This Tour
Viator Exclusive: Niagara Falls Day Trip from New York by Private Plane
What You Can Expect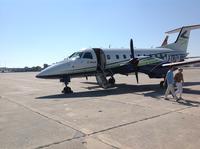 Start your Viator Exclusive to the Niagara Falls with a hotel pickup from midtown Manhattan, and travel by minibus to New York's Republic Executive Airport at Farmingdale, Long Island. No morning traffic to contend with, so your ride to the airport is less than an hour. Here, check in to your private plane: a modern 30-seater Embraer 120. Unlike other air tours — where check-in procedures can take up to two hours — this exclusive experience allows you to board straight away without long security lines or delays from waiting for other passengers!
Relax on the short 1.5 hour flight, enjoy a delicious inflight breakfast, refreshments and friendly service in the cabin while you gaze out the window and take in landscape of Upstate New York. Then, touch down at Niagara Falls International Airport to enjoy your experience at the waterfalls. While other tours take you through Buffalo International Airport, a 40-minute drive once you've landed, this luxury charter takes you right to Niagara, a short 10-minute ride from all the attractions you've been wanting to see. Simply select either option upon booking: a trip to the US side to see the American Falls, or a trip to the Canadian side (passport or visa required) where the full fury of the Horseshoe Falls awaits. After touching down, hop aboard a shuttle coach and travel to your chosen Niagara Falls destination to explore and sightsee independently. How you spend your time at the beautiful natural landmark is up to you!

Each experience include five hours of free time, admission to four Niagara Falls attractions, your return flight and drop-off back in Manhattan. Food and drinks are at your own expense, but several cafes and eateries dot the banks of the Niagara Falls. See the Itinerary for full details on any attractions mentioned.

US Experience
Meet your host on arrival, and travel by coach to the water's edge. Your experience includes four incredible attractions to help you get the most out of your time at the falls.

Canada Experience
Show your passport or visa on arrival to your host, and then travel by coach to the Canada side of the falls. As with the US day trip, how you spend your time is up to you, but your experience includes four attractions that can be visited at any point during your time at the falls.

Itinerary
US-Side Attractions:
'Maid of the Mist' Cruise:
Hop aboard the Maid of the Mist sightseeing boat and enjoy a 30-minute cruise around the base of the falls and into the basin of the thundering Canadian Horseshoe Falls. In operation since the mid-19th century, the historical cruise is one of North America's top visitor attractions, enjoyed by millions of people from all over the world.

Cave of the Winds Tour:
Enjoy an interactive experience through a stormy mist zone within Niagara Gorge. Wearing a souvenir rain poncho plus specially designed sandals, follow a guide along wooden walkways to the Hurricane Deck, where breathtaking torrents gush a few feet from you to create tropical storm conditions.

Niagara Adventure Theater:
Watch a 40-minute film inside the Niagara Falls State Park Visitor Center, and learn all about the Niagara Falls' history. Headsets are available for anyone wishing to listen to the film in French, Spanish, Mandarin, Chinese, Japanese, Korean and German.

Aquarium of Niagara:
Support local conservation efforts by visiting this family-friendly aquarium on the banks of the Niagara Falls. The attraction is home to penguins, seahorses and sea lions alongside more than 1,500 other aquatic animals that represent ecosystems from the Great Lakes to coral reefs.

Canada-Side Attractions:
Hornblower Niagara Cruise:
Step aboard a state-of-the-art sightseeing boat and enjoy a 30-minute cruise within Niagara Great Gorge. Have your camera poised, ready to capture close-up sights of the thundering American Falls, Bridal Veil Falls and famous Horseshoe Falls.

Journey Behind the Falls:
Head inside Table Rock Welcome Centre near the Horseshoe Falls, and descend 150 feet (46 meters) by elevator to observation decks behind the gushing cascades of water. Walk through tunnels around the Cataract Portal and Great Falls Portal to both the upper- and lower-observation decks, and gaze in awe as the water crashes to the bottom of the falls in front of you.

Niagara's Fury:
Stand on a moving platform to get an insight into the mighty power of Mother Nature at the Niagara Falls while hearing ancient stories about the natural landmark. As the commentary takes place, the air temperature drops, and water and snow is sprayed through the air; it's an all-encompassing experience!

White Water Walk:
Take an elevator to the bottom of the Niagara Gorge, and walk along the boardwalk adjacent to the mighty rapids of the Niagara River.
July 2015
At first sight this tour is quiet expensive, but I must say it was totally worth it. The Falls are, of course, breathtaking. Also the pick up, the flights with the jet and everything were very well organised. I chose the US side. We left from Times Square at 6:10 am and arrived in Niagara Falls shortly after 9 am, so we had enough time to do all the sightseeing. I enjoyed this tour and would like to recommend it to everyone.
July 2015
June 2015
What an amazing experience, possibly the best day of my life so far. The alarm was set for 4.30, we walked up to Times Square to meet the bus for 6am. The bus was gorgeous, leather seats, air con, luxury! It took just over an hour to drive up to Farmingdale, where we were delivered to the bottom of the stairs to our private plane. I am not a very confident flyer, and these little planes are not for the faint hearted. Altogether there were 7 of us on this trip. When we left NYC, the weather was stunning and set to be 30 degrees that day. We landed in Niagra, and it was pouring down. Thankfully we made a last minute raincoat purchase in Macy's the night before. When we got off the plane, our bus was waiting for us. We dropped off 2 people at the American side, and made our way to the border - our bus driver who was amazing prepared us for a potentially long wait - I don't think we were sat at the border for more than 10 minutes. Then just the other side, we are in the falls. All in all, i reckon it took 25 mins from airport to the Canadian side. Luckily as the weather was so bad, the falls were very quiet. We did all the activities, and were collected at 3.30pm. Back in NYC for about 7pm.
This was by far the best experience I have ever had - if you go to NYC and you can afford to... do NOT hesitate to book this tour!
June 2015
This was amazing! Such a fabulous tour! The team went out of their way to give us more and Niagra is just amazing!! Highly highly rexommend
June 2015
Fantasti ctime totally loved it
June 2015
Niagara Falls has always been one of the places on my bucket list so I decided to splurge on this excursion while vacationing in NYC for the week. I didn't have more than a day to give, so I figured this was the way to go. I read lots of reviews from Trip Advisor and other travel sites which showed the highest approval rates toward Viator and the Canadian side I'm happy I did my research and followed suit. This trip was fantastic, a high point of our trip. We went to the visitor center first thing to get our passes and allowed them to book us tour times for first the Hornblower boat, second the White Water Walk, and third Journey Behind the Falls. The boat trip was amazing. Most people went to the top level so we went to the bottom level. It was more protected from the elements not as windy, not as wet yet still had spectacular unobstructed views. It was hard to get good pictures because the Falls behind you are so bright. Be ready to try force flash! And your time at the Falls goes quicker than you'd think so take your pictures but then be mindful to just experience it. After that, we weren't paying attention so we missed the bus that connects with the next site so it delayed us 20 minutes. White Water Walk was nice but Journey Behind the Falls was the best for us. We got great pictures and marveled at the beauty of the Falls up close. We missed the movie in favor of grabbing a quick slice of pizza before our driver picked us up at 3. On the return flight, the pilots circled Niagara so we could get cool aerial views/pictures of the Falls. All I can say is, if you have the money, this is the way to go. Everything was first class and a day to remember!!
June 2015
Really loved this tour, highly recommend. Canada side was great.
June 2015
WOW amazing and well worth the price. It's an experience that I will never forget along with all the photos I took. This place is just amazing and next time I'm going to the Canadian side as we did the USA this time round.
June 2015
Great trip. Did US side. Except horse shoe viewing angle everything else is amazing experience. Even the horse shoe falls viewing was sort of compensated by flying across the falls on return journey. Strongly recommend.
June 2015
What a great tour. There were 6 of us so a big investment!!!! We were not disappointed. Right from the ease of booking to the pick up, transfer and actual day.
We got picked up at our meeting point- which was easy to find- driven in a lovely clean and comfy bus with a great driver. Met straight away at the plane where our passports were checked. Boarded and we were off. Got breakfast on board and also a little look in the cockpit. On this trip the pilot had the ok to do a fly over the falls so we got that as an added bonus. The images were amazing.
Once landed a bus met us to take us to either the US or Canadian side of the falls. Be prepared to cross the boarder and go through customs as part of the process. It did not take us too long as the day was not that busy. We did hear that the line up and wait can take over an hour each way.
We got dropped off and collected our passes - that gave us access to all the feature tours- and the day was ours. Again we were lucky as the day was sensational weather wise. I would recommend you take a jumper as the tours on the water are VERY cold. You get ponchos so you don't get too wet but if you are game you will GET WET. So much fun!!!!!
We did the boat ride, walked under the falls and had lunch in the restaraunt that over looks the falls Canadian side. That was our time done.
If you are thinking that it is a lot of money - yes it is- but you will not regret the spend. A memory to treasure and a great experience. This tour was the highlight of our US trip!!!! And I speak for all 6 of us.
Advertisement
Advertisement