693 Reviews
Location:

New York City, New York

Duration:

Guided tour 2 hours; self-guided 3-5 hours
Enjoy an in-depth experience of two top New York City attractions with this special-access tour, a Viator Exclusive available nowhere else. Learn about the history of New York on a guided walk down Wall Street, followed by a tour of two symbols of American freedom, liberty and perseverance: the Statue of Liberty and the 9/11 Memorial. After an immersive visit to the World Trade Center site with your expert guide, gain priority boarding for the ferry to Liberty Island, offering sweeping views of Ellis Island, New York, New Jersey and New York Harbor. Enjoy an audio tour of Liberty Island and reserved access to the statue's museum and pedestal. Then, snap photos of iconic Lady Liberty from the water and admire the NYC skyline on your ferry ride back to Lower Manhattan.
Highlights
Statue of Liberty and 9/11 Memorial tour, a Viator Exclusive
Learn about the history of New York City on a tour of Wall Street with your expert guide
Visit the 9/11 Memorial to hear stories about the victims, survivors and heroes of the infamous terrorist attacks
Skip the ticketing lines and gain priority boarding for the ferry to Liberty Island
Admire the NYC skyline as you cruise along New York Harbor from Lower Manhattan to Liberty Island
Take an audio tour of the Statue of Liberty's pedestal and museum
Visit Ellis Island, the symbol of the American immigration experience
This tour cannot be booked anywhere else – don't miss out on this unforgettable New York experience!
Why Our Insiders Chose This Tour
Few attractions are as inspiring and moving as the Statue of Liberty and the 9/11 Memorial. Your guide's narrative provides a great perspective on the significance of these monuments. Both are must-sees, and this tour lets you experience them together.
Recent Photos of This Tour
Viator Exclusive: Statue of Liberty Monument Access and 9/11 Memorial
What You Can Expect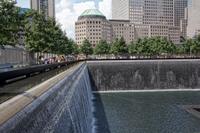 Meet in Lower Manhattan's Financial District, where you'll meet your expert local guide to begin your Viator Exclusive tour, available nowhere else. Your morning starts off with a walking tour of Wall Street. Learn about the transformation of New York City from an early Dutch settlement to the financial capital as you pass the New York Stock Exchange, Federal Reserve Bank and other financial and historical institutions.
Your Wall Street walking tour leads you to the World Trade Center site, home to the 9/11 Memorial, a monument commemorating the victims of the September 11 terrorist attacks of 2001. Walk around to see the enormous reflecting pools and fountains. Your guide will tell you stories of the events, tragedy and heroism of that infamous day.
After this sobering and deeply moving experience, your guide will accompany you to the ferry. This Viator Exclusive gives you priority boarding for the ferry to Liberty Island, letting you bypass the long lines. Before sending you off, your guide will provide commentary about the Statue of Liberty, one of America's greatest symbols of liberty and freedom.
Admire views of the amazing New York City skyline as you cruise along New York Harbor. Have your camera ready as you approach Lady Liberty! Arriving at Liberty Island, pick up a handheld audio guide (available in 9 different languages) for your visit. Next, go inside this famed icon with reserved access to the Statue of Liberty's stone pedestal, designed by famed architect Richard Morris Hunt. The top of the pedestal is roughly half the height of the entire monument, and offers panoramic views of Ellis Island, New York, New Jersey and New York Harbor. Only a limited number of visitors are permitted per day, so be the fortunate one to experience the Statue of Liberty up-close.

Your ticket also includes access to the Liberty Island Museum, where you'll learn about the difficulties and triumphs that France and the US overcame to build this universal symbol of liberty and democracy. The museum also covers how the Statue of Liberty's interpretation has changed since its construction in 1886.

Here, your tour concludes and you may choose to stay on the island as long as you wish. On the return ferry, choose to disembark onto Ellis Island, the gateway for 12 million immigrants. End your day with one last view of the beautiful Statue of Liberty before returning to Lower Manhattan by ferry.

Please note: This tour does NOT include admission to the 9/11 Museum and Statue of Liberty Crown admission.

September 2015
I have been in NY for 3 years now and always just driven past ground zero and never really had the time to visit Librty Island. This tour was very informative, never a dull moment! I was able to notice the plaques on grand way that I never saw the times I have been there. I now have a better appreciation of history behind Broadway, ground zero and Statue of Liberty - never knew it was made of copper! Excellent for any new comer to the U.S.!
September 2015
Awesome tour! Our tour guide, Remy, was amazing! He was so knowledgable and entertaining! He kept everyone in our group engaged thru the whole tour. I especially liked that we were a small group and were able to relate so well with our guide. I will recommend this tour to anyone visiting NYC. Ask for REMY!! It is a must do!!
September 2015
We really enjoyed our walking tour. Our guide was entertaining and able to answer all questions. She made the history of the area very interesting. We also appreciated the thoughtful respect shown at the 9/11 memorial. Altogether a great tour.
August 2015
Tauren was excellent!! very knowledgable. She gave us many details on Wall Street, Trinity Church, 911 Memorial and the surroundings prior to boarding the ferry to Liberty island. Highly recommend this tour.
August 2015
Thank you to Brad for taking us on the guided tour! We learnt so much here, he made it very interesting, answered questions well. The pace was good for all in the group. Well worth doing n a very reasonable price for the 2 1/2 hour guide, then left to do your own thing. Thank you
August 2015
I was very pleasantly surprised! We had 2 guides that day and they had a lot of information to share! It was a great way to experience the Wall Street and 9/11 Memorial site. My son enjoyed it as well! It was his first trip to NYC. Great value! I would recommend it.
RJC, Saint Paul, MN
August 2015
Torin was a blast and I love her spirit! She kept us informed as well as engaged, plus answered all questions regarding history. Torin will be my go-to for all my NYC tours!!!
August 2015
I bought this tour to see the Statue of Liberty/Ellis Island/and 9-11 Memorial. What I did not expect was to enjoy the the walking tour on the city the best. The tour guides stopped at 10-12 smaller destinations and gave really good information. By far an amazing tour and well worth the money!
August 2015
very friendly tour guide, she was informative and important for foreign tourists very well articulated, we could understand her very well. the Information and stories were factual, sometimes funny, personal, moving
highly recommended and thanks again Tauren
August 2015
This is a highly recommended trip! The guide was awesome taking us through streets and areas so full of history and emotions. It was a great experience and I have recommended the trip to all my friends visiting New York.
Advertisement
Advertisement