Shop until you drop during with this transport excursion to the famous brand-name outlet shops at Woodbury Common in New York. Take the quick trip out to this outlet mall near New York City, offering 220 designer and brand-name outlet stores to suit every taste and bargain hunter. Best of all, a variety of convenient departure and return times allow you to pick a visit that fits your schedule.
Highlights
Roundtrip shopping tour to Woodbury Common Premium Outlets, NY

Shop at 220 designer and brand-name outlet stores

New York premium outlet shopping experience

Recent Photos of This Tour
Woodbury Common Premium Outlets Shopping Tour
What You Can Expect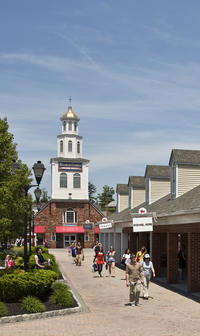 Bargain hunt at one of the best outlet malls in New York with this transport to the famous Woodbury Common Premium Outlets. Search for a great fashion find at this incredible shopping complex, offering discount shopping from more than 200 different high-end retailers.
Your trip departs from 8th Avenue in New York City at a variety of times throughout the day to suit your schedule. You'll also receive a VIP coupon book when you present your tour voucher at Woodbury's customer service booth, entitling you to hundreds of dollars in further shopping discounts.
Spend as much time as you wish shopping and bargain hunting among the many premium retailers available at Woodbury. Among the shops you'll find on site are Adidas, Barney's New York Outlet, Banana Republic Factory Store, Coach, Burberry, Dolce & Gabbana, Frette, DKNY, Giorgio Armani, Gucci, Zegna, Max Mara, Neiman Marcus Last Call, Gap Outlet, Nike Factory Store, Saks Fifth Avenue Off 5th, Polo Ralph Lauren Factory Store, Salvatore Ferragamo, Tommy Hilfiger, Timberland and Versace. There's also a full range of eateries on location for when you get hungry.
Make the return trip back to New York City whenever you're ready, with buses departing throughout the afternoon and into the evening.
April 2016
April 2016
wish we had more time fantastic shopping
March 2016
Great place for plenty of bargains

February 2016
my m8 got lots of lovely bargains here
tracyo Australia
January 2016
Was a simple way to get to and from Woodbury Common, with a choice of many departure and return times.
Diane T Australia
January 2016
If you like to shop this is the trip for you. I suggest you wear comfortable shoes as there is very little seating as you walk around. Take a SUITCASE The bus has storage space. There are NO trolleys and No storage facilities
December 2015
Fabulous place, set like a quaint village- shops are lovely, prices are greatly reduced and would definitely recommend this trip to any shopaholics visiting New York.
December 2015
This trip is wonderful if you like shipping for clothing and a bargain you will definitely need a large bag and some people had suitcases. My only down side wasvthe que in the morning from the bus station was huge so when the bus came inmthere was such a surge forward there could have been someone hurt it was scary at that time. People were saying they had never seen it like it before.
The busses held 55 and there was over a hundred but the bus company got another bus so we all got there and the same coming back there was 150 people in the que so after the first bus loaded within 5mins 2 busses turned up and so we allnwere happy. I can't fault the bus company they worked with the situation and it was was a great trip.
November 2015
Done this several times. The bus takes just over an hour to get there.
If you like a bargain, then this is one for you.
Lots of stores to shop in.
Excellent.
November 2015
This was a great pre xmas boost, managed to buy everything in one place. I would definately take the early coach 7.15am as traffic was heavy, Also take a suitcase with you as carrying everything around is a nightmare and there is very little space on the return journey.
Bargains in Michael Kors and Ralph Lauren shops, make sure you pick up the voucher book at information desk for more savings.
Advertisement
Advertisement