Shop until you drop during with this transport excursion to the famous brand-name outlet shops at Woodbury Common in New York. Take the quick trip out to this outlet mall near New York City, offering 220 designer and brand-name outlet stores to suit every taste and bargain hunter. Best of all, a variety of convenient departure and return times allow you to pick a visit that fits your schedule.
Highlights
Roundtrip shopping tour to Woodbury Common Premium Outlets, NY

Shop at 220 designer and brand-name outlet stores

New York premium outlet shopping experience

Recent Photos of This Tour
Woodbury Common Premium Outlets Shopping Tour
What You Can Expect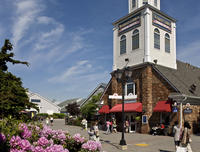 Bargain hunt at one of the best outlet malls in New York with this transport to the famous Woodbury Common Premium Outlets. Search for a great fashion find at this incredible shopping complex, offering discount shopping from more than 200 different high-end retailers.
Your trip departs from 8th Avenue in New York City at a variety of times throughout the day to suit your schedule. You'll also receive a VIP coupon book when you present your tour voucher at Woodbury's customer service booth, entitling you to hundreds of dollars in further shopping discounts.
Spend as much time as you wish shopping and bargain hunting among the many premium retailers available at Woodbury. Among the shops you'll find on site are Adidas, Barney's New York Outlet, Banana Republic Factory Store, Coach, Burberry, Dolce & Gabbana, Frette, DKNY, Giorgio Armani, Gucci, Zegna, Max Mara, Neiman Marcus Last Call, Gap Outlet, Nike Factory Store, Saks Fifth Avenue Off 5th, Polo Ralph Lauren Factory Store, Salvatore Ferragamo, Tommy Hilfiger, Timberland and Versace. There's also a full range of eateries on location for when you get hungry.
Make the return trip back to New York City whenever you're ready, with buses departing throughout the afternoon and into the evening.
June 2016
There are bargains galore and definitely take a suitcase. If you have a spare day it and #39;s a must do for those who love to shop and a bargain !
June 2016
There so many brand there, you can get tired to hold on to your bags, having a luggage with you would definitely makes it easier.
There's quite some stuff to eat there, since there's lots of tourists, do go on weekdays.
Start early, have some food and rest a bit then start shopping again!
Sharon P United Kingdom
May 2016
Incredible place, shops are amazing!!!
May 2016
O outlet é imenso, maior que os de Orlando. Um dia é pouco para percorrer todas as lojas. Preços e promoções valem a pena, mesmo com o dólar caro.
May 2016
The return bus transport is very handy for a great day of shopping.
April 2016
April 2016
wish we had more time fantastic shopping
March 2016
Great place for plenty of bargains

February 2016
my m8 got lots of lovely bargains here
tracyo Australia
January 2016
Was a simple way to get to and from Woodbury Common, with a choice of many departure and return times.
Advertisement
Advertisement