581 Reviews
Location:

New York City, New York

Duration:

2.5 or 3-hours
The World Trade Center once stood tall and prominent, one of the world's largest financial complexes and a symbol of New York City. This New York City walking tour takes you around Ground Zero to explore both the past and future of the World Trade Center. Visit the Ground Zero site and Financial district including the New York Stock Exchange, Wall Street and the Federal Reserve Bank. For a comprehensive look into the events of September 11, add admission to the 9/11 Memorial Museum. Whichever option you choose, this tour offers an unforgettable experience as you hear stories of the heroes of 9/11 and how New York City rose from the ashes of tragedy to flourish once more.
Highlights
Guided tour of the World Trade Center and Ground Zero site in New York City

Choice of 2.5 or 3-hour tours, optional admission to the 9/11 Memorial Museum
Visit St. Paul's Chapel, the American Express Eleven Tears Memorial and Winter Garden

Professional and knowledgeable tour guide will recount gripping stories of heroic deeds from 9/11

9/11 Memorial museum tickets are strictly limited - BOOK NOW!
Recent Photos of This Tour
World Trade Center Walking Tour
What You Can Expect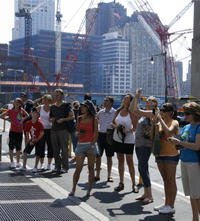 2.5-hour World Trade Center and Financial District Walking Tour
Meet your guide within walking distance of the Ground Zero site, where you'll embark on a 2.5-hour journey into the bravery, passion, and tragedy of 9/11. Your guide will share key facts, illuminating events and heartbreaking stories of the tragic day while weaving through the various attractions within the World Trade Center area.

As you begin your tour at St Paul's Chapel, you'll explore surrounding New York sites such as the grave of Alexander Hamilton, the first US Treasury Secretary; the soaring towers of Wall Street and the Canyon of Heroes; The New York Stock Exchange and Federal Reserve Bank; Federal Hall, where George Washington was sworn in as president; and the renowned Trinity Church and its storied past. See the American Express Eleven Tears Memorial, Winter Garden and, of course, the Ground Zero site. Your guide will take you to the 9/11 Memorial site, built on the exact site where the twin towers once stood. Visit the twin reflecting pools on which the names of the nearly 3,000 victims of the September 11, 2001, and February 26, 1993, atrocities are inscribed. You will have ample opportunity for reflection and contemplation and are welcome to bring flowers or tributes to place by the 9/11 Memorial site.

3-hour World Trade Center Walking Tour including 9/11 Museum Tickets (limited availability)
On the enhanced 3-hour tour, you will see all the sights of the 2.5-hour tour plus a preview of the 9/11 Memorial museum with timed tickets to the museum. The Museum is an underground museum which has various artifacts of September 11, 2001, and pieces of steel from the Twin Towers, such as the final steel, which was the last piece of steel to leave Ground Zero in May 2002. Exhibits in the museum include 23,000 images, 10,300 artifacts, and nearly 2,000 oral histories of the dead provided by friends and loved ones, in addition to over 500 hours of video.

Come and witness the site of a world-changing event and feel the presence of bravery and tragedy all at once. The World Trade Center Walking Tour offers New York visitors an up-close-and-personal tour of the World Trade Center site and a look at how it has risen from the tragedy of 9/11.
September 2015
Very informative tour. Highly recommend the tour to visitors to New York.
July 2015
An emotional yet truly fabulous experience. Our guide brought the details of this terrible event to life during this short tour.
July 2015
Great tour and the tour guide she was awesome.
May 2015
Excellent tour and excellent guide.
April 2015
Excellent tour guide. Learnt so much from her
March 2015
Incredible. Our guide Debbie left no stone un turned and was incredibly knowledgable about New York. Only six of us on the tour and she carried on for over 3 hours and even dropped us off the subway to get home. Really painted a picture as to what happened that day but more so as to the heroes of this city that helped re build. Couldn't recommend enough this tour. Will be suprised if it's not the highlight of our trip!
March 2015
We all had a great time!!
February 2015
We did the 3 hour tour on December 21 and would highly recommend it. Our tour guide, Debbie, was great and was able to share her personal experiences from the day of 9/11, as well as before and after. She was highly knowledgable and despite the seriousness of the tour, was also able to make it an enjoyable and fun experience. Definitely recommend this tour if you're interested in learning more about the history of this terrible day and how NYC has recovered since.
February 2015
January 2015
Our tour guide, Debbie engaged and welcomed all 26 of us immediately. She provided amazing information about the tragedy, then the recoveries, memorials and plans to build 'bigger and better.' She was totally outstanding. I would do the same tour over again if it were lead by Debbie. I am planning to return to WTC to spend more time at eh pools. Hope you have a few other guides as good as Debbie!
Advertisement
Advertisement