In remembrance of the events that took place in New York City on September 11, 2001, take this guided, 2.5-hour tour around Ground Zero. Visit the National September 11 Memorial and Museum, aka the 9/11 Memorial, a tribute of remembrance in honor of the many people who were killed on 9/11. See St Paul's Chapel, a rescue center after the tragedy, plus Financial District landmarks like the New York Stock Exchange, the Federal Reserve Bank and more. Upgrade to include a 30-minute preview and pass to the National September 11 Memorial and Museum.

Highlights
Guided tour of the World Trade Center and Ground Zero site in New York City

Choice of 2.5 or 3-hour tours, optional admission to the 9/11 Memorial Museum
Visit St. Paul's Chapel, the American Express Eleven Tears Memorial and Winter Garden

Professional and knowledgeable tour guide will recount gripping stories of heroic deeds from 9/11

9/11 Memorial museum tickets are strictly limited - BOOK NOW!
Recent Photos of This Tour
World Trade Center Walking Tour
What You Can Expect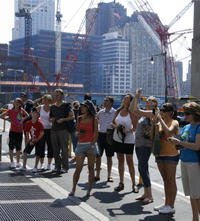 This Ground Zero walking tour begins at St Paul's Chapel, the oldest public building in New York City that's still actively used. This church survived the falling debris from the 9/11 attacks on the World Trade Center despite being only one block away. It became a rescue center during the aftermath of the tragedy.

As the tour continues, see Financial District landmarks like Wall Street, the New York Stock Exchange and the Federal Reserve Bank of New York Building. Visit the American Express Eleven Tears Memorial. See Federal Hall, the site of George Washington's inauguration as the first president of the United States, and Trinity Church, a landmark Episcopal church at Broadway and Wall Street.

Visit the twin reflecting pools inscribed with the names of the nearly 3,000 who died on September 11, 2001, and in its precursor attack on February 26, 1993. The pools mark the spots where the twin towers once stood, and you will have time for contemplation at this important site.

Upgrade to include timed entry into the National September 11 Museum — 110,000 square feet of exhibit space located at the heart of the World Trade Center site. The museum tells the story of 9/11 through multimedia displays, archives, narratives and a collection of artifacts, including pieces of steel from the twin towers plus 23,000 photos, over 500 hours of video and nearly 2,000 oral histories of the dead. Experience the bravery and tragedy of this powerful spot, and marvel at the Freedom Tower that now rises over this location.
Jennifer C United States of ...
June 2016
Annie was a wonderful walking tour guide. A
June 2016
I had been looking forward for years to experience 911. We calmly greeted the guide in the nearby church, and she told us her story so we could relate as ordinary people to another ordinary person who experienced an extraordinary event. She was amazing. We were able to see so much because of her knowledge, and because we had a small group, luckily. Highly recommend the tour and this guide!
April 2016
Very informative tour guide, thanks Fred. Would highly recommend tour.
March 2016
Annie was so nice and knowledgeable. She shared her personal experience of the horror on 9/11 and then took us around to show how New York rebuilt itself inspite of what happened. We visited the memorial pools the new trade center and the underground tunnel. She had so much factual info that enhanced the overall value of the tour.
March 2016
Excellent tour by experienced guide. Unusual in that we were the only two people on the tour and hence it became a personal tour. Very good service from Fred the guide. Would definitely recommend this tour - and Fred.

January 2016
My wife and I took the World Trade Center walking tour. Our guide, Fred, was knowledgeable, interesting, and entertaining. At any point during the tour, whenever somebody had a question about what we were seeing, Fred would provide a fascinating answer. He arrived at the meeting point on time and did not rush the tour, despite the bad weather. This tour was a highlight of our trip and I absolutely recommend it and our excellent guide.
January 2016
I give this tour 32 thumbs up and 5 Stars. Our tour guide Rob could not be more informative, enthusiastic and fun to be with. The 3 hours went so quickly yet I learned so much from this city that I have lived in all of my life. I already recommended this tour and Rob to several of my friends and hope to do another tour soon. Thank you! Rob is a smart and funny gem!
December 2015
Our tour guide took us to many interesting sights in the financial district, explaining the history and sharing facinating facts about them. She also shared her knowledge and her own experience of what happened on that dreadful date of 9/11. Ground Zero was a touching place to visit. After the tour we wanted to dine in an area of the town that she had show us. Our guide was kind enough to take us to that area because it w as difficult to find. I would highly recommend this tour.
December 2015
Annie our tour guide was amazing! She provided her real life experiences that made us all feel like we were there during the tragic days before/after 9/11. I have recommended this tour to many of my friends and colleagues should they make it back to NYC. Regards, Tim Lehman
November 2015
Fantastic tour. Fred was an excellent guide who covered everything and so much more. 10 out of ten
Advertisement
Advertisement