Explore Newcastle with this 1-day ticket aboard an open-top double-decker City Sightseeing bus. See all the main sights as you hop on and hop off 17 conveniently located stops around the city.
Highlights
City Sightseeing hop-on hop-off bus tour of Newcastle

Ticket valid for 24 hours

Hop on or off as many times as you'd like at 17 stops
Great views from the open-air bus of major sights like St James' Park and the Biscuit Factory
What You Can Expect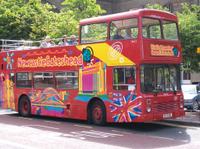 Victorian engineers and builders gave Newcastle an elegance that still survives in this handsome City at the eastern end of Hadrian's Wall. Two centuries ago at the forefront of industrial revolution, Gateshead can now boast Britain's latest state-of-the-art center for contemporary visual arts - the BALTIC. Other sights on the two routes include St. James' Park, The Sage, The Biscuit Factory, Gateshead Millennium Bridge, Eldon Square.

On this City Sightseeing tour, you can hop on and off as many times as you like aboard this open-top double-decker bus. There are 17 stops and the entire route takes approximately 1 hour. The bus departs every 30 to 60 minutes from each stop. Tickets are valid for 24 hours from the time of first use.
August 2013
Quite comprehensive. Recommended for the first-timer.
July 2013
Being a Geordie of 66 years obviously I am biased but I have to admit I couldn't think of a much nicer way to spend a glorious July Sunday afternoon
Have done many city tours including San Francisco London Rome and Paris and even though my beloved Toon is not of the same magnitude of those great capitals this tour is very rewarding in as much the information given on the recorded commentary is excellent and viewing everything from the top of a bus puts things into a different perspective and you realise how beautiful the city of Newcastle actually is
Special word of mention to our driver who was a lovely guy and who told us about the Victoria Tunnel from Hancocks Museum to the Ouseburn and the apparently famous Vampire Rabbits on Amen Corner
Ideal way to do a leisurely pub crawl as stops near many en route
Will definitely do again in the not too distant future
April 2014
We have used Hop-on Hop-off buses in several European cities as a quick way to get orientated and see sites that you probably would not have bothered with otherwise. There was a stop a short walk from our hotel and easy enough to find. A bus arrived within a minute of the displayed time. The driver was able to quickly check our vouchers then hand us our tickets and maps. The view from the top deck was fine as we were near the front sheltered from any wind. The commentary was informative but I was surprised that no earphones were offered for alternative languages. Newcastle and Gateshead have some quite steep streets so the bus trip proved its worth in taking the strain. We stayed on the bus for the whole tour and did not do the hop-off, hop-on bit as anything we wanted to view proved to be within our walking range. The tour was value for money and we were satisfied that it fulfilled our wishes.
December 2013
The tour was nice and commentary in English very clear. The stop at the Royal Mile was a bit crowded. The staff we very helpful.
June 2013
Value for money - well worthwhile
October 2012
We really enjoyed our trip, Lots of interesting facts that we didn't know about Newcastle. The only thing I would change are the running times. Could have done with a little extra time so we could get on and off at more places.
July 2010
Good insight into a city we had not visited before.
July 2013
It's nice, however it's too much information in a short span of time and, after some time, me and my fiancee had already forgotten about half of the landmarks that we had seen. Still, if you have one or two days on Newcastle and like better to know very superficially its landmarks and take some photographs than to enjoy to the fullest some of its attractions, we recommend the Hop-on Hop-off tour.
June 2013
The tour itself was good but unfortunately the bus only travels a few hours per day (e.g. from 11:00 to 16:00), so it is not recommended to be used as public traffic
Advertisement
Advertisement