Experience the wild side of Niagara Falls at Bird Kingdom, the area's exciting animal preserve featuring the world's largest free-flying indoor aviary! Spend hours getting close to exotic birds, fish, reptiles and arachnids at live feedings, vibrant exhibits and touch-and-hold experiences such as Animal Encounter. With more than 500 birds representing almost 80 species, Bird Kingdom is paradise for animal-lovers of all ages!

Highlights
Entrance to Bird Kingdom in Niagara Falls
Visit the world's largest free-flying indoor aviary, home to more than 500 exotic birds!
See, touch and hold some of the park's resident birds, reptiles, fish and more
Explore the lovely, historic facility at your own pace
Watch exciting animal shows and enjoy live feedings
What You Can Expect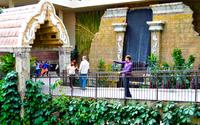 Bird Kingdom brings you face-to-face with wildlife in a natural setting so you can witness the authentic beauty of birds, reptiles, fish and other neat creatures. Hold a parrot in the Explorer Base Camp, check out the smallest of beautiful winged wonders flying freely around the Small Bird Aviary, encounter strange creatures including owls, bats and reptiles in the Night Jungle, and see your favorite reptiles such as lizards, snakes, geckos, chameleons and tortoises.
Be amazed as you enter the world's largest free-flying indoor aviary! The Kingdom (Main Atrium) is a multilevel rainforest giving you up-close interactions with the free-flighted wonders of the sky. Watch as they eat, bathe, fly and play, and marvel at the music of songbirds, the nobility of giant hornbills and the antics of parrots and touracos.
Bird Kingdom has discovery areas for kids, plus a fun-filled scavenger hunt. Check the schedules for lorikeet feedings and bat feedings! Stop by the Macaw Market on your way out for souvenirs, toys, art pieces and home and garden goods.
Exhibits at Bird Kingdom include:
Old Museum
Explorer Base Camp
Small Bird Aviary
Night Jungle
Kid's Archaeology Dig
The Kingdom (Main Aviary)
Historic Javanese House
Lorikeet Landing
Macaw Market Gift Shop
Kodak Photo Centre

November 2015
Enjoyed Bird Kingdom! We came away with more knowledge about the many species of birds, lizards, reptiles and insects from around the world. You can walk at your own leisurely pace. Be prepared to spend at least 2.5 hours. Take the opportunity to feed the lorikeets! Great place for the family with kids! We stayed at the Sheraton, and therefore within walking distance.
January 2014

November 2013
Awesome!!!The birds were beautiful and numerous varieties.Also turtles,frogs,lizards and snakes.I absolutly loved everything about it.The greenery was amazing.Definately reccomend this for young and old.Would go back if ever im tbe area.So much beauty to see and enjoy...............................
Sofia E USA
May 2010
Very good!!!
Joseph T USA
May 2010
Enjoyable, interesting and knowledgeable
Advertisement
Advertisement