Take a ride on the wild side with a thrilling 45- to 60-minute jet boat tour down the Niagara River. Adventure-seekers will revel in this ride through the river's whitewater rapids, a must-have experience for those who love whitewater jet boats and the excitement they offer. Prepare to get really close to the water on the Wet Jet deck as the boat rumbles over and through Class 5 and 6 rapids. A safety orientation, led by a Coast Guard–certified captain, precedes this seasonal tour.
Highlights
Open jet boat ride on the Niagara River
Niagara Whirlpool
Scenic views of the beautiful Niagara surrounds
Entertaining guide with comprehensive narration
What You Can Expect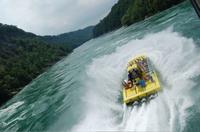 Arrive 45 minutes early to register, sign a participation agreement and attend a mandatory safety orientation. Then grab a poncho, some water shoes and a life jacket (because it's going to get wet) and hop on board to find a seat on the Wet Jet deck, which can accommodate up to 12 people.
Take in the shoreline, beginning at beautiful and tranquil Niagara-on-the-Lake, and check out sites like Brock's Monument and Fort Niagara before reaching the Class 5 Devil's Hole Rapids, where things get really choppy. Hold on tight because it's about to get even bumpier amidst the heart-pounding Class 6 rapids of the swirling Niagara Gorge. Then there are the captain's thrilling 360-degree spins.
This adventure is about more than just thrills, however. Look around and appreciate the stunning scenery on this 18-mile journey. And learn about the history and geology of the majestic Niagara River while experiencing the excitement of playing in whitewater rapids. This Niagara jet boat tour is sure to be one of the most memorable experiences of any visit to Niagara Falls.
Please note: This tour is seasonal, operating from May through to October.
June 2016
Top class. Would love to do it again. Prepare to get very wet. Changing facilities on site.
June 2016
A true adventure. I highly recommend this tour. It was exhilarating.
June 2016
This is an absolute blast and I highly recommend this trip. My wife and I took our 2 kids 13 and 15 and everyone truly enjoyed this experience while we were in Niagara.
jackie Canada
May 2016
was very thrilling. tour guides and boat captains were very friendly and helpful. very wet and cold though
October 2015
the best experience of my like me and my girlfriend loved it and staff was friendly and very professional plus the crew on boat was amazing

September 2015
Excellent planning, guide and captain. Well worth the money! Go on this before Maid of the Mist!,
September 2015
Absolutely worth every cent. BEST TOUR EVER.
September 2015
Had a great time. You will get soaked!!
September 2015
So much fun! Awesome adventure! One of the greatest experiences I've ever had! So much fun!! My husband and I had a awesome time. This is a can't miss. Well worth the money - an awesome adventure. Everyone gets soaked head-to-toe, lol. The staff is very friendly and helpful. I would do this again and recommend it to anyone, as long as they don't mind getting very wet.
September 2015
We made a 4 hr trip to Niagara Falls just to ride the Jet Boat. The ride was great but our reservations were messed up having to wait an extra 4 hrs to ride from our reserved time thus getting us home very late that night. This was our 3rd time to ride, perhaps our last.
Advertisement
Advertisement