Enjoy the quiet country bicycle trails and vineyards of scenic Niagara-on-the-Lake, often described as the prettiest town in Ontario, on this guided biking and wine tasting tour. Choose from the 6.5-hour tour, complete with picnic lunch, or the 4.5-hour tour that features a specialty cheese pairing. Pedal over generally flat, simple biking routes to the region's best wineries to taste unique Canadian wines, including Ontario's famous ice wine. Hotel pickup and drop-off is included (subject to availability).
Highlights
Cycle and wine tasting tour through Niagara-on-the-Lake wine region

Taste unique Canadian wine varietals, including Ontario's famous ice wine, at wineries ranging from large-production to boutique and modern to classic

Bike along quiet country roads and trails suitable for all fitness levels

Choose either a half-day or full-day tour

Enjoy a cheese pairing or full picnic lunch at an Orchard (included; depending on selected option)

Don't worry about carrying your wine purchases -- they will be collected throughout the tour and be waiting for you at the end!

What You Can Expect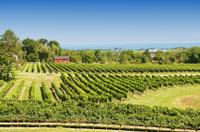 Niagara-on-the-Lake is a well-preserved 19th-century village, with upscale restaurants and hotels, elegant architecture, world-class theater, boutique shopping, quaint bed and breakfasts, charming inns and historical sites galore. It is also the very heart of Ontario's wine region.
Pedal along quiet country roads and trails with your professional guide, stopping at four or five of the area's best wineries — from large-production operations to modern, classic and boutique. Want to buy a bottle? No problem. All purchases will be delivered after the tour is complete.
The 4.5-hour excursion travels to four Niagara-on-the-Lake wineries, starting with a guided vineyard-to-tasting-room tour at one of the area's biggest wineries. Also featured are three boutique wineries for more wine tasting, including Pondview Estates Winery, where a knowledgeable staff will provide a relaxed and informative tasting for a better understanding of Niagara wines along with a delightful cheese and wine pairing.
On the 6.5-hour tour, enjoy a leisurely ride to one of Niagara-on-the-Lake's biggest wineries, where a full vineyard tour and a wine tasting awaits. Then it's on to beautiful Kurtz Orchard for a picnic featuring sandwiches, salad, fruit and a selection of dessert. Following lunch, continue on to three or four more wineries, including some family-owned vineyards.
Please note: A minimum of two people per booking is required.
June 2016
Our tour guide, John, was incredible and full of life. The biking adventure was everything we hoped for and more. We would recommend this to anyone!
Tip: Book a weekday and it and #39;ll likely be a private tour for you. My boyfriend and I booked a Friday and it was just me, him and John.
Richard E B USA
June 2016
Great tour. Our tour guide, Rob, picked us up at our hotel right on time and took us to their offices. After selecting our bikes (which were new and in great condition), we headed out and visited 4 wineries. Overall, it was a great tour. We had no problems or complaints. Highly recommend.
May 2016
Our cycling tour guide was Marcy and she was excellent. We visited 4 wineries , tasted and saw beautiful countryside. Mostly flat and rolling. Would recommend it highly. We learned a lot.
May 2016
My wife and I booked the full day wine tasting bike tour with lunch. We visited 5 wineries in Niagra on the Lake and we had a great time. The first winery gave a very comprehensive tour and tasting. The other 4 were tasting only. The biking is very low key and the terrain is very flat and level. Lunch was great at Caroline Cellars. A very nice selection to choose from. John our tour guide was amazing and well versed about the wineries and the history of the area. The company picks up any wine you may purchase on your trip and has it waiting for you upon your return. Outstanding experience and would highly recommend the trip. Great value for the money.
September 2015
A bit warm but made the trip worth while by itself. Strongly recommend great add on to walk along Canadian side of Niagara falls.
September 2015
Great tour, great guide. Biking route was perfect.
August 2015
Our tour guide, Brian was super knowledgeable, took care of everyone's safety.
Would definitely do it again. Delivery of our purchases was already back waiting for us. Amazing!
August 2015
Beautiful scenery and what better way to see it ! Discovered how fantastic Ontario wines are.

July 2015
You can see luxury scenery around Niagara-on-the-Lake area. Lunch sandwich was able to select and delicious, but in the afternoon ride please pay attention not to be drunk and blind purchase.
July 2015
Absolutely fantastic experience. The tour guides were very informative, friendly and fun. The bike ride was gorgeous, and the wines were really amazing. There was a tour of one winery at the beginning, and the other three wineries were only tastings. Perfect set up, would absolutely recommend this to all!
Advertisement
Advertisement