Discover Niagara-on-the-Lake, the birthplace of Ontario's modern wine industry, on this guided, 5.5-hour, small-group wine-tasting tour. Sample the area's wide variety of world-class wines, including Ontario's famous ice wine, with a gourmet lunch or dinner option, on this tour of the region's best wineries. Hotel pickup and drop-off is included (from Niagara on the Lake or Niagara Falls accommodations) and a minimum of two people per booking is required.
Highlights
5.5-hour wine-tasting tour in Niagara-on-the-Lake wine country

Taste a variety of wines, including ice wine, at both boutique and large-production wineries (tasting fees included)

Take a guided tour from the vineyard to the tasting room at a large showcase winery

Enjoy a 3-course gourmet lunch or dinner at one of the area's most acclaimed restaurants

Hotel pickup and drop-off included for Niagara-on-the-Lake or Niagara Falls, Ontario

Small-group tour limited to 15 ensures a more intimate experience with your guide

What You Can Expect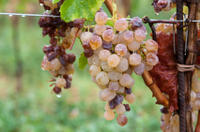 Niagara-on-the-Lake is a well-preserved 19th-century village, with upscale restaurants and hotels, elegant architecture, world-class theatre, boutique shopping, quaint bed and breakfasts, charming inns and historical sites galore. It is also the very heart of Ontario's wine region and some of the best wineries of Niagara-on-the-Lake.
A professional, local guide will lead this 5.5-hour Niagara wine tour, stopping at several of the area's best wineries — from large production to modern, classic and boutique operations — plus lunch or dinner at one of the best restaurants in Niagara-on-the-Lake.
The wine-tasting tour with lunch travels to two regional wineries, starting with a hotel pickup, then a guided vineyard-to-tasting-room tour at one of the area's biggest wineries. Also featured is a family owned boutique winery for more wine tasting, where a knowledgeable staff will provide a relaxed and informative tasting for a better understanding of Niagara wines. Conclude the tour with a three-course, gourmet lunch at one of Niagara-on-the-Lake's finest restaurants.
On the wine-tasting tour with dinner, enjoy a hotel pickup, then it's off to four of Niagara-on-the-Lake's best wineries, including a guided vineyard-to-tasting-room tour at one of the area's biggest wineries. Conclude the tour with a three-course, gourmet dinner at one of Niagara-on-the-Lake's finest restaurants — namely OliV Tasting Room and Restaurant, Cannery Restaurant at Pillar and Post or Riverbend Inn and Vineyard.
Itinerary
Sample Lunch Menu (varies seasonally)
First Course, choice of:
Seasonally inspired soup du jour
Daily fish soup
Garden greens with black currant vinaigrette and toasted almonds

Main Course, choice of:
Asparagus, spring herb and brie omelet served with greens
Daily pasta feature
Fennel seed- crusted pork tenderloin with balsamic and pommery mustard sauce

Dessert, choice of:
Hazelnut- crusted lemon chèvre cheese cake
Cardamom- scented crème caramel

Coffee or Tea

Sample Dinner Menu at Pillar and Post (varies seasonally and by restaurant)
First Course, choice of:
Cesar salad (romaine tossed in garlic buttermilk dressing with shaved parmesan cheese, focaccia croutons and bacon bits)
Mixed greens (baby lettuces tossed with Vidalia onion vinaigrette and garnished with dried cherries, cranberries and toasted seeds)
Soup du jour

Main Course, choice of:
Marrakech salmon (baked Atlantic salmon with Moroccan spice and beet gaufrette, wilted rocket and pesto-smashed potato)
Maple Dijon- glazed chicken (mascarpone- and pecan-stuffed chicken with pesto pomme puree and haricots verts)
Slow-roasted prime rib (with horseradish jus and garlic and chive Yorkshire pudding)
Pan-fried gnocchi (with chorizo sausage, grilled corn, N icoise olives and crumbled feta cheese)

Dessert :
Chef's selection

Dinner includes a glass of house red or white wine and coffee or tea

March 2016
I was picked up promptly at 1:50PM for the 2PM tour with dinner by the very nice, intelligent, and personable driver named Brian. He gave us clear instructions and an itinerary on what to expect on the tour and even gave us his backstory which I thought was so nice. Also, he was nice enough to give us suggestions along the way at each winery which I thought was awesome! The tour itself was so worth it in that being driven around to 4 different wineries I saw that there were so many of them and also being able to sip away to your hearts delight at each tasting without having to worry about driving home was so convenient. Each winery had their own vibe and delivered on a great customer experience. All of our servers especially Jennie who was at the Pilliterri winery seemed so genuine and had such a sociable and welcoming personality and convinced me to get a dessert wine there. All in all, each server ranged from very knowledgeable to very personable and it was a great experience throughout. Finally, the last winery included the gourmet dinner which I'm usually leery about and am usually skeptical about that but let me tell you it lived up to the hype! Also, it was very nice to see that a culinary school was also there as well and we got inside information from our server there at Strewn winery that set up the gourmet dinner nicely. I highly recommend this experience to anyone who wants to get a taste of the nice wineries around Niagara-on-the-Lake and can't wait to come back again. If you have a choice of a driver I highly recommend Brian!
March 2016
We had a fantastic time. Our tour guide Bryan was very knowledgeable about the area. This is the way to enjoy wine tasting and not worry about driving. Dinner was excellent!
February 2016
My friend and I had a wonderful time. The lunch was very good. Our tour guide, Diane, was fabulous.
Diane made us feel important and was very informative. Diane drove back to our hotel through the scenic roads and gave us some history on the area and wineries . Great time. thank you Diane.
January 2016
Great tour! Our driver was super nice and informative and made our whole day comfortable. We went to 5 wineries and had lunch at O'Liv sp?. The ability to relax by having someone drive you from winery to winery and still have a good time, safely.... definitely worth it!
December 2015
This was as perfect as any tour could be. Driver arrived right on time, very friendly, knowledgeable about the area and wines. We visited 4 wineries. At each we experienced friendly knowledgeable staff in the tasting area, no pressure to purchase wines, but of course we did :. The tour of Jackson Triggs was great. Dinner was top rate, I'm a little bit of a foodie and appreciate good quality food and it was great. Full of flavor, the restaurant was beautifully decorated for Christmas. It was just us and another couple, so it was very intimate. Lots of laughs. Our take away is 3 Keiths a wining, 2 Sues a sipping and a Bob with an empty glass. Book the tour you will not be disappointed.
November 2015
Wonderful experience, our guide was very helpful. This is really the only way to do a wine tour! The group was small only 6, the ride very comfortable, lunch fantastic! Our guide managed all our purchases from the store to the hotel. Thank You!!
November 2015
It was so very informative...the wineries were great the majority of them and to end with that wonderful dinner was superb.
November 2015
Fabulous day out.Our driver Brian was great fun,we had a great group of people on the bus with us and as we enjoyed more wine we all got more chatty.
The wineries were great,although one was very busy as it was a Saturday afternoon and the meal was superb....could not recommend more highly
October 2015
This was our first time on a wine tasting tour. What great fun! We had an excellent tour guide who brought us to different type of wineries. We learned a lot as to what type of wines we like and do not like. Ice wine is the best!
October 2015
I did this one already but it was so AWESOME I'll do it again, S U P E R B!!! Would do this again and again, We went at the best time as the group was small and the tour was so we got to see more and talk more and then we had dinner with the owners and they were a BLAST!! THANKS GRAPE ESCAPE!!!!!
Advertisement
Advertisement