Experience the beauty of the Niagara River on this guided, 2.5-hour kayaking tour, departing from Grand Island on the American side. Paddle along the river that forms part of the border between the U.S. and Canada while taking in the scenery of the Upper Niagara River islands, including the River Lea Farmhouse, a famous Victorian farmhouse where President Grover Cleveland once worked. Along the journey, wildlife abounds, from eagles, cranes and seagulls to beavers and mink. A single or double kayak, light snack and bottled water are included.
Highlights
2.5-hour guided kayak tour along the Niagara River

Paddle past three famous islands - Grand Island, Strawberry Island and Motor Island

Explore pristine lagoons laced with lily pads and admire the scenic landscape

See abundant wildlife including birds, beavers, mink and more

Suitable for all fitness levels!

Light snack, water and all necessary equipment is included

Recent Photos of This Tour
What You Can Expect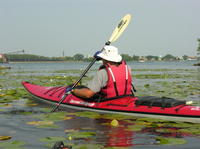 The Niagara River runs north from Lake Erie to Lake Ontario, forming part of the border between the Province of Ontario in Canada and the State of New York in the U.S. Its path includes Niagara Falls, which is not part of this trip. Beginning from Grand Island, N.Y., climb aboard a single or double kayak and paddle along a relatively easy route that includes the scenic sights and abundant wildlife of the Upper Niagara River islands.

There's the River Lea Farmhouse, a Victorian farmhouse located in the Beaver Island State Park where President Grover Cleveland worked at his first job for his uncle.

Look for a variety of waterbirds on Motor Island, including mallards, Canadian geese and great blue herons, among others. Then there's Strawberry Island — with its deep lagoon, it's one of the most significant aquatic ecosystems in the Great Lakes region. It's a haven for all kinds of freshwater fish, and bird watchers will appreciate the likelihood of seeing a great black cormorant.

Enjoy the tranquility of being on the water and learn a thing or two about the history of this beautiful and fascinating river. Tour includes a light snack, water and all the necessary equipment.
August 2015
Fantastic! A wonderful family experience. Our guide Paul was an expert on all aspects of the river, waterfowl, biodiversity and habitat. A Fun and easy going trip. Highly recommended!
July 2015
Wow!! What an amazing experience! Our tour guide, Paul, was great! He was extremely knowledgeable about the wildlife and kayaking! He was amazing with two girls who had never kayaked before, even when my friend got sick halfway through! Be prepared for a beautiful experience! Will definitely return!
July 2015
Beautiful scenery and wonderful guide!
August 2014
This was an amazing tour. Our guide was Paul and he explained everything to us about the plants and animals in that region. It was like being in a biology class. This is not a lazy tour, you have to actually work to get where you're going. There is also some open water kayaking which means you're really exposed to the elements and water conditions. We found this just added to the tour.
August 2014
July 2014
This was the best day of our Niagara trip. Very knowledgeable guide with fascinating history and facts about the area. I would highly recommend this trip to anyone who likes history and water.
June 2014
Kayaking was such a fun and wonderful experience. The regular tour guide was not available as we booked last minute; however the owner's son - Tommy - jumped right in and volunteered himself to give the tour. It was the first tour he had ever given and he was great.
I was in a double kayak with my 9 year old niece; I did the majority of the paddling! Tommy was a wonderful guide with knowledge of the area. I would definitely come back in addition to recommending them to anyone who is looking for a fun, unique activity near the falls!
July 2013
Great tour, Our guide took the time to allow us to explore the area and customized our trip based on our interests. He was very knowledgeable about the area and did a great job answering our questions.
I cannot wait to go back to kayak again. Thank you so much Dan for a great day!!!!
September 2012
What a blast! We thoroughly enjoyed our kayak trip with Kevin. We went down the Niagara river and stopped at Strawberry Island for a light lunch (we brought our own food but Kevin packed some light snacks too). The island has a neat little bay area that was smooth as glass. Our trip back was great - downstream and downwind! On top of that, we weren't too sore the next day. Overall I highly recommend this tour if you are in the area.
Advertisement
Advertisement