Spin through the French Riviera's glamorous capital in style on this 1-hour Ferrari sports car experience from Nice. Hop into your powerful sports car, a Ferrari F430 Spider, and take the wheel. Then, hit the gas and cruise through the French Riviera city streets with your instructor in the passenger's seat. Eat up the miles along the Promenade des Anglais and head into the hills for panoramic coastal views. If you'd rather relax on route, choose to let your instructor drive and settle in for the ride of your life!
Highlights
Enjoy a fast-paced sports car experience from Nice
Ride in or drive a convertible F430 F1 Spider Ferrari with an attentive instructor or chauffeur

Choose between a 15-minute, 30-minute or 1-hour Ferrari tour
Turn heads as you drive or ride along the Promenade des Anglais

Follow the French Riviera's stunning Grand Corniche road to Eze (1-hour tour only)
Recent Photos of This Tour
Ferrari Sports Car Experience from Nice
What You Can Expect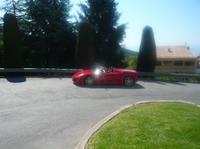 The affluent south of France has a long-held association with supercars, and Nice, being the capital of the French Riviera, is no exception. Located just a short distance from the billionaire's tax haven of Monaco, Nice is also home to numerous celebrities, who match their fast-paced lifestyles with even faster cars.

Join the likes of Nice's rich and famous by road testing one of the most classic supercars in existence – a red F430 F1 Spider Ferrari. After listening to a quick safety briefing, you'll be on your way in this eye-catching convertible coupe.

Your experienced instructor sits in the passenger seat, and gives you all the tips you need to master the car's immense power. Should you not want to drive, then no problem – simply book the 'Ride a Ferrari' option, then sit back, relax and prepare to turn heads as your instructor gives you a spin around town.

All tours include a drive down the most prestigious road in Nice – the Promenade des Anglais – and as you power along this busy seafront boulevard, you'll pass the swanky hotels and chic boutiques for which Nice is so well known. Whether you choose to ride or drive, this is your chance to really discover what this beautiful Italian sports car is capable of. Hear the magnificent roar of its powerful V8 engine as you accelerate away from the city along the enchanting Grand Corniche road to Eze, and then back again. Featured frequently in car advertisements, this road is often described as one of the best drives in the world, with cliff-hugging bends and dramatic coastal views.

At the end of your tour, your instructor will present you with a video of your Ferrari ride (own expense) – the perfect memento of your once-in-a-lifetime experience in Nice!
June 2016

November 2015
Totally recommend this. It was amazing.
November 2015
What an unforgettable experience driving this beautiful car along the Grand Corniche road towards Monaco. The guide was helpful, car arrived promptly to our hotel along with much attention by passers-by and we were given enough instruction so that we were able to drive the car back in one piece. Don't hesitate to do this. My husband rented the lambo and we switched half-way - fun!
October 2015
We had a great experience, my son and I, as passengers in one Ferrari and one Lamborghini. We drove from Nice up to Eze and back. One hour of pure fun, highly recommended!
July 2014
What a fantastic experience. It's not everyday you get to ride in a Ferrari so being driven round on some of the most picturesque roads was brilliant! An hour gives you time to leave the hustle and bustle of Nice and go up to Eze where the views are spectacular. A perfect tour for a special occasion.
June 2014
This was a surprise birthday gift for my husband while visiting Nice. He was totally thrilled. The driver was on time, friendly and informative. The drive on La Grande Cornice was spectacular with little traffic and fast curves. The return drive was slower because of rush hour traffic.
Pick up and drop off was at 5:30 p.m. at a central Nice location. My only suggestion would be a tour time earlier in the afternoon to avoid the return traffic.
PATRICK F United Kingdom
August 2013
This was a total surprise and what an amazing surprise it was.... I arrived thinking I was going to have a massage at a hotel plaza but there awaiting for me was an hours drive in a Ferrari... Yes me in a Ferrari. I got to drive in Nice up on the grande corniche towards Monaco.... Move over James Bond here come Sam!!!
What an absolutely exhilarating experience to be driving such a dream car... I had a grin from ear to ear all afternoon. I could hear the roar of the engine in my ears for hours afterwards and the power the car basin something that blows your mind away. My instructor Stephan was really cool and made me feel relaxed behind the wheel of such a unique wicked car, although he preferred me not to break. Which was a challenge going round the steep curvy roads of the south of France. I recall saying heck can I really do this " yes of course you can it it a Ferrari" what an amazing time I had thanks Pat words can not describe how amazing it was to experience this.. I love you xxx
July 2013
We were very surprised to see the car on this picture turn up! I bought this experience for my hubbies 40th birthday present and it was the best gift ever by far! wow what an experience that was. Fantastic car, fantastic location and most of all fantastic experience! well worth every penny! Thank you for the opportunity and the satisfaction it gave to the hubby. He'll always remember his 40th birthday.
April 2013
I booked this trip as a surprise for my boyfriend, and it didn't disappoint! Everything was really well organised, and he even got a video of his Ferrari experience to take home!
Anonymous
April 2013
Incredible experience! Spent 20 minutes driving around the hills overlooking the French Riviera with Phillipe as my guide, sat next to me. This made my trip to Monaco unforgettable.
Advertisement
Advertisement